Whenever I saw a Ford Bronco Sport on the road—and by now I've seen a lot of them—my first thought was always: "Oh, someone who didn't want a 'real' Bronco! Someone who just wanted the look."  
Having now spent a week in each, a Bronco and a Bronco Sport, I realize it's time to apologize to Sport drivers: You may have wished to flaunt the nameplate, but in truth you got the better vehicle. Yes, the "real" Bronco is more rugged, better equipped and often more expensive, but—better equipped for what? For off-roading, that's what. And how much of that do we do, month in and month out? 
The big, bad retro Bronco is based on Ford's F-150 pickup truck, so it's a heavy, body-on-frame design that delivers a stiff ride and compromised road handling. The Bronco Sport, on the other hand, shares its platform with the Escape, Ford's civilized compact crossover SUV. I haven't driven an Escape in a hundred years or so, but its new cousin is a thoroughly likable and practical daily driver with some clever touches and the upright seating and sightlines that everyone seems to want. With the larger of the two available engines, it offers more than decent performance, too. 
The B-Sport feels right-sized, at least for a family of up to four, with four doors and fittings for child seats. The second row seems tight but there's decent head and foot room. The cargo area is sizable—Ford says it'll take two mountain bikes—and the Badlands trim package includes a stowaway work surface/table, a 400-watt power inverter and a storage compartment under the rear passenger seat. The roof rack is rated for 150 pounds and towing capacity can reach 2,200 pounds. 
The Bronco Sport comes with Ford's Sync3 hands-off communications and navigation system as well as Apple CarPlay, Android Auto and satellite radio, operating through an 8-inch touchscreen. There are also buttons, knobs and switches, on the steering wheel and the center panel, for everyday functions. And, hallelujah, the seat and steering-wheel heat settings stay where we left them when we last shut off the engine.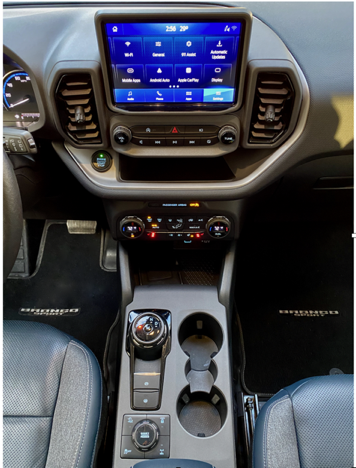 The Bronco Sport is also equipped with today's active safety features, many of them standard: frontal-collision warning and emergency braking, blind-spot monitors, lane-departure and rear cross-traffic alerts, lane-keeping assistance, automatic high beams and a rear-view camera. Adaptive, stop-and-go cruise control is an option. 
Every Bronco Sport has all-wheel drive and an 8-speed automatic transmission. The standard engine is a 1.5-liter three-cylinder turbo rated for 181 horsepower. The Badlands model gets a 2.0-liter 245HP / 277 lb-ft turbo Four (also the engine in our leftover 2021 First Edition model). 
For 2022, Ford has made no significant changes to the Bronco Sport; there are now four trim levels, starting with the $28,910 Base model. With the features noted earlier, plus extra ground clearance and a more capable AWD system, the $35,585 Badlands variant is for outdoors-oriented owners. Less-adventurous buyers who want a B-Sport equipped for comfort may prefer the Outer Banks trim, which starts at $34,725. No doubt eventually there will be a battery-electric Bronco Sport, too.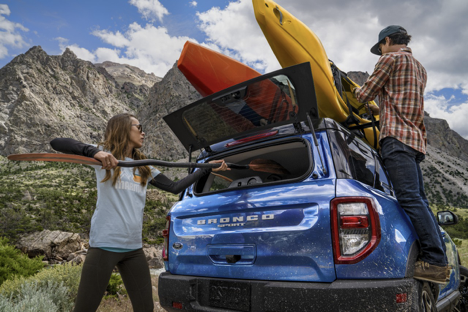 ---
Silvio Calabi has been reviewing cars since Ronald Reagan removed the solar panels from the White House. He lives in Camden.