For the holidays and to highlight activities and adventures, we're shining the spotlight on Maine businesses. Clutter-free gifts are gifts of services or experiences. Shop locally and support innovators and entrepreneurs who keep the creative economy alive in this state.

Indoor Rock Climbing

Orono, Maine
The back story: UMO's Maine Bound Adventure Center features a 32′ high climbing wall and a 12′ high bouldering wall that's 45′ long.
'The 32-foot wall, which we call The Tower, has several different 'faces' to the structure," said Trinity Cutshall, a student employee. "On one side is an auto-belay, where you can belay yourself on a tension-based system that lets you down slowly. The rest of the Tower uses a manual belay system that challenges your endurance. We have routes for all ability levels. We also have an easier slab wall, which is easier for beginners and you can do different types of routes with a different skill sets. As for the 12-foot bouldering wall, it's 45 feet long and you don't need any gear, but it's challenging, a short series of difficult moves. You just climb along the wall on various handholds and if you fall, it's onto a large pad."
Cost: Day passes are $12 for 6 years old and older. Note: gift certificates cannot be issued, because payment must be done in person. FMI: Before your visit, please review and complete the General Use Liability Form, and bring it with you. The form can be found here. Please note that anyone under the age of 18 must have their liability form signed by either a parent or court-appointed guardian unless they are enrolled at UMaine. FMI: Maine Bound Adventure Center
In their words: "I'd say the majority of positive feedback we get is about our staff. We always have staff supervising the climbing walls so that people are safe and we end up interacting a lot with the climbers, which they appreciate."

---
Art Course: Weaving

Thomaston, Maine
The back story: Bobbie Tilkens-Fisher is a tapestry weaver and instructor in Thomaston who runs workshops out of her home and studio called At Home Modern Weaving Studio. She has taught a number of weaving workshops and multi-day retreats in her studio, at Haystack Mountain School of Craft, and at The Fiber College of Maine. "Weaving is easy and endlessly creative," she said. "It's portable and affordable, if you don't go crazy buying yarn. Best of all, it is beautiful and very meditative. I sell looms and all the tools you need to get started." All of Bobbie's workshops are geared toward all levels and she prides herself in creating a warm, playful, and stress-free environment for her students
Cost: Private lessons start at $50/hour and her workshops start at $150. All prices include all the materials needed to make a tapestry and students get to keep their looms. FMI: Workshops

In her words: "Weaving lessons make are a very thoughtful gift. Weaving is easy to learn, endlessly creative, and very meditative - all while making something beautiful for your home!"
---
Cedar Grove Sauna

Montville, Maine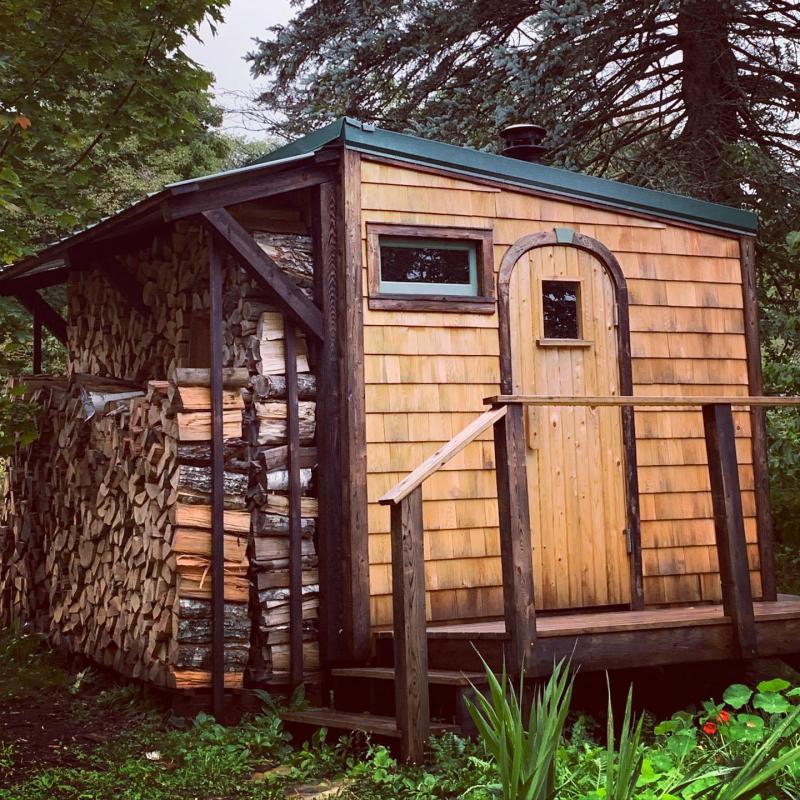 The back story: Jackie Stratton was transitioning careers in 2020 and started Cedar Grove Sauna at the height of the pandemic in Dec 2020, inspired by how good a sauna session made her feel through Maine's cold winters. The sauna's offerings were timed with people not going out to concerts, to dinner, etc, and immediately became a midcoast Maine hot spot. Jackie not only started the business, but she learned carpentry and built all the saunas herself! Cedar Grove Sauna hosts two rustic wood-fired saunas with cold plunges set in a scenic pastoral landscape, while the mobile sauna pops up along the coast in a different spot each weekend, allowing guests to enjoy a saltwater cooldown. Each sauna offers pre-booked private and community sessions.
Cost: Private 90-minute sessions in Montville are $100, and seat up to six people. Community sessions start at $30. FMI: Cedar Grove Sauna
In her words: "My favorite part of running the business is witnessing 'the melt' and seeing how amazing people feel after the experience."
---
Kay Stephens can be reached at news@penbaypilot.com