It takes a village to babysit a pig
Eva Murray: When pigs fly, and this time no kidding
Our little story begins back last fall, a few weeks into the school year, when our one elementary school teacher fell ill. A gang of assorted responders came to his assistance as is likely to happen on Matinicus Island—an RN and a ski patroller along with EMS—but little more should be said of that day by me because I was the EMT, who accompanied him to the mainland in the airplane. In any case, our schoolmaster's physician evidently suggested that it might be wise for him to remain a bit closer to civilization, and our school board was again in search of a teacher for our one-room school which, at that moment, served two, occasionally three, students.
Up to the plate stepped summer resident Bob Moynihan. None of us saw that coming. 
Bob and Janet own a home on the island and have been visiting annually for several decades, but few of us knew what he did for a living, and none of us suspected he'd want to be our island teacher. Bob is one who keeps a patter going with a comic, rapid-fire delivery that's "all madness and Mickey Bitsko," but it entertains the bystanders and perhaps helps out when island life gets too weird.
In any event, before long Bob and Janet were making plans to come back to Matinicus and to stay the winter in their "summer" home, a house which thankfully had once been a year-round place and could be strong-armed into more or less keeping the water going in the freezing weather. 
The kids quickly became attached to Mr. and Mrs. Moynihan, who soon were almost like "uncle Bob and auntie Janet" to these boys. Around Christmas, once it was settled that the Moynihans were staying all winter, there was one more logistics hurdle to be tackled. Janet was the owner of a pet pig, a large one, back in Maryland and boarding out a pig at the Pig Resort was not something that made sense for the entire school year and besides, Penny (the pig's name is Penny) is a pet and should be enjoying life at home with her familiar humans.
How do you get a full-grown pig to Matinicus in the winter, when the vehicle ferry only runs once a month? Don't say lobster boat. Besides traditional and customary objections, superstitions still held by some, to pigs aboard ship, I highly doubt that Penny could climb the ladder on the wharf. You would fly the pig here in a Cessna 207, of course.
That is exactly what happened, after the Moynihans made an all-night trip to Maryland to retrieve their four-footed friend, before which I, with my U-Haul, was dispatched to Tractor Supply for an order of fencing, a sturdy livestock gate, and some other items of porcine housekeeping.
Janet told me a little about how she ended up with a pet pig.
"[Our daughter] Rosalyn was working at an Asian restaurant while in college at Salisbury University her senior year.  The manager of the restaurant asked Rosalyn if she could take care of a couple of piglets. That was in December of 2014. Then it's spring break and final exams and Rosalyn asks if we could temporally take Penny. LOL!  I said, 'Oh? How big will she get?'  'Well,' Rosalyn said, 'She won't weigh 300 lbs...' Bob's comment was 'Well, that's comforting.' Ha ha ha. Rosalyn graduated, moved to Wyoming, and the rest is history."
Janet explained that traveling with Penny is not like traveling with the family dog.
"I learned quickly that getting a pig in and out of a vehicle is a major task. They do not jump into a vehicle. We had to get a wheelchair ramp and lure her into the car with Oreo cookies. She also has a harness and pink brush.
"We had to have our vet check on the Maine laws regarding livestock requirements, and the proper paperwork, for Penny to move here from Maryland. The vet gave me a tranquilizer for her, as it is about an 11-hour drive, that, along with the Guinness beer she loves. We decided to leave at 2 a.m. I think it was December 29. It started to snow and Penny did not want to leave her hut. Finally, with the Oreo cookies, she went up the ramp into her crate where we had the tranquilizer in the applesauce...."
When Penobscot Island Air was contacted for Penny's reservation on a flight to the island, pilot Roger Robertson remembers asking, "What, you mean a live pig?"
Robertson later told me, "We fly dead pigs all the time to people hosting a pig roast."
Penny arrived at the Matinicus Airstrip at the appointed time, touching down gently on our gravel airstrip with Roger at the helm. Penny rode in her crate because it does matter, in small aircraft, that the pilot know where the weight is centered. When the heavy freight walks around, conditions may be sub-optimal. 
Unloading the pig in the crate took all of us. The last thing we needed was a panicked pig on the loose at the airport, so she had to remain crated until we got her to her new home. It was rather like moving a large appliance. All of us on this island are well-tried in the carriage of heavy items, however, and she was conveyed to her pickup truck along with her luggage, which included what was left of the six-pack of Guinness.
Penny likes beer, and she especially likes Guinness Stout. 
Interestingly for a fishing community, this place has seen quite the little resurgence of backyard agriculture over the last few years. This island supports a couple of poultry operations, including one run by 5-year-old Eli, who is a serious chicken entrepreneur, and we have multiple beekeepers, and several folks have recently raised various critters (including pigs) for meat. There have always been gardeners, but for the past 50 or 60 years until recently, nobody did much with farm animals. Now, we've got "one heck of a 4-H club." 
Penny, by the way, is not meat.
So Penny and Janet and Bob lived a perfectly normal Matinicus Island life all winter, along with we three dozen or so others, messing with their water line and teaching school and waiting for the mail and shoveling snow and plodding through mud and eating cookies aboard the Sunbeam and going to "stitch and bitch" and hoping the lights stay on when the wind blows hard, which it does all winter. Penny got to know Millie and Mary and Wanda and Darlene, the four Dexter cows next door. 
Then, in the spring, just a few short weeks before the end of school, Bob called with an urgency in his voice and explained that Janet would have to leave the island in a hurry because of a health scare, although this time no emergency responders would be required. A substitute teacher was sent for, our occasionally visiting superhero Pat, who is a former Matinicus teacher and smallholder farmer herself. Everybody hurried to give Janet a hug before the mail plane came for the teaching couple. We wished her all strength and healing and the best of care.
Penny, however, doesn't pack up her kit and travel on the spur of the moment, so this summer, Penny is in the tender care of the citizenry at large. It takes a village to babysit a pig. She is quite possibly getting spoiled. Certainly she gets more dessert than Mom would ordinarily allow.
Let it be said that Janet would in no way leave her friend abandoned on some lonely rock without supervision or sustenance. Robin the postmaster (and primary substitute pig-keeper, experienced in both backyard livestock care and veterinary medicine) stops by twice a day before and after work to make sure Penny has fresh water and to try and get her to eat her vegetables and healthy grain.
"She likes carbs. She likes plain spaghetti. There is a lot she doesn't like. Somebody dropped off some cauliflower here for her, and she scowled at me like, 'Seriously? What is this stuff?'"
Penny is 3 ½ years old, and seems to eat like any other 3 ½ year-old, meaning she isn't interested in her vegetables if she thinks there is a doughnut or a piece of toast around somewhere. She likes cinnamon rolls. She likes Stella Artois, which is nothing like Guinness. She does not care much for salad without Italian dressing. 
Janet will be back, and we may have to undertake the Flying Pig Dance again, which we can do if we must because we know how, and Penobscot Island Air has flown stranger things. But the pig is a good neighbor, and islanders enjoy dropping by to bring Penny a treat. She eats, I suppose, like a pig. Actually, she eats pretty much like the rest of us.
More Industrial Arts

Old news, and eels
Freeboard Logistics, at your service
Winter beach redux
Enjoying, and supporting, our local small businesses
I know why they call it the 'holidays'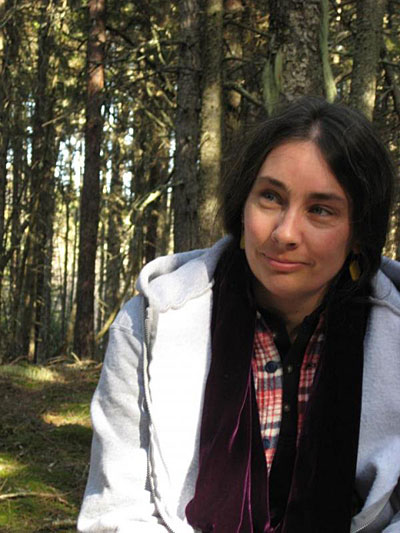 Looking back over years of island Thanksgiving
Maine, where it's perfectly normal to be self-employed
A home for the teacher, a wringer washer, a sea turtle...How to get a teacher to an island
Cardinals, cows, and computers – A few things have changed in 30 years
A great place for honeybees 
• Apple blossom time (June 7, 2017)
• Old fogeys, twitchers and stowaways: a birder's evolution (May 22, 2017)
• LifeFlight visits Matinicus Island for community training (March 20, 2017)
• At what risk? (Feb. 7, 2017)
• Using it twice (Jan. 25, 2017)
• Christmas on Matinicus, back a ways and these days (Dec. 19, 2016)
• Remember civilian heroes – A Christmas tree, two guys named Coleman, and a lot of other people (Dec. 19, 2016)
• Eva Murray: Haul away, haul away, boys... (Nov. 23, 2016)
• Politics, the middle ground, and a few probably unwelcome observations (Nov. 5, 2016)
• Islander (Oct. 20, 2016)
• Eva Murray: Brier, Muck and Igiugig (Sept. 28, 2016)
• Doctor Lightning (June 27, 2016)
• Search and Rescue (May 27, 2016)
• It's about the water (May 11, 2016)
• Eva Murray: In defiance of mud season - tips for the inspired homeowner 
• Plesiosynchronicity, and a snowy day
• A day of planning and practicing in preparation for major storms (posted March 10, 2016)
• Time to take down the (island) Christmas tree (posted March 3, 2016)
• Snow Day on Matinicus (posted Feb. 14, 2016)
• Going to Rockland for pie (and beer and art glass and ukuleles...) (posted Feb. 3, 2016)
• Eva Murray: Pencil to paper (posted Jan. 21, 2016)
• A new year, a new winter (posted Dec. 31, 2015)
• 'A tiny, happy place' (posted Dec. 14, 2015)
• Metal artist Blair Clement brings wave-washed junk to life (posted Sept. 20, 2015)
• Maine veterans and a most sentimental biker (posted June 1, 2015)
• Wild Island Child (posted April 8, 2015)
• Last holdouts of offshore outpost finally accept reality (posted April 1, 2015)
• Truck on boat (posted March 16, 2015)
• Public works (posted Feb. 25, 2015)
• A constant struggle (posted Feb. 14, 2015)
• Pie Hero, Pie Villain (posted Jan. 29, 2015)
• Safely out to sea (posted Jan. 27, 2015)
• Je suis (posted Jan. 13, 2015)
• Making merry on Matinicus, with only a few (posted Dec. 25, 2014)
• The smallest emergency medical service around (posted Sept. 29, 2014)
• Islanders host 'Man Overboard!' discussion, rescue demonstrations (posted Sept. 8, 2014)
• Logistics (posted July 31, 2014)
• Black Hawks over Criehaven (posted July 16, 2014)
• On a sunny Saturday, when the steel band came to Matinicus (posted June 6, 2014)
• The last day of winter (posted April 16, 2014)
• Puppies, basketball champs not injured by explosive five-bulldozer wreck, dump fire, and zoning board (posted March 13, 2014)
• In a good old hardware store (in memory of Everett Crabtree) (posted Feb. 28, 2014)
• What is it like to be one of Maine's Search and Rescue volunteers? (posted Feb. 9, 2014)
• Arts and hobbies (posted Jan. 31, 2014)
• Santa Claus and the yard sales - why I own more monkey wrenches than you do (posted Jan. 15, 2014)
• Quiet on this last day of the year (Dec. 31, 2013)
• A one-room school Christmas (posted Dec. 21, 2013)
• Here's wishing us all a little rebellion in this happy season (posted Dec. 12, 2013)
• Roadside assistance (posted Nov. 27, 2013)
• On the many kinds of emergency responders (posted Nov. 18, 2013)
• (In defense of...) Breakfast for supper (posted Oct. 22, 2013)
• Fish Factory (posted Sept. 9, 2013)
• 350 dot Rockland... and many ruminations on small efforts (posted Aug. 30, 2013)
• Trains and planes and heroes (posted July 15, 2013)
• Joining the community of artists (posted July 4, 2013)
• Worth every penny (posted July 27, 2013)
• It's about showing up. Some thoughts on EMS Week (posted May 27, 2013)
• Ethanol, gasoline, and public safety (posted April 17, 2013)
• A system that makes it hard on people who want to do the right thing (part 2) (posted March 29, 2013)
• A system that makes it hard on people who want to do the right thing (part 1) (posted March 21, 2013)
• 'It's important' (posted Jan. 18, 2013)
• Tree crew (posted Dec. 28, 2012)
• Light the candles (posted Dec. 13, 2012)
• Firewood (posted Dec. 2, 2012)
• Missing man formation (posted Oct. 18, 2012)
• In the middle of the bay (posted Oct. 3, 2012)