I missed apple-blossom time this year. 
Matinicus Island doesn't have a lot of hardwoods, and admits to offering a mostly over-mature and decidedly scraggly spruce forest, but the island does support quite a few apple trees. I have written about apple blossom time before, and it is my belief that the apple blossom — just as much as the puffin, the lighthouse, the lobster boat and the Jolly Roger — ought to be considered a local icon, a symbol of this place, suitable for framing, printing on T-shirts, embroidering on a pillow, etc. That is my opinion.
However, I was on the road too much this spring, gallivanting all around the countryside. I missed the brief and glorious flowering of all those wild, feral, and antique apple trees, a few of which yield fruit which is even edible.
That's OK; I didn't miss the whole show on account of travels. This year is proving to be a stupendous year for flowers.
Driving north on the main road up the middle of the island, passing Tony's field across from the Post Office, the telephone man in his TDS truck was overheard remarking that: "This is the best that field has been in years for lupines. After Max scraped all the topsoil off to get at the gravel years ago, it's taken this long for it to come back."
Half the neighborhood stayed angry at Max for years after he took the bulldozer to the best field of flowers on the island, maybe 20 years ago. Looks like the wound has healed.
The lupines are striking, and gorgeous, as I write. Mostly purple, some white, some pink, and quite a few variants of two-tone, these are the island flowers made famous in Barbara Cooney's book Miss Rumphius. They grow by the hundreds in Tony's field, and along the roads, and up driveways and around the back of homes and just about everywhere on Matinicus.
They love our soil, what little we have of it. I have heard the lupine called hard to transplant, because of a deep tap root, but I have done it. I wouldn't necessarily do it again, as they do tend to grow huge and take over once happy somewhere. In any case, this time of year, our island is an explosion of purple. Hereabouts the flower is pronounced "loopin," although the name of the United States Coast Guard cutter White Lupine is pronounced "loopine," like a pine tree. Must be a regional linguistic difference, between here and Rockland.
Tony also has a bright red lupine in bloom in a flower patch in his dooryard. I think that one must have been store-bought.
Bright red, on this island, is ordinarily the business of dahlias. They are not in bloom yet — they are sprouts just now, and must defend their tender first leaves against the depredations of earwigs — but dahlias will be everywhere in this town later in the summer. Supposedly all from the same rootstock, a gift some hundred-plus years ago to young Julia Young of this island, the dahlias of Matinicus were mentioned in one of Edna St. Vincent Millay's sonnets and were toasted once a summer for over 20 years by the Ladies in their silly hats around the boozy blender. The old historic dahlias are, in their red ubiquity, "a thing" around here.
The pink peonies which grow behind my house, on the other hand, are my husband's particular project. The plant was here when he bought the house from Grace and Vernon, of an old and very large island family, and he took to cultivating and caring for the flowers as best he could. But the real proof of his dedication came when we decided to build on to Grace and Vernon's house and expand the footprint. The new kitchen would have to be built right over the peony. Paul dug it up and moved it with his tractor, despite all sorts of sidewalk supervisors telling him it was never going to work, that the plant would never be the same. It managed the move of maybe 25 feet just fine, and this year's buds are about to burst open.
A sprig of lily-of-the-valley from our wedding is in a stone bud vase on my kitchen window sill. Lily-of-the-valley blooms in the spring; in fact, it blooms around now. We did not have a spring wedding, which is why this flower has a story.
Back in 1989 when we were married, I had evidently said something in passing about how it would have been nice to wear lily-of-the-valley in my hair, which would be in some sort of complicated braid for the occasion, but it was the wrong time of year.
Our friend, Betsy, special ordered a whole flat of the flowers from a nursery to be forced for bloom in September. This is not something I would have asked for, but it was lovely, and resulted in a couple dozen live plants which needed homes after the wedding. Ours are still alive providing an annual exercise of mushy sentiment and a reminder of Betsy, coming up every year under the lilacs, behind the board pile and the brickyard and the shop ramp where the welder gets set up. Seems appropriate.
Our neighbor, Betsy, was a gung-ho, full-time, 40-hour-a-week landscape gardener for a hobby, back in the day. She died a few years ago but her work keeps on giving. Paul brought me rhododendrons from Betsy's yard a few days ago, deep purple, magenta, and bright red. There is a regular forest of rhodies down there now, with many having sprouted on their own, but I remember when she planted the first couple dozen. It was the spring of 1990.
The reason I am so sure of this was that she hired me to dig 24 identical, perfectly round, carefully measured, precisely engineered holes, into which she would transplant the variety of baby rhododendrons she had ordered. Our son, Eric, was born that fall. At first, when Betsy discovered I was "expecting" but still hiring out as a digger of holes, she pretended to be shocked, but before long she admitted that when she was expecting her own kids she was going around rescuing potentially ornamental bushes from construction sites with pick and shovel, and this was in the '50s. It was just not done. All of the rhododendrons, Betsy's kids, and Eric turned out just fine.
Eric was given a "Golden Chain" tree as a baby; this year, he is 27, so the tree is probably 28 or 29, and is suffering a big split, and will probably be half of its former self before long. But a few days ago, at its annual peak of florescence, the whole tree was a blazing riot of yellow-- as yellow a yellow as can be imagined, as though a small kid had offered a load of elbow grease to the work of a large scribble with a brand-new yellow crayon. Everybody who comes through my dooryard asks, "Wow, what is that tree?" It is nothing short of eye-popping for a few days each year.
The purple of blue flag iris grows in a lot of gardens, along a lot of fences, and we get the wild variety too, here and there in damp spots about the island. I carried a small bouquet of purple iris as a bride, so just like the lily of the valley, seeing them each year is a pleasant memory--although this memory occasionally makes me laugh to myself. Somewhere there is a photograph of me brandishing this bouquet of irises, with long stems, like some sort of weapon or implement with which to whack a mosquito, or maybe a relative or a photographer--certainly not the new husband. In retrospect, we definitely should have cut the stems shorter. The bride looks somewhat ridiculous.
This past week, just a quick trip to the post office on Matinicus is "a walk in the park," as they say. The roadsides are crowded with daisies, fat red clover, and every multi-toned iteration of the noble lupine. Much of the year the scenery is kind of bleak for going about one's business up and down the road through the middle of town. Not every waking moment on this ledge-pile is about gazing out over a twinkling sea. That, dear reader, is a myth. Early spring is about mud, and late summer is often harshly dusty, and we don't get a lot of bright fall foliage out here. Dead spruce trees only look good in the snow, and a lot of years we don't get that much snow. It is easy to bellyache. This few weeks in the botanical garden is a feast for the eye, a delight to the nose, and it does a year-round islander good.
More Industrial Arts

Old news, and eels
Freeboard Logistics, at your service
Winter beach redux
Enjoying, and supporting, our local small businesses
I know why they call it the 'holidays'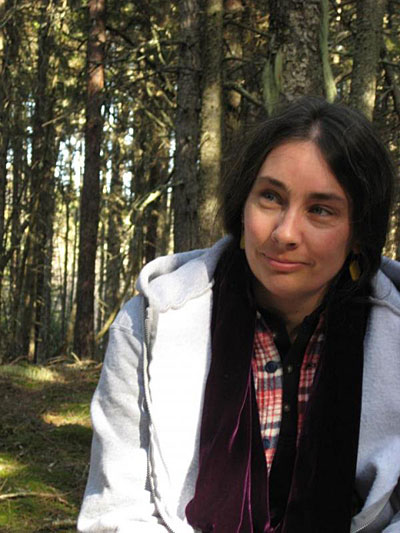 Looking back over years of island Thanksgiving
Maine, where it's perfectly normal to be self-employed
A home for the teacher, a wringer washer, a sea turtle...How to get a teacher to an island
Cardinals, cows, and computers – A few things have changed in 30 years
A great place for honeybees 
• Apple blossom time (June 7, 2017)
• Old fogeys, twitchers and stowaways: a birder's evolution (May 22, 2017)
• LifeFlight visits Matinicus Island for community training (March 20, 2017)
• At what risk? (Feb. 7, 2017)
• Using it twice (Jan. 25, 2017)
• Christmas on Matinicus, back a ways and these days (Dec. 19, 2016)
• Remember civilian heroes – A Christmas tree, two guys named Coleman, and a lot of other people (Dec. 19, 2016)
• Eva Murray: Haul away, haul away, boys... (Nov. 23, 2016)
• Politics, the middle ground, and a few probably unwelcome observations (Nov. 5, 2016)
• Islander (Oct. 20, 2016)
• Eva Murray: Brier, Muck and Igiugig (Sept. 28, 2016)
• Doctor Lightning (June 27, 2016)
• Search and Rescue (May 27, 2016)
• It's about the water (May 11, 2016)
• Eva Murray: In defiance of mud season - tips for the inspired homeowner 
• Plesiosynchronicity, and a snowy day
• A day of planning and practicing in preparation for major storms (posted March 10, 2016)
• Time to take down the (island) Christmas tree (posted March 3, 2016)
• Snow Day on Matinicus (posted Feb. 14, 2016)
• Going to Rockland for pie (and beer and art glass and ukuleles...) (posted Feb. 3, 2016)
• Eva Murray: Pencil to paper (posted Jan. 21, 2016)
• A new year, a new winter (posted Dec. 31, 2015)
• 'A tiny, happy place' (posted Dec. 14, 2015)
• Metal artist Blair Clement brings wave-washed junk to life (posted Sept. 20, 2015)
• Maine veterans and a most sentimental biker (posted June 1, 2015)
• Wild Island Child (posted April 8, 2015)
• Last holdouts of offshore outpost finally accept reality (posted April 1, 2015)
• Truck on boat (posted March 16, 2015)
• Public works (posted Feb. 25, 2015)
• A constant struggle (posted Feb. 14, 2015)
• Pie Hero, Pie Villain (posted Jan. 29, 2015)
• Safely out to sea (posted Jan. 27, 2015)
• Je suis (posted Jan. 13, 2015)
• Making merry on Matinicus, with only a few (posted Dec. 25, 2014)
• The smallest emergency medical service around (posted Sept. 29, 2014)
• Islanders host 'Man Overboard!' discussion, rescue demonstrations (posted Sept. 8, 2014)
• Logistics (posted July 31, 2014)
• Black Hawks over Criehaven (posted July 16, 2014)
• On a sunny Saturday, when the steel band came to Matinicus (posted June 6, 2014)
• The last day of winter (posted April 16, 2014)
• Puppies, basketball champs not injured by explosive five-bulldozer wreck, dump fire, and zoning board (posted March 13, 2014)
• In a good old hardware store (in memory of Everett Crabtree) (posted Feb. 28, 2014)
• What is it like to be one of Maine's Search and Rescue volunteers? (posted Feb. 9, 2014)
• Arts and hobbies (posted Jan. 31, 2014)
• Santa Claus and the yard sales - why I own more monkey wrenches than you do (posted Jan. 15, 2014)
• Quiet on this last day of the year (Dec. 31, 2013)
• A one-room school Christmas (posted Dec. 21, 2013)
• Here's wishing us all a little rebellion in this happy season (posted Dec. 12, 2013)
• Roadside assistance (posted Nov. 27, 2013)
• On the many kinds of emergency responders (posted Nov. 18, 2013)
• (In defense of...) Breakfast for supper (posted Oct. 22, 2013)
• Fish Factory (posted Sept. 9, 2013)
• 350 dot Rockland... and many ruminations on small efforts (posted Aug. 30, 2013)
• Trains and planes and heroes (posted July 15, 2013)
• Joining the community of artists (posted July 4, 2013)
• Worth every penny (posted July 27, 2013)
• It's about showing up. Some thoughts on EMS Week (posted May 27, 2013)
• Ethanol, gasoline, and public safety (posted April 17, 2013)
• A system that makes it hard on people who want to do the right thing (part 2) (posted March 29, 2013)
• A system that makes it hard on people who want to do the right thing (part 1) (posted March 21, 2013)
• 'It's important' (posted Jan. 18, 2013)
• Tree crew (posted Dec. 28, 2012)
• Light the candles (posted Dec. 13, 2012)
• Firewood (posted Dec. 2, 2012)
• Missing man formation (posted Oct. 18, 2012)
• In the middle of the bay (posted Oct. 3, 2012)