A friend of mine wrote a poem called "Winter Beach" a couple of decades back, published in I-don't-remember-which publication around here. Lots of folks send a poem to a newspaper once or twice in a lifetime, but Karen once told me that she could work 40 hours a week writing poetry, and I believe that to be true. Health and strength demanded she decamp to the mainland eventually, and from over there, I suspect, my friend the poet thinks about this place all the time. I think about her when I walk a winter beach. I know just the beach she wrote about.
The reasons people are attracted to beaches during the summer are obvious, but this time of year, when it takes a concerted effort and some significant gear, we are drawn to the waterside for stranger reasons. Solitude might be first among them. There is nothing quite like having an entire beach to oneself.
On Matinicus we are fortunate to have two sandy beaches, which for this part of Maine is no small luxury. On this island, the beach is where you're bound to end up if you're going for a walk for the heck of it, to walk the dog, or to force your creaking knees into some semblance of obedience, or just because the wind isn't blowing, or to shake off the idiocy of a day job overburdened with bureaucracy. 
One might go in hopes of seeing the snowy owl in a brown and ragged shoreside field. For some of us, to catch a peek at a snow owl is an honor and a privilege, and makes us feel good all winter.
On many a New Year's Day I have gone to South Sandy--or to Markey's Beach on the other side of the island, or to the rock beach off Libby's-- for a Polar Bear dip, me and my "safety crew," with the telephone truck kept running and warm up on the high bluff. This winter I weaseled out of that particular New Year's festivity because it was something like 50 degrees below zero that day. Maybe I should try again for Chinese New Year.
You might walk the beach to collect driftwood. The upper edge of the South Sandy Beach, a.k.a. "Southern Sands," is a regular yard sale of wreckage, debris, treasures, trash, art supplies, all that's wrong with society these days, free stuff, marine biology and an education in what Mother Nature can do to commercial fishing gear. Driftwood of a specific description was, in fact, one of my primary aims this time, as I had a project in mind. You never find what you need when you go beachcombing with a list, however; one must carry home one's random treasures and put them in stock. Our shops and studios and kitchens get rather full.
The reflection of the sun on a wide expanse of wet sand is enough. We need not carry anything home.
But, as a rule, we do. We load up our pockets. Most people keep an eye out for sea glass, and most everybody likes the cobalt blue the best. That was from granny's Milk of Magnesia bottles in the old days; nowadays, we get blue glass from Skye Vodka and Arizona Tea. Oh well; at least it's still being manufactured. If you are very lucky, you may find a piece of purple glass which was once clear. This is antique glass, where the manganese has reacted with the sunlight to turn it purple. 
25 years ago I dumped a good-sized boxful of stained-glass scrap, all colors, on the beach in Condon's Cove (off season for going barefoot, of course). Not a fragment of it has returned as sea glass. Maybe it's 20 feet underground; maybe it's halfway to Portugal. Maybe it'll all show up next summer.
The sand, by the hundreds of tons, does move quite a bit. When I walked the beach this week the sand was "in," piled high and covering a good deal of the ledge and the seaweed and the junk. An interesting effect was visible where the upper few inches of the sand had frozen, and then the freshwater runoff from up on the island ran through and washed out underneath, forming little meandering rivers and miniature Grand Canyons.
One particularly enjoyable experience cannot be photographed, and that is the variety of sounds on an undeveloped beach, without people or vehicles or a screaming gale. On this particular winter day it was warm, in the upper 30's, and the runoff from the high ground, trickling though tree roots onto the rocks, sounded like a babbling brook. 
It doesn't matter one bit to the marine critters, who eat little waterborne plastic crumbs and starve, but there is a real ethical difference between storm-wrecked lobster gear and just tossing your empty Gatorade bottle overboard.

You might go to the beach to notice the geology, which, even without much of an education therein, is pretty darned interesting. You might observe the erosion, which does concern the landowners a bit, but I don't know what we're going to do about it. People ask me if we've noticed signs of sea level rise here. I have nothing against which to measure, so the answer is no, I haven't noticed, but that doesn't mean a thing.
You might go looking for heart rocks, or lucky rocks with one stripe around, or pure white quartz rocks. You might hunt for sand dollars. These will be plentiful when your hands are full with scavenged bricks, often found in the wreckage of lobster traps, and will be scarce when you are specifically looking for the fragile discs.
You might think to bring a field guide, or binoculars, or a little magnifier. It's been known to happen. Not very often, though; we want those things only when we have neglected to plan.
You might find an old bait bag and carry it home for your mother-in-law who hangs suet out for the downy woodpeckers. Bait bags used to be handmade of knotted twine; now they are the plastic "turkey bags," but those still work fine for feeding birds, and reusing something that might have been trash does sort of feel good.
We might go in mind to pick up trash. Do not take this as a harrying lecture, dear reader, nor an indictment of our lobstering culture, good neighbor, but we are all familiar with the reality, and the mess is certainly not just around here. Not so many of us toss our household garbage off the stern of the boat anymore, or our appliances off the Steep Banks, and things are improving on that front. Yet stuff from decades ago still surfaces when the sand moves, and there is stuff chucked or lost overboard from both fishing boats and pleasure boats, and stuff from up the river, and stuff from tourists, and stuff from summer revelers who have enjoyed their bonfire parties but thought for some reason that their beer cans would burn and their Styrofoam cups would biodegrade. 
Much of what the uninformed might call "beach trash" on this island is commercial fishing debris, storm wreckage and the like, and the bulk of that is nobody's fault. You cannot blame a man for losing a lobster trap. That having been said, there is no excuse for the bleach bottles, which are everywhere, and the soft drink bottles, and the big blue rubber gloves which have developed a hole. Those, I daresay, went overboard on purpose.
It doesn't matter one bit to the marine critters, who eat little waterborne plastic crumbs and starve, but there is a real ethical difference between storm-wrecked lobster gear and just tossing your empty Gatorade bottle overboard. There; I said it.
Examining the trash on the top of the beach is fascinating, if you are geeky enough to take an interest in that sort of thing. This time I found a cute little plastic bear, probably not a commercial-fishing-related piece of detritus. I found the remains of a bilge pump switch, and some perfectly good lumber which I regretted having to leave, and a thousand miles of rope. I found five small, wet rats, quite dead in a Clorox jug. Alright, that was unpleasant. Hypothermia, I suspect. I found a couple of useful pieces of driftwood.
It is not uncommon to find a shoe or a flip-flop. We subscribe to a regular newsletter called The Beachcomber's Alert, which describes interesting finds worldwide. I read somewhere that when a 40-foot shipping container full of new shoes goes overboard from a freighter in a storm, the eventual result is certain coves and beaches filled with left shoes and, due to the lay of the land and ocean currents, others full of right shoes. Perhaps that is possible. I do not know whether South Sandy would be a right-footed beach or a left-footed beach.
More Industrial Arts

Enjoying, and supporting, our local small businesses
I know why they call it the 'holidays'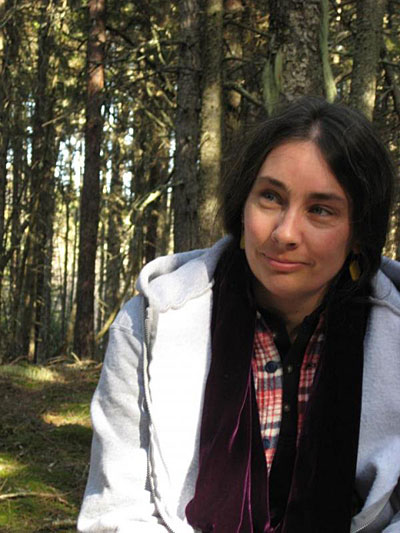 Looking back over years of island Thanksgiving
Maine, where it's perfectly normal to be self-employed
A home for the teacher, a wringer washer, a sea turtle...How to get a teacher to an island
Cardinals, cows, and computers – A few things have changed in 30 years
• Apple blossom time (June 7, 2017)
• Old fogeys, twitchers and stowaways: a birder's evolution (May 22, 2017)
• LifeFlight visits Matinicus Island for community training (March 20, 2017)
• At what risk? (Feb. 7, 2017)
• Using it twice (Jan. 25, 2017)
• Christmas on Matinicus, back a ways and these days (Dec. 19, 2016)
• Remember civilian heroes – A Christmas tree, two guys named Coleman, and a lot of other people (Dec. 19, 2016)
• Eva Murray: Haul away, haul away, boys... (Nov. 23, 2016)
• Politics, the middle ground, and a few probably unwelcome observations (Nov. 5, 2016)
• Islander (Oct. 20, 2016)
• Eva Murray: Brier, Muck and Igiugig (Sept. 28, 2016)
• Doctor Lightning (June 27, 2016)
• Search and Rescue (May 27, 2016)
• It's about the water (May 11, 2016)
• Eva Murray: In defiance of mud season - tips for the inspired homeowner 
• Plesiosynchronicity, and a snowy day
• A day of planning and practicing in preparation for major storms (posted March 10, 2016)
• Time to take down the (island) Christmas tree (posted March 3, 2016)
• Snow Day on Matinicus (posted Feb. 14, 2016)
• Going to Rockland for pie (and beer and art glass and ukuleles...) (posted Feb. 3, 2016)
• Eva Murray: Pencil to paper (posted Jan. 21, 2016)
• A new year, a new winter (posted Dec. 31, 2015)
• 'A tiny, happy place' (posted Dec. 14, 2015)
• Metal artist Blair Clement brings wave-washed junk to life (posted Sept. 20, 2015)
• Maine veterans and a most sentimental biker (posted June 1, 2015)
• Wild Island Child (posted April 8, 2015)
• Last holdouts of offshore outpost finally accept reality (posted April 1, 2015)
• Truck on boat (posted March 16, 2015)
• Public works (posted Feb. 25, 2015)
• A constant struggle (posted Feb. 14, 2015)
• Pie Hero, Pie Villain (posted Jan. 29, 2015)
• Safely out to sea (posted Jan. 27, 2015)
• Je suis (posted Jan. 13, 2015)
• Making merry on Matinicus, with only a few (posted Dec. 25, 2014)
• The smallest emergency medical service around (posted Sept. 29, 2014)
• Islanders host 'Man Overboard!' discussion, rescue demonstrations (posted Sept. 8, 2014)
• Logistics (posted July 31, 2014)
• Black Hawks over Criehaven (posted July 16, 2014)
• On a sunny Saturday, when the steel band came to Matinicus (posted June 6, 2014)
• The last day of winter (posted April 16, 2014)
• Puppies, basketball champs not injured by explosive five-bulldozer wreck, dump fire, and zoning board (posted March 13, 2014)
• In a good old hardware store (in memory of Everett Crabtree) (posted Feb. 28, 2014)
• What is it like to be one of Maine's Search and Rescue volunteers? (posted Feb. 9, 2014)
• Arts and hobbies (posted Jan. 31, 2014)
• Santa Claus and the yard sales - why I own more monkey wrenches than you do (posted Jan. 15, 2014)
• Quiet on this last day of the year (Dec. 31, 2013)
• A one-room school Christmas (posted Dec. 21, 2013)
• Here's wishing us all a little rebellion in this happy season (posted Dec. 12, 2013)
• Roadside assistance (posted Nov. 27, 2013)
• On the many kinds of emergency responders (posted Nov. 18, 2013)
• (In defense of...) Breakfast for supper (posted Oct. 22, 2013)
• Fish Factory (posted Sept. 9, 2013)
• 350 dot Rockland... and many ruminations on small efforts (posted Aug. 30, 2013)
• Trains and planes and heroes (posted July 15, 2013)
• Joining the community of artists (posted July 4, 2013)
• Worth every penny (posted July 27, 2013)
• It's about showing up. Some thoughts on EMS Week (posted May 27, 2013)
• Ethanol, gasoline, and public safety (posted April 17, 2013)
• A system that makes it hard on people who want to do the right thing (part 2) (posted March 29, 2013)
• A system that makes it hard on people who want to do the right thing (part 1) (posted March 21, 2013)
• 'It's important' (posted Jan. 18, 2013)
• Tree crew (posted Dec. 28, 2012)
• Light the candles (posted Dec. 13, 2012)
• Firewood (posted Dec. 2, 2012)
• Missing man formation (posted Oct. 18, 2012)
• In the middle of the bay (posted Oct. 3, 2012)