CAMDEN — The original Wild Rufus was a good boy (and a great CD and record shop), but now a new dog is in town.
Manny's CD's, Vinyl and Other Cool Stuff recently opened Oct. 11 and sits at 25 Mechanic St. in Camden, next to the Bagel Cafe. Keeping with the tradition of naming a record shop after their dog, Matt and Karyl Brown have named the new shop after their 125-pound Bernese mountain dog, Manny. The shop is split into two sides, one housing Matt's business and the other side for Karyl's original jewelry designs.
When Brown first opened Wild Rufus in 1979, records and cassette tapes were the only way people could hear their favorite bands and artists. Even though vinyl has had a Renaissance, it is fairly unusual to find a traditional record store in a small Maine town anymore. Camden now has two record shops, with Byron Greatorex's Spirit of Sound Records in the Merchant's Cooperative (the antique store next to Camden House of Pizza). See our article on that here. Greatorex also happened to own Wild Rufus after Brown and the two music lovers have a friendly collaboration. Brown's tiny shop has both new and used CDs and vinyl records, Blu-Ray discs, box sets and used DVDs and he's constantly adding to his collection. We stopped by to meet Matt.
Q: What made you come back?
A. We love Camden. We owned a home in Camden for 12 years and then we spent a lot of time in L.A. I worked for a bunch of studios and Karyl sold jewelry there. We were tired of the the smog and traffic. My son is transitioning middle schools so it seemed a good time to come back. And I've always had the dream of co-owning a shop with Karyl.
Q: Have some of your old customers come back for your opening?
A; The first few days have been wonderful. People have told me that they really love having another record store in town. Having run a business here before, we have no illusions that some days will be slow—but it's a lot of fun.
Q: How do you make a traditional record store work in this digital age of Mp3s?
A: I am kind of a junkie with new technology, iPods and streaming and stuff but, through it all, I have always bought vinyl and CDs. There was very little new vinyl 12 years ago; there's now 44,000 titles in vinyl. So, it's back. I don't have any aspirations it will come back to the heyday of vinyl and CDs, of which I was able to participate in some form, but I do think people will come in here and find something that appeals to them, whether they are 17 or 70.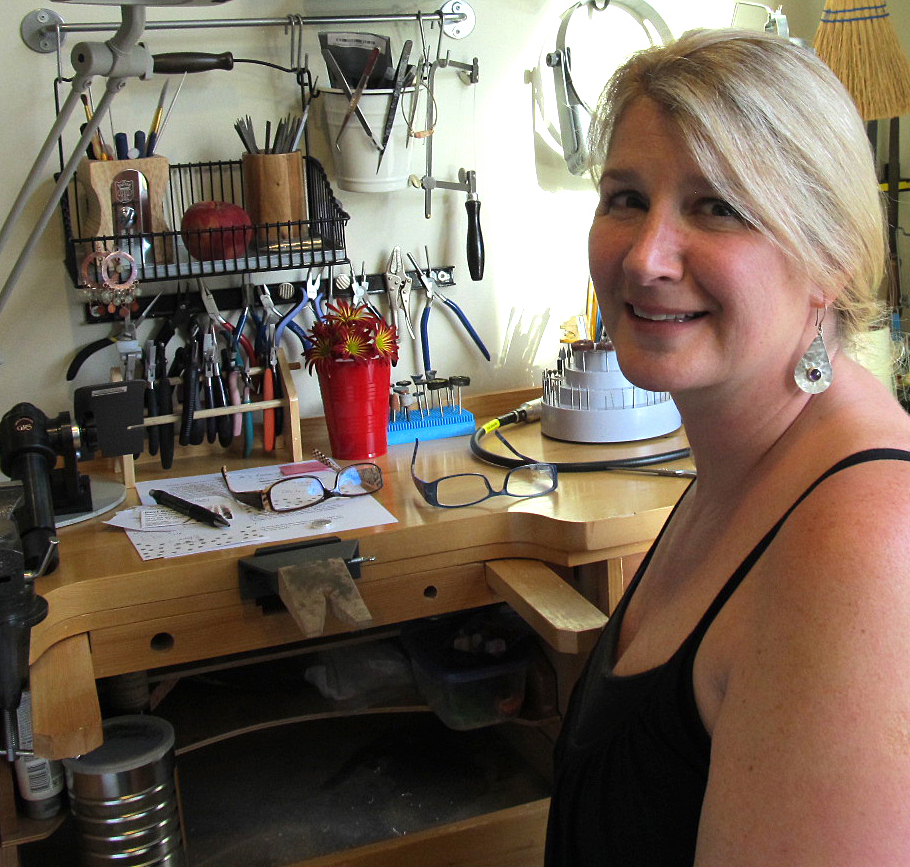 Karyl Brown shares the other half of the Manny's shop at 25 Mechanic St. In her studio overlooking a street side window, she has a little workspace with tools to craft her rings, bracelets, necklaces and earrings. It's a great commercial space for the husband-and-wife team to do what they love. She started making jewelry when she and Matt lived in L.A. four or five years ago.
"I started to make it when I couldn't find what I liked, so I made it," she said. "Somebody said, 'Hey, I really like that, can you make me one?' and it really grew from there."
Karyl's favorite medium is sterling silver and not only does she craft original designs, she works on commissioned pieces as well.
"I've been working like mad since March to get inventory into the shop." In addition to jewelry, Karyl's also features handmade afghan throws, scarves and sweaters.
Q: What kind of music are you carrying?
A: There's certainly a lot of classic rock. I love jazz, so there's a bit of that and blues. I'm selling most of my collection to get off the ground, but we will soon be selling all new CDs, vinyl, Blu-rays and audio stuff. I'm already placing orders for people who want something specific, so that's something we still do. My goal is to add a lot more new stuff and I want people to tell me what they want. But, just to note, we won't be buying any used CDs from the public.
Q: How are you cross-promoting with the other music stores in the area?
A: I've played music all of my life and I know Byron and the guys at K2 Music. I'll send people looking for specific genres of vinyl over to Byron because he has a much bigger selection and he does the same when people are looking for something he doesn't have. I think the idea between me and K2 Music is that if people need something like guitar strings or something else I send them over there. It's just really special to be able to do that in a town where you all know each other. It's not competitive, it's more about how we help each other.
Keeping with the old-school vibe, Manny's and Karyl's doesn't have an online presence, so stop by and check them out or call 706-4039.
---
Kay Stephens can be reached at news@penbaypilot.com