Electric vehicles never used to reach me in Midcoast Maine. They didn't have enough range for the run from the press garage near Boston—that or the delivery driver would have had to hand me the key and say: "Here's your car. But you can't use it until you've recharged the batteries overnight." 
Those days are gone. The Mach-E arrived with almost 100 miles in the "tank," which let me drive it and then plug it in that night.
Now, after several days of normal use and charging inbetween, the battery bank is 100% topped up and the computer predicts 281 miles of range. That figure would be slightly less in the winter—batteries and moving parts don't like cold—but I still wouldn't suffer any range anxiety.
Even if I wanted to drive to, say, Denver, there are plenty of rapid-charge stations along the way, and the Mach-E would keep me posted on distance and directions to the next one. The FordPass app on my phone would do this too. And driving the Mach-E, in town or on the interstate, is a pleasure; it is smooth, powerful, roomy, comfortable and notably quiet.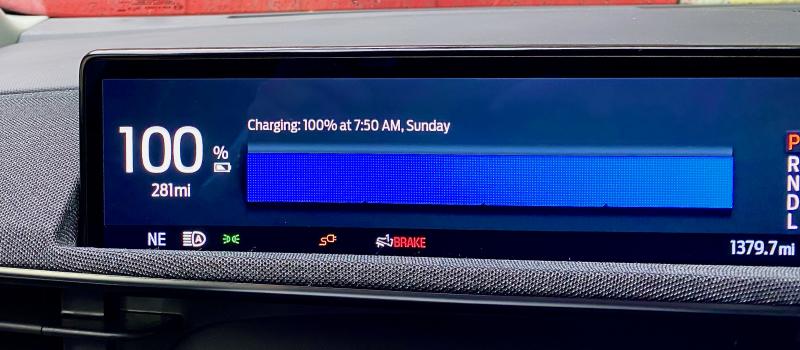 Although less recognizable than gas-powered Mustangs, the Mach-E still draws attention. People know what it is. The first thing they ask is, "Why did Ford call it a Mustang?" Beats me, but it does get us talking. The next question is always, "What's it like?"  
In a word, impressive. Outstanding. Fantastic, even. That's three words—but the Mach-E is a ray of sunshine in the environmental gloom. The Mach-E is so good that it makes me think that the EV Revolution may happen sooner than we think. (Yes, an EV is only as "clean" as the source of its electricity. But the Western world is moving away from coal-fired power plants.) 
The Mach-E has no tailpipe, no tailpipe emissions, no gas tank, no driveshaft hump in the floor and no bulky engine under the hood. (That space is now a front trunk.) It doesn't even have a transmission. Like all EVs, it needs no gas, oil, antifreeze or tune-ups. It comes with a power cord and plugs for both household current and a high-capacity charger. You'll be hanging one of those on the wall if you buy a Mach-E. Or any other EV. 
The biggest adjustment is getting used to driving without the brakes. It's like a golf cart: Push the accelerator pedal down to go; let it up to stop. Unless someone cuts directly in front of you, you'll never touch the brakes again. The Mach-E does not coast, or even roll without input from the driver's foot; at first, it feels like the e-brake is dragging. If this is just too weird, open the Controls screen and switch off 1-Pedal Drive. 
In minutes, though, one-pedal driving becomes intuitive and normal. Plugging in at home becomes habitual quickly too, and it sure beats pulling up to a gas pump three or four times a month. (We have to learn to unplug, too. Fortunately for me one morning, the Mach-E wouldn't move until I remembered to disconnect the charging cord.)  
Ford's EV offers three driving modes: Whisper, Engage and Unbridled. The first one is fine in town; the middle one is an all-around setting; and the third one lets the pony run free, as it were. In all three, abundant electric torque provides near-instantaneous acceleration. Drive too enthusiastically, of course, and your mileage will suffer. Just as in a gas-powered vehicle.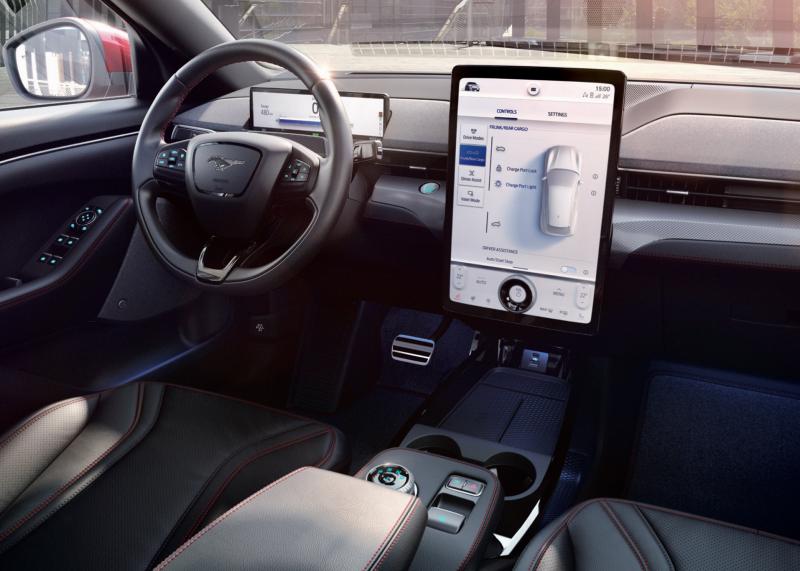 Except for the radio, lights and wipers, nearly all controls are in the large, crisp touchscreen, which is easy to read and use; and the doors pop open electrically at the touch of a lighted button. Otherwise, the Mach-E Premium is equipped like a normal near-luxury crossover SUV, with the usual active and passive safety systems, satellite navigation, Android Auto and Apple CarPlay, inductive phone charging, a fine stereo, lovely heated front seats and steering wheel, a fixed and tinted sunroof and plenty more. Ours also has all-wheel drive, with a compact, powerful electric motor on each axle.
How powerful? The GT Performance Edition's two motors together produce 480 horsepower and a pavement-rippling 634 pound-feet of torque. Our E makes do with 346 horses and 428 torques, but this is more than ample. The suspension and handling are up to par too—the batteries are heavy, but they're down below the floor, which keeps the center of gravity low for stability. 
Although the basic FWD Mach-E starts at a robust $43,995 (electric motors are cheaper than internal-combustion engines, but this battery technology is pricey), our extended-range AWD Premium lists for just $55,800 before any federal tax credits. If it cost five to 10 grand more, no one would be surprised. In fact, given this tasteful and high-quality cabin, no one would be surprised if the Mach-E carried a European badge, either. 
(The all-powerful GT starts at $61,000; but for a 5-passenger crossover that can hit 60 MPH in 3.5 seconds, that's a bargain too.) 
Many people would never consider a Tesla or high-end Euro EV, but Ford is meat and potatoes. When pre-orders opened, at the end of 2019, almost the entire first-year production of 50,000 Mach-Es was spoken for within about three months by buyers in the US and the EU both. Many of the Europeans said they'd never driven a Ford, but they wanted this one.
Now Ford says it has more than 120,000 deposits for its electric F-150 Lightning pickup, which went on sale in May and is due next spring. Together, these are the sort of exceptional and well-priced vehicles needed to drive the EV Revolution—and the reception they're getting might indicate less public skepticism about electric cars than expected.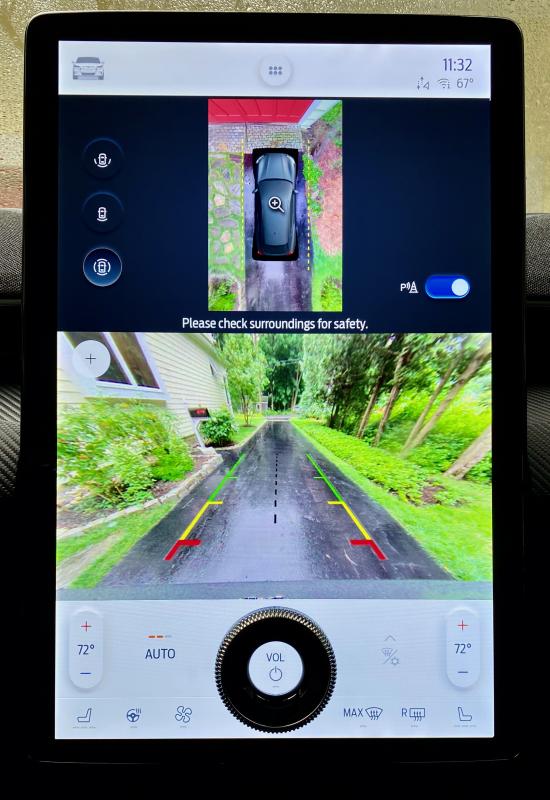 Silvio Calabi has been reviewing cars since Ronald Reagan removed the solar panels from the White House. He lives in Camden.