Santa Fe is a pleasantly upscale midsize city in New Mexico; calligraphy is the art of well-executed penmanship. Somehow, Hyundai has applied both to a car to denote the top trim level of its midsize, two-row SUV—a pleasantly upscale vehicle, especially well executed for 2021. Ah, now I get it.
For 2021, the made-over Santa Fe comes with a choice of three new powerplants: a standard 2.5-liter, 191-horsepower Four available with front-wheel or all-wheel drive; a 2.5-liter turbo Four with 277 horsepower and AWD; and an AWD hybrid that combines a 1.6-liter turbo Four with an electric motor to make 277 horsepower. Each engine gets its own transmission, too—respectively, an 8-speed automatic, an 8-speed dual-clutch automated gearbox and a 6-speed automatic. The e-brake engages automatically in Park—a nice touch. 
 Our Calligraphy model has the big engine and the crisp gearbox, and the performance is surprising—plenty of power and a comfortable, very quiet ride with good feedback and dependable handling. Hyundai has beefed up the braking system with bigger rotors and more boost, but at parking-lot speeds the brakes are a bit touchy. 
The AWD automatically splits the torque between the front and rear axles depending on the weather and road conditions; Hyundai says it also takes into account hill starts, straight-line acceleration and medium- and high-speed cornering. The driver can select Normal, Sport or Smart modes, too. 
The Calligraphy package includes semi-autonomous driving—the "smart" cruise control not only follows the car ahead, it's also linked to the GPS system, so it knows when a curve is coming up and adjusts the throttle to suit. Of course, there's also lane-keeping assistance, and the emergency braking system (which also works when backing up) can now recognize a bicycle as well as other vehicles and pedestrians. 
But the best safety feature is a pair of blind-spot cameras: Activate either turn signal and a view of the blind spot on that side—and whatever may be lurking in it—shows up in the instrument panel. The image displays on the left or right side of the screen, per whichever turn signal is in use. I'm also a big fan of the split-screen backup camera, which shows an enhanced bird's-eye view of the Santa Fe in relation to whatever is nearby: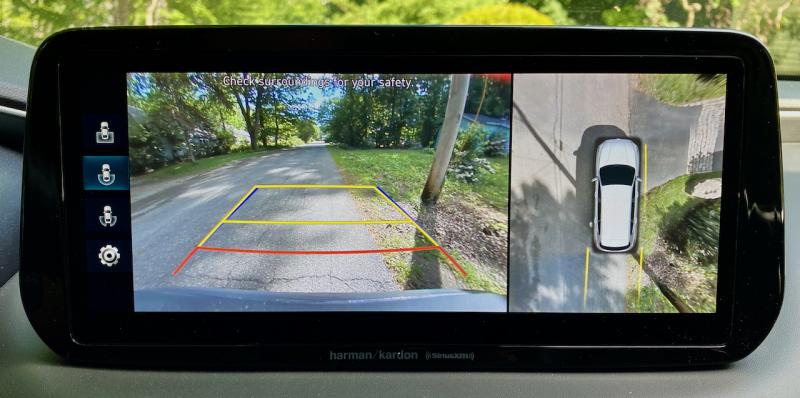 The Calligraphy trim includes (among many other things) power-folding side mirrors with turn-signal indicators and "puddle" lighting; an unusually informative color head-up display for the driver; voice-activated power tailgate, stereo and heating/cooling; a digital key with remote-start, cabin temperature and seat settings; smart parking assistance; an upgraded stereo and Android Auto and Apple CarPlay apps. There's even a monitor that reminds us (by blowing the horn and texting) if kids or pets are left in the back seat. And another one that warns us about opening the doors if there's a car coming from behind. This may be the most comprehensive array of active and passive safety systems I've seen on a vehicle.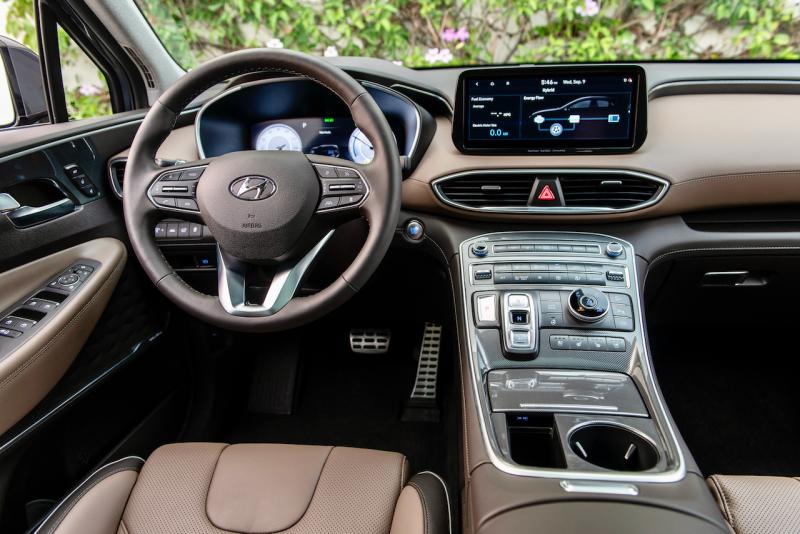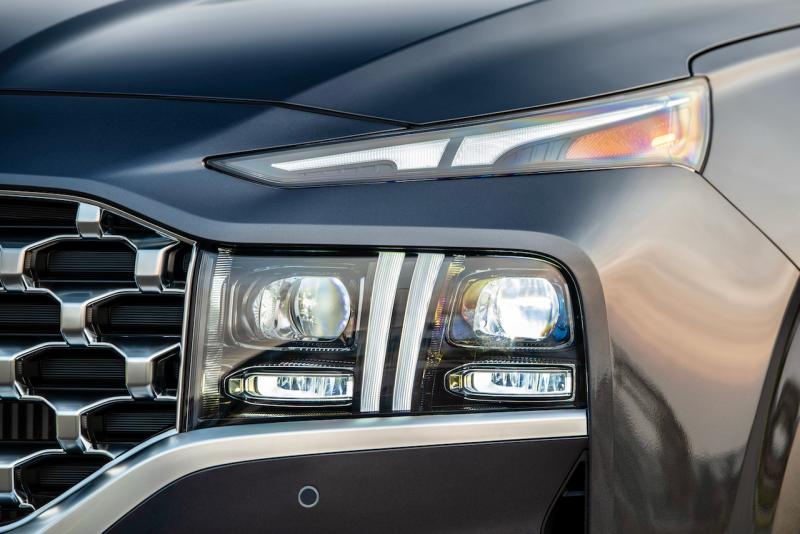 For a year or more now, beginning with the new three-row Palisade model, every new Hyundai has shown impressive styling, fit, finish and attention to detail. With its fresh sheet metal plus the upgraded performance, long list of features and tasty interior, the Santa Fe Calligraphy reaches Audi-like levels of sophistication. (At a glance, we might think this was a Q5.) 
There's a price to pay, of course: $43,130, which includes delivery. Considering the Calligraphy's long, long list of features, this is exceedingly good value for money. It's also thousands less than an Audi—but if you think this is too much for a Hyundai, the entry-level Santa Fe SE starts below $30,000. It's less powerful, less plush and much less well-equipped, but it too comes with Hyundai's long warranties and three years of complimentary maintenance. 
---
Silvio Calabi has been reviewing cars since Ronald Reagan removed the solar panels from the White House. He lives in Camden.