For the holidays, we're continuing our series to shine the spotlight on Maine craftspeople. It's important to shop locally and support innovators and entrepreneurs who keep the creative economy alive in this state. So each week, until Dec. 25, we will bring you this series until you can't take it anymore. Ready. Set. Go.
"Jellyfish' Airplant Holders Made From Urchin Shells

Rockland, Maine
The back story:
Lynn Ann Carrano Stasulis works full time at Superior Restoration in Camden, but her sidegig, "Midcoast Beachcombers" has taken off like crazy.  Her best-selling items are whimsical airplant holders using urchin shells, which resemble jellyfish when hung by fishing line. "I started making them three years ago. I've always liked working in gardens and really like succulents. I also have a real draw to the ocean as well so I started doing some research and found urchin shells online, but they were used upside down as a planter. So, I thought, why don't I swap them upside down, hang them from some fishing line and call them jellyfish?" Her natural products have become so popular, that's she's gotten nearly 1,000 inquiries on them in the last week.
Cost: $20.00 each. She ships them across the U.S., but has noted, due to the tremendous interest in these jellyfish, (and that she's still working full time!) she'll be able to take more orders after Christmas. She can be messaged through her public Facebook page: Midcoast Beachcombers.
In her words: "I source the urchin shells from all over the world, from Maine, from Florida, and the Carolinas and some from overseas. All of them contain succulents; some flower and some don't."
---
Handmade wreaths from natural forest materials

Newcastle, Maine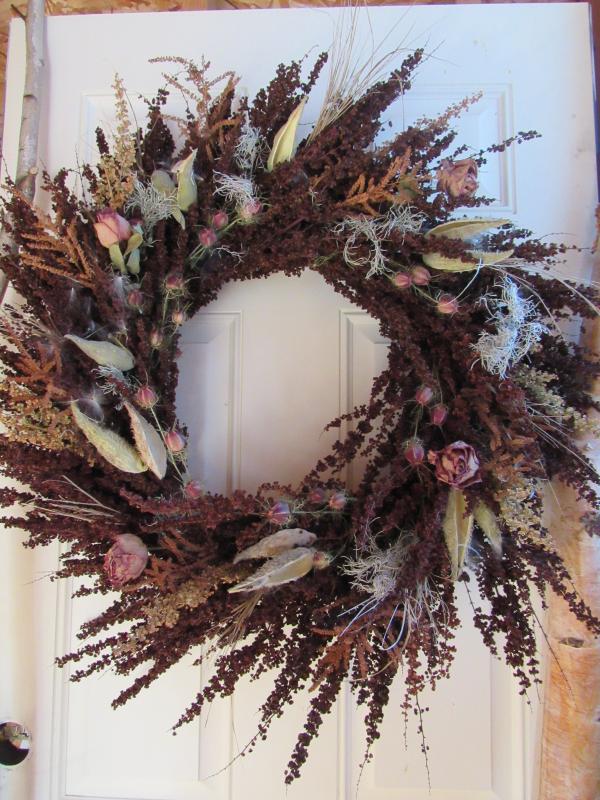 The back story:
Trish Stockton is now semi-retired, but most of her working career has been with plants, as a caretaker, grower, and restorer. She said her greatest reward was working for the National Park Service collecting native seed for restoration of protected native areas. "I have been collecting plant material from gardens, woods, and roadsides for as long as I can remember," she said. "Until now, I made my wreaths for myself or as gifts but, I had always wanted to try to see if I could make some mad money selling them. It has taken until now because collecting enough material takes time, and the right sources."
Cost: $25-$100.00 each. She can be reached through her personal Facebook page.
In her words: "I collect all year long, I find things to make the wreaths with while I'm on a morning walk or strolling through the woods, around my yard or driving down the road. Each wreath is formed with a base plant which is then decorated with other plants. For example, the one in the photo is made with Curly Dock and some milkweed pods."
---
Maine coasters made from birchwood

Portland, Maine
The back story:
It all started in 2012, when mechanical engineer, Nate Barr launched the PocketMonkey on Kickstarter. The credit card-sized multi-tool received more than 1,900 backers and $27,000 in 14 days. The company, now called Zootility, has continued to grow. From product design to manufacturing, Zootility produces everything in-house at their 8,000 sqft shop in Portland, ME. They make fun and stylish coasters from all 50 states,  laser-cut from birchwood.
Cost: $23.95. Find them at zootility.com
In their words: "This year, we've pivoted our efforts to manufacture comfortable masks to help protect our customers. We're always developing new products and currently have a few things in the works. Stay tuned by following us on social media @zootility"  
---
Kay Stephens can be reached at news@penbaypilot.com