CAMDEN — Camden voters have two Tannery-specific warrant articles before them June 14 at annual town meeting, business that is to be voted on at the polls, 8 a.m. to 8 p.m., at the fire station on Washington Street. 
Warrant articles 15 and 16 have engendered a lot of debate in Camden, as citizens are to decide how to proceed determining the future of the former Apollo Tannery property on Washington Street, which underwent a costly environmental cleanup after the town acquired it it in a 2003 lien foreclosure.
Nineteen years later, and after multiple sales attempt and redevelopment debates, the town voters have before them a warrant article proposing the sale of the parcel to Cranesport LLC for $250,000.
On June 9, Cranesport LLC principal Michael Mullins circulated the following letter concerning the use of the parcel. He also prepared a Voter Information Packet, which can be read here.
---
Letter from Michael Mullins:
In 2019, the Town of Camden published a Request for Proposals for the redevelopment of the property. That RFP, which you can see here, Request for Proposals – Town of Camden, Maine – Former Apollo Tannery Redevelopment, encouraged respondents to include a farmers' market as part of their proposal.
ABOUT CRANESPORT
My company is called Cranesport, LLC and operates a former MBNA property at 100 Mount Battie Street, just up the hill from Megunticook Market. That location, which I call Cranesport Garage, functions as an industrial incubator space. I have three tenants there, plus my own company uses a portion of the space.
I charge rents there from $4-7 per square foot, depending on the number of improvements and equipment I purchase and install for my tenants. All my tenants have been startup organizations and each one that joined was leasing space for the very first time. One of those tenants, DIY Garage, is a shared space for members who like to work on their vehicles, kind of like a gym membership for car people with shared tools and equipment. Spontaneously, two members of that club decided to try to start their own business, and 'made the leap', launching Square Motors at 100 Mount Battie.
My role as organizer of the incubator is to provide flexible terms, equipment (if necessary), and most importantly, affordable rent allowing these entrepreneurs to focus their time, energy, and capital on launching and growing their operations.
One unique feature of my incubator is that I have no minimum lease term, and I let my tenants take only the space they need and ramp up when they are ready. In the case of Squire Motors, they first rented just half of one of the bays, sharing it with my operation. Later, we expanded their space by about 40%, to 2,200 square feet. And two years after that, we expanded them to 2,500 square feet and I bought a paint booth for their use, at no cost to them, which they installed. Today, Squire Motors continues to grow. I am investing in a parking lot expansion this year, largely for the benefit of Squire Motors and DIY Garage.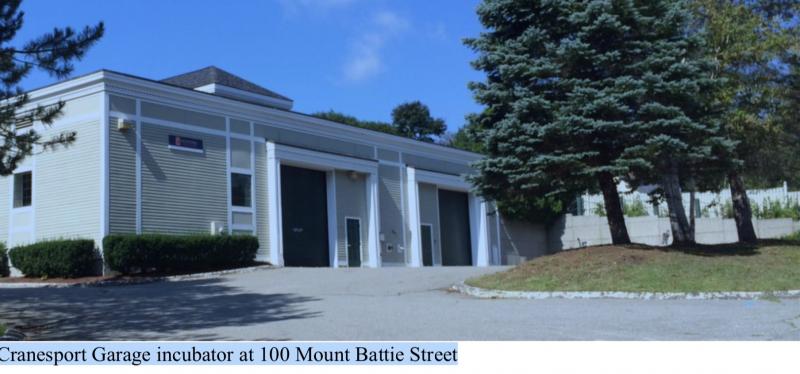 I operate Cranesport Garage with no subsidies, tax benefits, or other incentive. I do it instead out of my own desire to support local startup businesses using my own patient capital based on my belief in the need for and "entrepreneurial ecosystem" that supports startups at all stages in their growth.
I think as a result of it being affordable, the space is completely full, and all of my tenants would like to take on more space, if we had it. I continue to receive inquiries for space to rent. I just wish I had more room!
100 Mount Battie Street, Camden, ME 04843
WHY THE TANNERY INCUBATOR?
The Tannery site first interested me due to its location and in particular, its potential to attract both entrepreneurs as well as members of the general public, to create an active, vital economic and cultural center.
Our proposal, which you can read about here, calls for 'maker park' with 19 affordable workshops in three clusters that line a new pedestrian street with a central plaza and a 5,000 square foot barn/event space. The pedestrian street, plaza, and barn are intended to host a variety of cultural programming, such as cinema, winter ice skating, seasonal markets, and a year-round indoor/outdoor Camden Farmers' Market.
When the Woolen Mill and later the Apollo Tannery stood on the site, the Tannery was the heart of the Millville district, a place where Camden residents could walk to work, with stores in the vicinity. It was the heart of the neighborhood and where the Millville gets its name.
To get an idea about what life was like in the mills and how much it meant to Camden residents, watch a bit of this video by documentary filmmaker David Hoffman.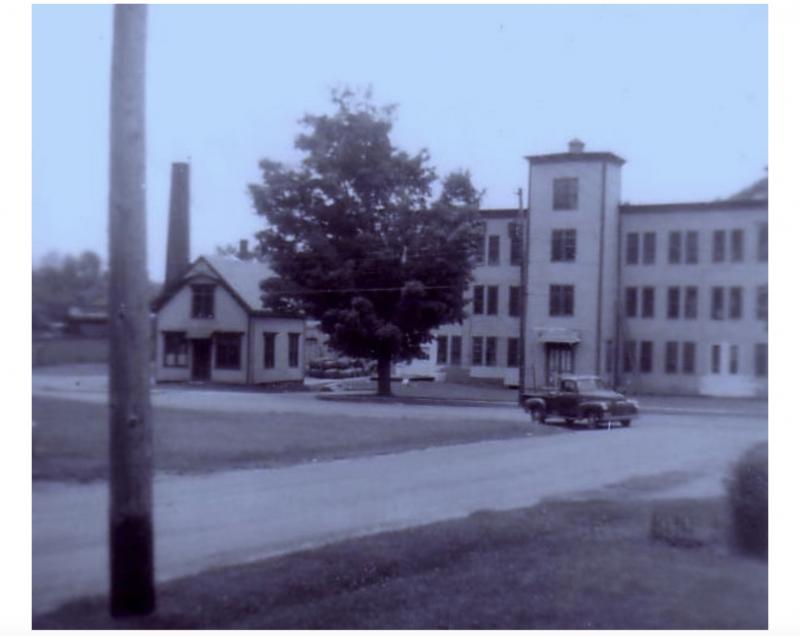 100 Mount Battie Street, Camden, ME 04843
IMPORTANCE OF ENVIRONMENTAL CLEANUP
The Apollo Tannery was taken by the Town for nonpayment of taxes in 1997, and since then the residents have borne the burden of first demolishing the Tannery structure and conducting environmental remediation, which continues to this day.
The Tannery today is not a park, and it's best described as a brownfield site. The grassy point of the property is one of the areas with contaminants in excess of Maine DEP's limits for human exposure. As a result, a permanent plastic barrier covered by a foot of gravel, then loam and grass in the area highlighted in a dashed yellow line is required, where the Farmer's Market currently sets up.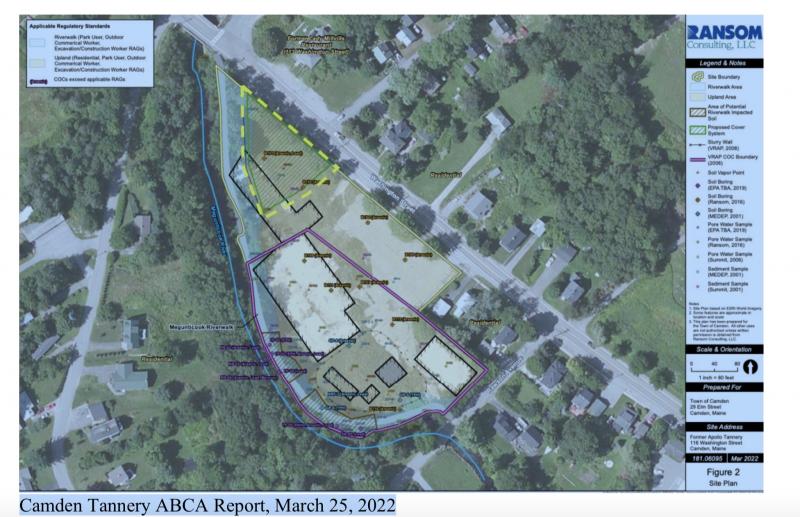 Camden Tannery ABCA Report, March 25, 2022
The contamination in this location is discussed in section 3.1.2 of the report, and in section 5.3 which described the planned implementation of a cover system.
"3.1.2 Upland Area
Surficial soils (0 to 2 feet bgs) across the Upland Area contain arsenic at concentrations which exceed the MEDEP RAGs for Residential and Park User exposure scenario, lead at concentrations which exceed the applicable MEDEP RAGs for Residential exposure scenarios, and GRO at a concentration which exceeds the applicable MEDEP RAGs for Residential, Park User, Outdoor Commercial Worker, and/or Excavation/Construction Worker exposure scenarios"
The language in Section 3.1.2 explains that the surface soil in the grassy point where the market operates contains Arsenic and Gasoline Range Organics (GRO) in excess of what Maine DEP deems safe for exposure to users of a park, as well as lead in excess of limits safe for residential exposure. The environmental contaminants are also at level MEDEP deems unsafe for outdoor commercial workers such as landscapers or anyone disturbing soils.
The following is an excerpt from MEDEP's Technical Support Document for Maine 2020 Remedial Action Plans that explains their definition of Park User and describes the type of exposures that are considered to be hazardous for 'park use' of that portion of the Tannery. They include accidental ingestion, dermal contact, inhalation of fugitive dust, and inhalation of volatile chemicals:
"Recreator and Park User
The RSL uses the term Recreator while Maine continues to use its traditional term for this receptor, which is Park User. The current Park User soil RAG was derived with the RSL Recreator calculator, using Maine specific inputs for incidental ingestion of soil, dermal contact with contaminants in soil, and inhalation of volatiles and fugitive dust. The RAGs will continue to use the term Park User. The RAGs also include a sediment exposure pathway that was derived using the Recreator calculator. The term Recreator is retained for the sediment exposure pathway, to be consistent with the RSL and because the recreation will just as often occur at a lake front seasonal residence (aka camp, cottage, or cabin) in addition to a park setting."
In my view, it is of paramount importance that we provide a safe environment free of toxic substances in places where we invite the public. Even more so when it comes to places where people buy their food. When you think about it, our local food markets should be in places free from the risk of disturbed soils & dust containing harmful chemicals.
The Town's RFP process foresaw that the party developing the site would take on responsibility for any environmental remediation in the upland portion of the site in the context of the ABCA report as cited in section 5.3. With the Cranesport proposal, Cranesport will complete all the work necessary to cap the contaminants per MEDEP guidelines, at no cost to the Farmers Market or to the Town.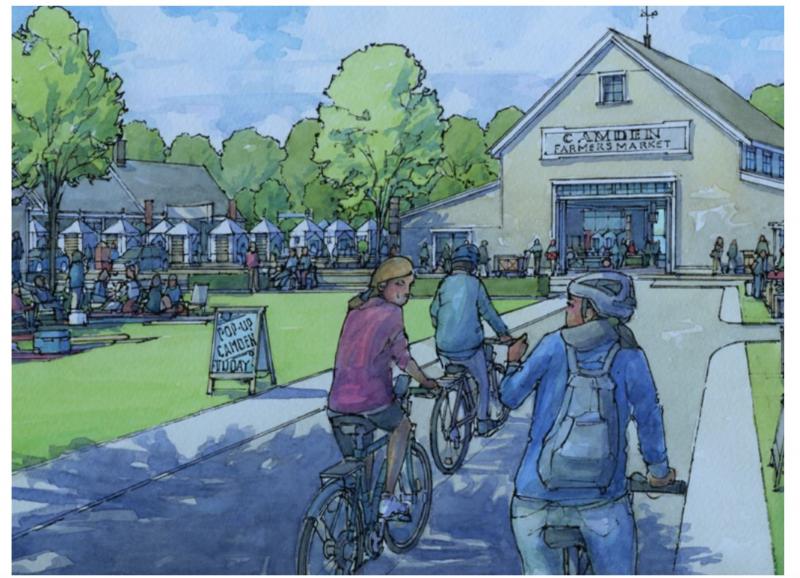 THE FARMERS MARKET AT TANNERY PARK
The conceptual plan shown in the proposal includes an indoor/outdoor farmers market, with 5,000 square feet inside the Barn available to host up to 20 vendors, rain or shine, all year long.
I do understand that the proposed plan represents a change from how your farmers' market sets up today on the green 'point' of the park. What the proposal asks of the Camden Farmers' Market is that it share the Tannery with the entrepreneurial maker community, as well as with the public by means of the community programming envisioned in the proposal.
My goal of the farmers market component of the Tannery Park proposal is to expand the availability of fresh, locally grown foods, hence the indoor market component. What I would ask you to also consider is how the indoor market would expand the market's months of operation, and, how it will open up the possibility for winter sales for local food producers and related vendors, growing their sales and helping support their operations year-round.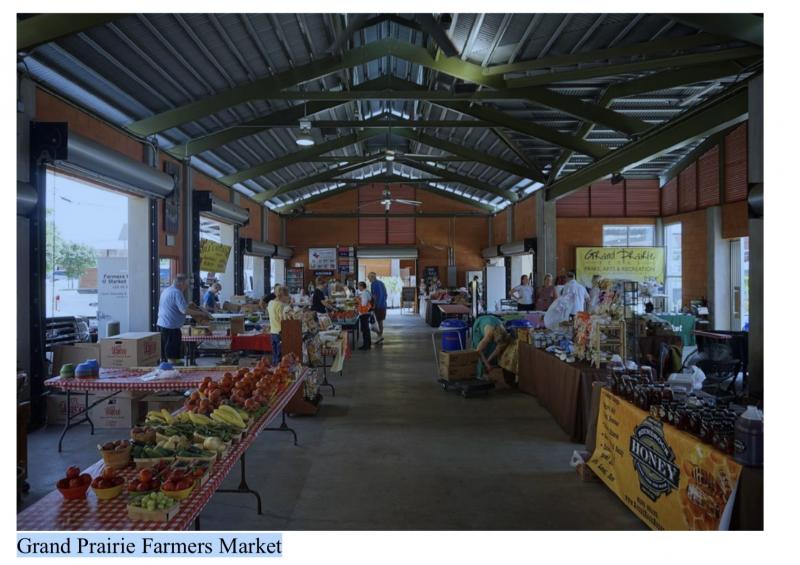 I can assure you there is space for all the current vendors at the farmers market, including their operating out of the back of vehicles the way the current setup works. The following diagram by Principle Group, designers of the Tannery Park plan, shows two potential configurations, with sufficient room for everyone.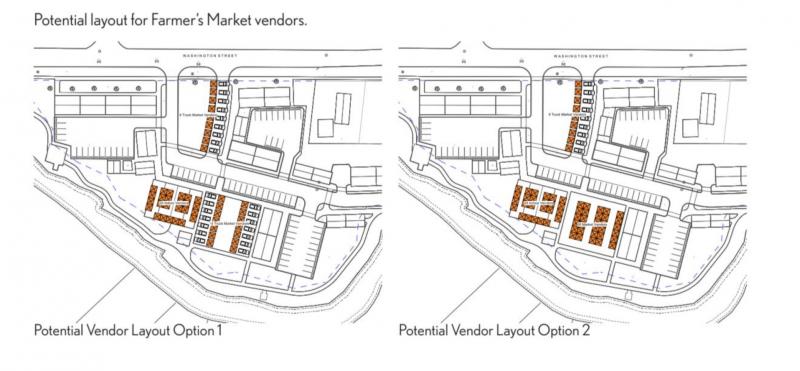 I really appreciate your consideration of these factors. I also want you to know that I invited the leadership of the Camden Farmers Market this spring to meet with myself and my design team to look at how the Barn building and plaza might be reconfigured to best support the Farmer's market.
If the Select Board's articles on the warrant proposing a sale to Cranesport advance, the project will eventually move to the Town's Planning Board. Typically, the Planning Board process is where stakeholders (including local market participants, neighbors, and the public) engage with the parties and very often changes and reconfigurations take place at that time. It's very likely that the preliminary plan in the 2019 proposal will evolve through that process and everyone involved in the farmers' market is invited to be a part of that.
Sincerely,
Michael J. Mullins