Transformations
Kali Bird Isis: Moving
I'm at the tortuous crossroads I was dreading, the one I'd assured myself I'd somehow avoid. I told myself that the packing and dismantling would happen in a way that would not disturb me. I'd keep it calm enough, do it slow and not let chaos build up around me.
I am sitting at my green marbled laminate counter in the wobbly high-back yellow stool that hurts the small of my back if I sit too long. The view of the kitchen from this direction is almost dull now that the rafters are no longer loaded with the hand-woven garden baskets and the rows of dried flowers and herbs. The purple and pink statice, the white baby's breath, the blue and yellow straw flower. Single heads of the beautiful raspberry colored globe amaranth and the tiny spiked blooms of blue salvia dangling downward, grazing just above Dylan's head when's he's home. At nearly 6-ffeet-tall, he made me almost want to take down all of my cast iron frying pans hanging from the third long beam, running the length of the room above the stove and sink.
It is boring now. I've taken down the felted birds that swayed gently in the long open framed window space that separates the kitchen from the dining room, making passing food through to the table very handy. I've moved the spider plants and my smaller jasmine that sat on the counter there into the living room. They're gathered with all the others in front of the floor to ceiling windows, a lively green garden soaking up as much sunshine as possible before the big stress of moving.
My hand-painted yellow canisters are still there, waiting to be packed and the yellow and orange hand-woven hot pads hanging next to the stove. The small wooden bowl Chloe made that houses the smooth dark beach stones I collect for each salt water swim I take, sometimes late into the fall. The Italian crockery that hold an endless mound of onions in one and four or five heads of garlic in the other. My rows of herbs and spices, and especially the little glass jars full of the ones I grew, still in place on the small wooden shelf next to the oven. My Melita, on top of its little glass pot, awaiting its next kettle of boiling water. I take a moment to relax into the calm provided by the plants still on the dining room windowsill and the chickadees, nuthatches and hairy woodpeckers at the feeder, remembering to look, to truly see, to breathe.
It's not only the absence of the things I love that is causing disturbance in me. It's the increasing pile of nearly full cardboard boxes behind me. It's the dining room table, visible from my spot at the counter, beginning to spill over with sorted papers and mail, CDs, unfinished art projects now needing to be either packed in hopes of completion or trashed.
And then there are the books. Boxes and boxes of books that I'm no longer certain of. And there it is, the catch, the thing that catches me in the back of my throat and burns the back of my already dry eyes from a winter of wood stove fires and a house full of sunlight but too little air.
Every single box of books is a question. Do I keep these? Not only mine, that's the easy part, but what about Dylan and Tessa's? Chloe is here to pack her own and although my kids have told me, oh so breezily, "Let it go, get rid of it all," my heart lurches as I pack a box not only of early childhood books that have already been culled over several moves, but also the dozens and dozens and dozens of books that Dylan, Tessa and Chloe read, their tastes evolving and diverging over the years, making packing separate piles fairly easy. Surely Tessa wants to keep her beloved Frankenstein and her Kavalier and Clay. What about Dylan's Summerland by Michael Chabon and Tessa's Drown by Junot Diaz? And what about the endless poetry? Both Dylan and Tessa have at least a boxful of their particular favorites. Do they really not care? Do I really let these treasures go?
And then the music room. I step down off the wooden floor of the dining room and onto the cream colored carpeting of the sanctuary Chloe has claimed as her own since the day we signed the lease here nearly four years ago after we'd sold the house she so loved in Brooklin; the house their dad built us when they were all still so small.
I am overwhelmed by my kids' endless supply of instruments: guitars and mandolin, banjo, fiddles, and a cello, trombone, tenor sax, and Chloe's current star, the clarinet. Drums of all sorts. The piano. Every one of these played heartily over the years, if not daily. But do I keep them all now? Will we ever again live in a house big enough to offer us a music room as well? And I stop short again. No, that time is passing quickly now with Chloe home for probably only another year or possibly two. And rents being as expensive as they are. How could I justify a spare room at this point?
The piano. How hard I worked for the $800 to buy this for Chloe 10 years ago and what an investment it's been. Not a day has gone by that she has not played it. Listening to her, as I have so often while making dinner in the kitchen, I began to understand what a musician she is and what having a good ear means as she magically plays and sings every song she hears in her rich emotive voice. She'll sit for hours before the darkly gleaming used spinet with the name Acrosonic written in gold script above the keys, never knowing how she fills me to the brim. How I'll miss these private concerts when she goes.
Do I let it all go now?
It won't be long before she, too, is gone. This packing and disorder is not just about having to leave a house before I was ready. It's about letting go. I light a single pale green pillar candle. Its light is not lost on me in significance. I need light and guidance. I need those who have gone before me one box, one bike, one guitar at a time to hold my hand as I begin to step into a space I found impossible to believe in when my kids were small.
Those piles and piles of crunchy dusty autumn leaves we jumped in and all those green hills I taught them to roll down. The cow cookie jar filled to the brim for the hundreds of times they dipped their hands in for another treat. The long drawn out discussions and arguments in car rides on the way to school about so many things: why gender-neutral language matters, why geometry doesn't, why GMOs are or are not the problem. It took only a little while to understand that the shift had happened and that my kids were now educating me much more often than I was them.
I don't know how to make these decisions to let go and yet I can't afford to hang on to it all either. The remnants of my kids' lives continue to slowly make their way out the door. It is right that this is significant to no one but me. But my heart lets go only a little at a time. I wasn't expecting this move. I wasn't looking to be hurried.
Goodbye to the cows with their tiny bells that jingle when you lift the lid for a cookie. Goodbye to the pottery that wasn't fired quite right or never fired at all. Goodbye to bikes too small. Goodbye to a toboggan meant for a crowd. Goodbye to the Special Toast evenings where slices of bread were lightly toasted and buttered with a little raw honey and cinnamon to be had with a mug of tea. Goodbye to the shiny fat toaster with its four wide slots that no longer heats quite evenly. Goodbye to a million cookbooks with one favorite recipe for every child.
Goodbye to things. Only things. Bring me ever so gently to an openness and willingness to be standing in the clear.
---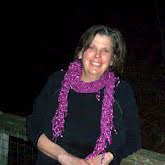 Kali Bird Isis is an expressive arts therapist and story coach living in midcoast Maine. She's moved over 50 times in her life and has taught her kids both the joys and challenges in being unfettered. Kali is currently working on a book, 40 Pots of Coffee, which explores the effects of complex PTSD on daily normal adult life.
---
Transformations
We tell stories.
We tell stories to make sense of our lives.
We tell stories to communicate our experience of being alive.
We tell stories in our own distinct voice. Our own unique rhythm and tonality.
Transformations is a weekly story-telling column. The stories are written by community members who are my students. Our stories are about family, love, loss and good times. We hope to make you laugh and cry. Maybe we will convince you to tell your stories.
— Kathrin Seitz, editor, and Cheryl Durbas, co-editor
"Everyone, when they get quiet, when they become desperately honest with themselves, is capable of uttering profound truths. We all derive from the same source. There is no mystery about the origin of things. We are all part of creation, all kings, all poets, all musicians; we have only to open up, only to discover what is already there." — Henry Miller
Kathrin Seitz teaches Method Writing in Rockport, New York City and Florida. She can be reached at kathrin@kathrinseitz.com. Cheryl Durbas is a freelance personal assistant in the Midcoast area. She can be reached at cheryldurbas@tidewater.net.