CAMDEN—Lighthouses and lobster. That's what Maine is known for, right?
While they may seem utilitarian to Mainers who've grown up with them, a new book is determined to find beauty in the elusive nature of these historical structures.
In his new coffee table book, Gleams and Whispers: Maine's Lighthouses and Their Allure, Rockland photographer and author Bob Trapani is compelled to find a deeper understanding of Maine's 66 lighthouses. 
Not merely content with standing on a lawn to snap a photo of lighthouses he photographed, Trapani climbed through rockweed-covered ledges, stood outside in sub-zero winter temperatures at dawn, trudged through waist-high snow, waded through the ocean, and laid down in brine pools to capture, "the romance, mystery, drama, isolation, dedication and heroism" of lighthouses for his book.
"When I take a photo of a lighthouse, I'm always looking for a way to dig deeper than the typical emotions we associate with lighthouses," said Trapani. "Where is the light? What do I want to show? How will the photo capture how I feel about it at the moment? The only way to find that out is to be out there all year-round, in all seasons and weather. To linger. To look up, down, and around. And oftentimes, I don't photograph a lighthouse to show a pretty scene, I'm looking to capture some emotion I might have about it. At the time of taking the photo, I don't really have time to process it; I have to look at the photograph later to really immerse myself in the scene and enjoy it."
Trapani's background has given him exclusive access to Maine's lighthouse. As the Executive Director of the American Lighthouse Foundation, he was able to get access to lighthouses that the general public doesn't typically have. In addition, he has cultivated long-time connections with members of the lighthouse community and for the last 25 years, has worked as a volunteer lighthouse technician for the Coast Guard Auxillary.
Unlike many photo books of lighthouses, in which the text is mostly factual or historical, Trapani juxtaposes his own creative writings on the opposite page of each photograph.
"To be able to express myself in creative writing perhaps allows other people reading it to explore their own feelings about what these lighthouses mean," he said. "They're not static; not just structures built to save lives. I see them as timeless, and they mean more to us than their utility. They do speak to us in some sort of silent language."
Here are five photographs in which Trapani explains what it took to get the shot.
West Quoddy Head Lighthouse, Lubec (p. 75)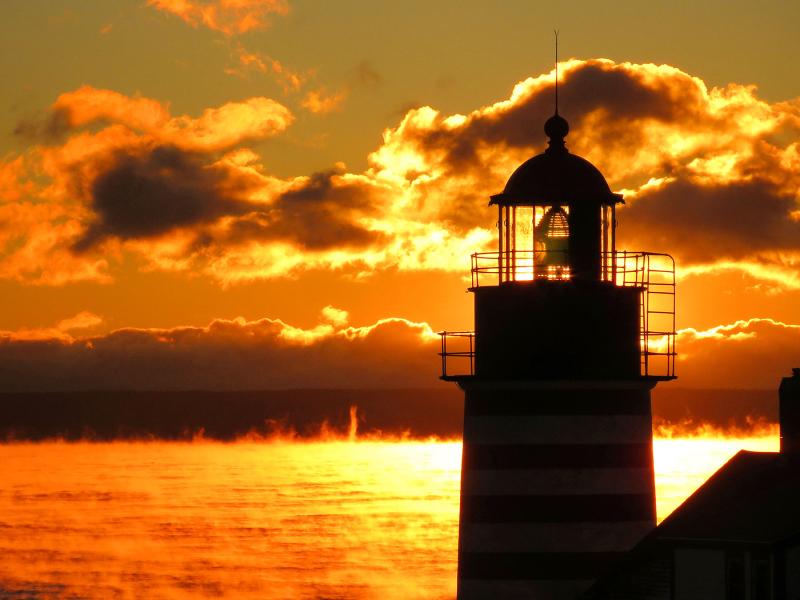 A blood-red sky in January, at dawn.
"This was a sub-zero morning at about 5:30 a.m. probably minus five degrees with considerable windchill," he said. "I only had about five minutes to get this shot and had to take my gloves off to shoot the photo. If my hand had been exposed any longer, I would have gotten frostbite. It was a challenge just to endure. The photo shows you how cold the air is with the sea smoke and it looks like the world is on fire. To me, the lighthouse is a sentinel, on watch all year-long. I wanted to just sit there and look at this sunrise, but at the same time, I knew I had only moments to capture this shot."
West Quoddy Head Lighthouse, Lubec (p. 68)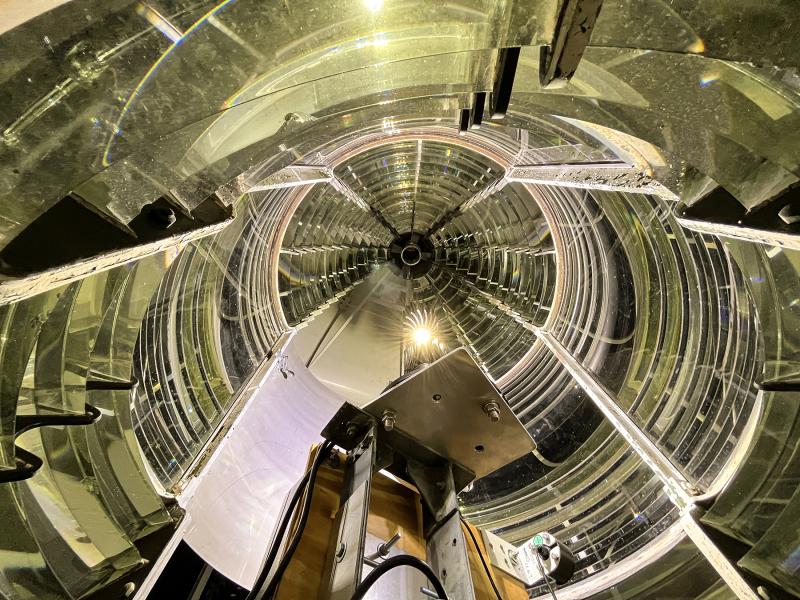 A close-up is a fresnel (pronounced freh-nel) lens.
"This was towards dusk and I was inside the lighthouse, trying to capture the fading light in the lens," he said. "This whole glass prism and brass assembly was simply gorgeous. This type of photo gets people to start thinking beyond just this utilitarian use of this lens. The first lens was created in 1822, imported from France and England, and allowed light to go beyond what it could ever go before. And here we are nearly 200 years later. Nobody's been able to perfect it. I try to find imagery that is thought-provoking, and get people to think about it differently."
Owl's Head Lighthouse, Owls Head (p. 53)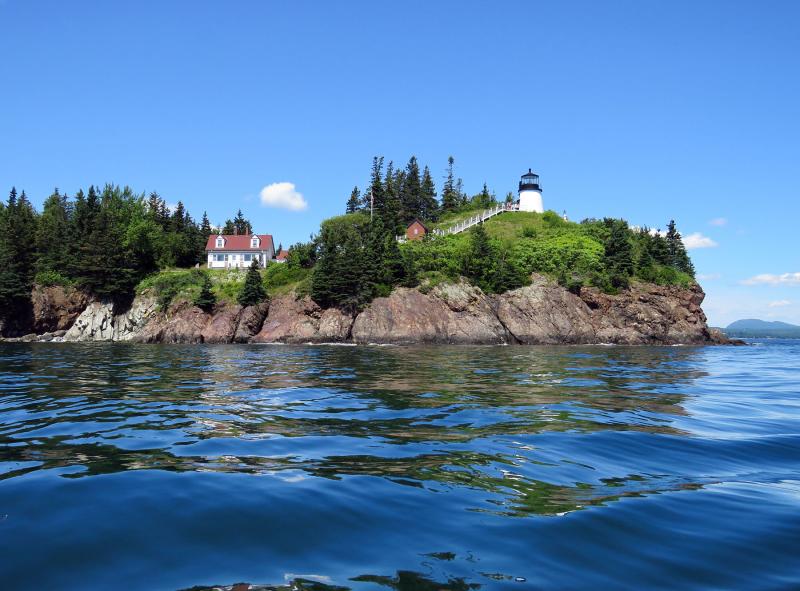 "I was out on a tourist boat and the boat was moving. I held my camera over the side barely over the water. It was June and I wanted to capture something a little different here by showcasing the movement of the water in the foreground. I saw the reflections and ripples of the water as the symbolism of time. You can see the Camden Hills behind it. I always tell people if you want to see the splendor of the Owls Head light see it from the south side."
Bass Harbor Head Lighthouse, Bass Harbor (p. 139)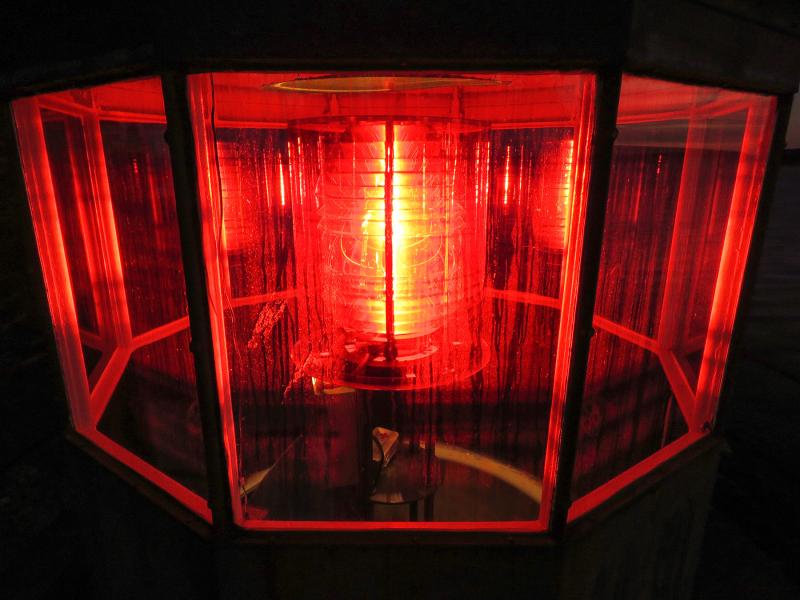 "This was taken outside at night," he said. "We were checking on the light late in the day and I stayed long enough to be able to capture the photo under the cover of darkness. I was standing on the gallery. What's really cool about a shot like this is there's just this shroud of darkness and suddenly the light is center stage. It flashes and you're standing in the dark with these bursts of light and the rhythm of that light is almost mesmerizing. "
Marshall Point Lighthouse, Port Clyde (p.107)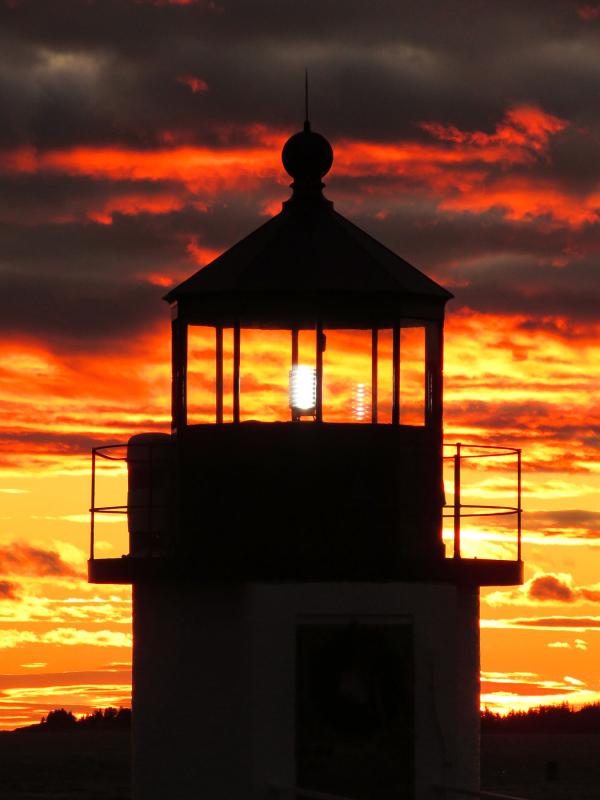 This shot was taken at dusk and I was standing on the lawn zooming in. This was wintertime and the color is dazzling as one light is setting, one is turning on. Between the sun setting, the water, the coastline, the crashing of the waves, the cold, this shot speaks to why we love lighthouses."
Gleams and Whispers: Maine's Lighthouses and Their Allure is available for purchase through Moments in Maine by visiting shop.momentsinmaine.com or calling 207-691-8400.
---
Kay Stephens can be reached at news@penbaypilot.com