Local Vietnam veteran Ronald (Ron) L. Cousins, of Rockland, was moved by the horrible devastation he saw on the news down in Kentucky. He had just moved out of his 32-foot camper into an apartment where he and his companion, a gray parrot named  "Chowder Bird" would be warmer as the late fall and early winter weather began to get colder.
Cousens decided that this was a permanent move so he contacted his friend, local lobsterman Barry Ames, to ask if he knew someone that might help him  donate the camper to a veteran, or someone in need, in Kentucky.
Ames' wife, Beth, president of the American Legion Auxiliary Unit 37, Thomaston, contacted past Post 37 Commander, William Demmons.
She spoke with Demmons on December 14 explaining the situation and Cousin's wishes.
Demmons contacted Cousins and the two began the ball rolling to have the camper delivered to a relief center in Kentucky.
Demmons, who is also an active member of the Elks Lodge in Rockland, reached out to an Elks Lodge in Bowling Green, Kentucky, who welcomed the gift.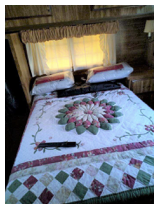 The Bowling Green Elks Lodge knew of a young family who was homeless due to the devastation there. Plans were made, and the Elks Lodge sent a truck, with driver, to Maine to pick up the camper. 
On December 17, prior to the scheduled pick-up on December 18, Ames and Cousins prepared the camper for the road trip. Cousins made sure everything was secure, purchased new bed pillows and a new comforter for the bed.  He also sent along a flat screen TV and other incidentals.
Demmons was notified that the camper was ready to roll so he and his brother and fellow veteran, Leslie "Les" Demmons, picked up the camper from Buttermilk Lane on Saturday the 18 and took it to the Williams-Brazier Post 37, in Thomaston. The camper was parked in the parking lot, ready with easy access for the driver to hook up to it.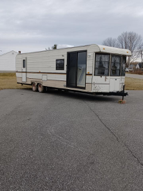 On Sunday, December 19 at 6 a.m, the driver hooked up the camper and was on his way back to Kentucky.  Just prior to the holidays on Wednesday, the 22, the camper arrived at its destination, to provide shelter for a young family in need.
     It's all about "Service Not Self" and thanks to Ron Cousins, with his giving heart, and to Post and Unit 37 of Thomaston, the Elks Lodge of Rockland and Kentucky, and to all those who helped bring this endeavor to fruition, a family will have comfort and shelter in such a difficult time.
Blessings to everyone.