For the 2022 model year, the Outlander completes a remarkable, three-year ugly-duckling-to-swan transformation. No more does my heart sink when I see an Outlander arrive—in fact, with its squared-off stance and blunt nose, for a half-second I took this for some sort of Land Rover. 
Snazzy new looks aren't all, either. Thanks to thorough re-design and (with help from Nissan) a new platform, the Outlander has become a worthy competitor in the volcanic-lava-hot compact crossover market, with only two shortcomings. 
But first the plusses, beginning with a bushel basket of features. Bear in mind that our sample is a range-topping SEL, the $38,590 model with everything on it, including all-wheel drive. And with AWD (otherwise an $1,800 option), the Outlander offers its version of terrain response—twisting a knob adjusts the powertrain for driving on mud, snow, gravel or tarmac. There are also Normal and Eco settings and hill-descent control. 
What else is available? The power-adjustable driver's seat retracts and is programmable for two persons. There's a head-up display in the windshield, and the large sunroof, the tailgate and the auto-folding wing mirrors are all powered. The climate control system is automatic and has two zones. The backup camera offers enhanced views both to the rear and from overhead. The sound system is by Bose, and the controls are manual—no need to tap into the computer to change stations or volume.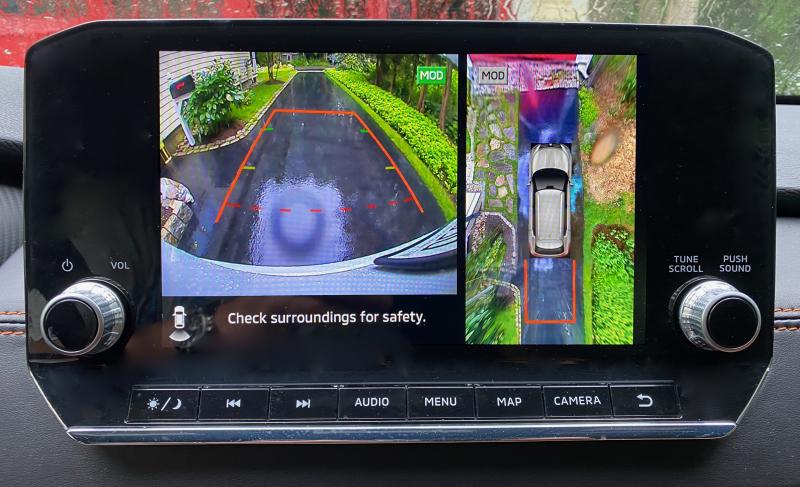 Apple CarPlay and Android Auto are on the menu. The graphics in the driver's instrument panel and the computer touchscreen are sharp and clear. The electronic e-brake switch is where it belongs, on the console near the gear selector, where there is also a phone-charging pad and a couple of USB ports.
There are plenty of driver aids, too, including adaptive cruise control and semi-autonomous driving. Other safety options include forward-collision warning and automated emergency braking, blind-spot monitoring and rear cross-traffic alert, plus lane-departure warning and lane-keeping assistance.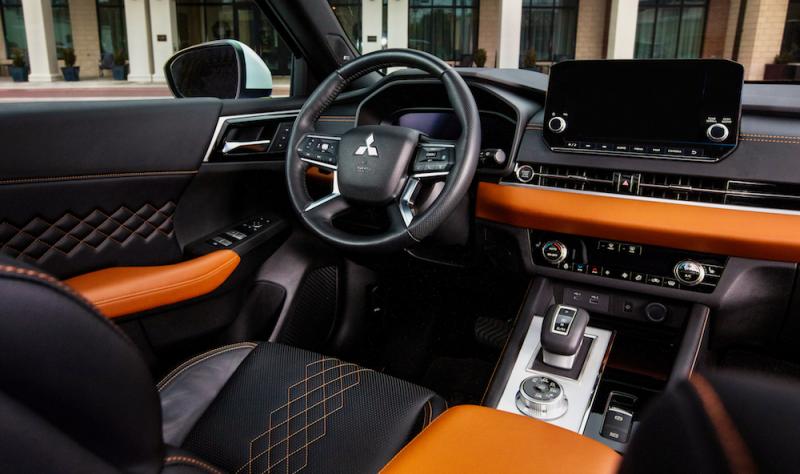 But the Outlander doesn't quite lead the field. The biggest shortcoming is its 181-horsepower 4-cylinder engine, which delivers lackluster performance as well as only so-so fuel efficiency. The automatic transmission is a continuously variable type with eight "gears"; it's possible to wring out a bit more acceleration by switching to manual mode and running the engine to its max in each step, but the Outlander is simply not quick. 
Otherwise, the Outlander is a pleasure to drive, with predictable, confident road manners as well as excellent seats, a comfortable ride and good views all around.
The other shortcoming? Although it's billed as a 7-passenger vehicle and offers three rows of seats, the Outlander's rearmost seats are inhabitable only by small persons without legs. Fold those seatbacks down and enjoy the extra cargo space.
The Outlander survived for years on low pricing. Now that it's no longer a bottom-feeder, the price can climb into the middle and upper $30s (where the competition is exceedingly stiff). An entry-level Outlander ES, however, with far fewer amenities, lists for $26,990. And if you're willing to forgo the crisp new look and roomier cabin, an efficient plug-in hybrid version is also available, but in the old body style, for about $37,000.  
Silvio Calabi has been reviewing cars since Ronald Reagan removed the solar panels from the White House. He lives in Camden.