MIDCOAST— It's a known fact that farmers in Maine work overtime to sustain their businesses; there is no such thing as 9 to 5. 
A team of Maine farmers, came up with a fairly innovative idea two years ago: Why plant more crops than you can sell and compete with other farms if you can collaborate, save time and money and offer customers even more variety than ever before?
That's just what Adrienne Lee, owner of New Beat Farm, did when she co-founded Daybreak Growers Alliance, a multi-farm share program, along with Christa Bahner, owner-operator of Bahner Farm in Belmont, and Colleen Hanlon-Smith, an owner Locust Grove Orchards in Albion.
Lee, who already operated a own horse-powered multi-farm CSA before her piloting the Daybreak CSA in 2019, saw potential in a group of Maine farms working together, making the most of each farm's strengths. Unity Food Hub had started this creative model for farm-share collaborative, but had to close at the end of 2017 and a group of farmers who'd participated in that model wanted to replicate a similar multi-farm CSA, but of their own design. As of 2020, more than 20 farms around Maine are collaborating in Daybreak Growers Alliance.
In a traditional CSA where you pay for a share and pick up a box of whatever the farmer has grown in season, perhaps not everything in that box is to your liking. If beets and rutabega are what's in that share and you don't like those vegetables, you're stuck with them.
Not so with Daybreak Growers Alliance, whose website model is closer to an online curbside grocery pick up.
"We use Harvie, an online farm software program that helps us offer customizable shares where our shareholders can choose share preferences and swap items in and out of their share boxes," said Lee.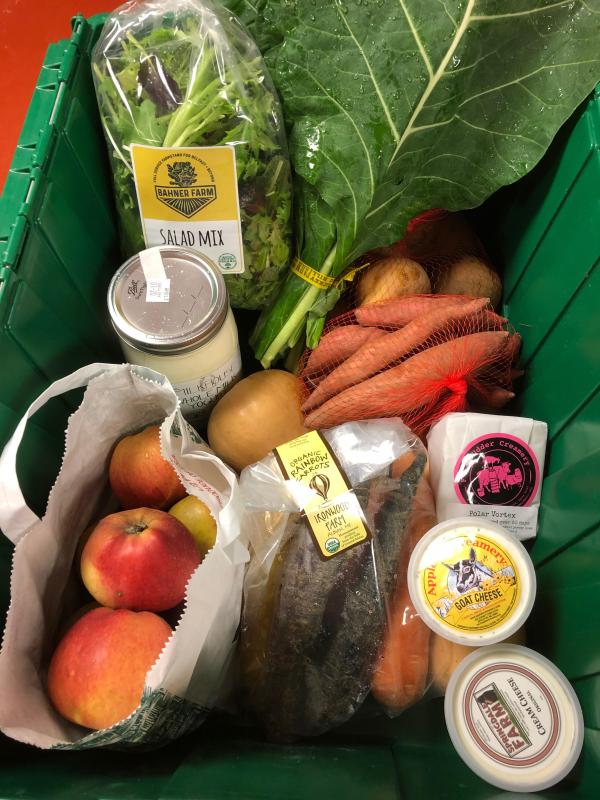 For example, a Winter Bounty CSA share from January to May is $36 for one or two adults or small family, which is delivered bi-weekly contains a mixture of hardy greens and storage vegetables. Each share also includes a unique pantry item from one of the farms to compliment the vegetables, such as local dried beans for hearty soups and stews, canned tomatoes and salsa or local cornmeal to make bread and muffins. Customers can also buy customized Meat Shares.
The website allows each customer to customize that box with a "Share Add-On" such as free-range eggs, cheese, yogurt and bread. Best of all, the website "recognizes" that customization and produces recipes for that particular combination of ingredients. So, say you purchased garlic grown from Hallbrook Farm; it comes with this recipe: Garlic - Hallbrook Farm - Pea Shoots and Chicken in Garlic Sauce
| | | |
| --- | --- | --- |
| The website comes with a built-in newsletter template to show what's in season and being offered by the farms. | The personalized check out shows customers exactly what they are getting in their box. | Then the program automatically matches the produce to specific recipes that the customer can use with the produce and farm-share ingredients. |
With meal kit companies such as Hello Fresh vying for Maine customers, Daybreak Growers Alliance offers not just a healthy, and cost-effective alternative, but every dollar spent is not going to a mega corporation; it's going back to the Maine growers.
"Because we are working collaboratively with so many farms, we are able to offer a diversity of products throughout the wintertime that just one farm couldn't justify growing–both the volume and the variety of winter storage crops," said Lee.
Every share is boxed individually, customizable to each order. Currently they deliver shares to  Belfast at The Crosby Center on Tuesdays from 3 to 6 p.m. and to Maine Street Meats in Rockport Tuesdays 4:30 to 6 p.m. They also  also have deliveries to offices in the Midcoast, which is another way to access their shares.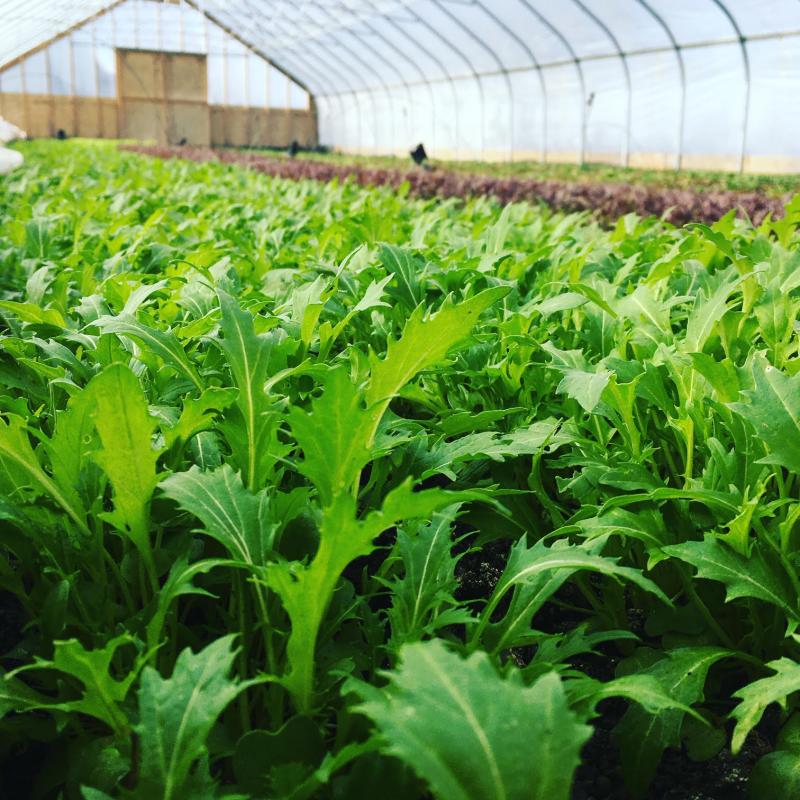 Daybreak also offers deliveries at various Maine locations and farms.
People ordering off the website don't realize how much time it takes to communicate, prepare each individual order, pack it and deliver it, so they are trying to price the services in a way that works for everyone.
"We're trying to factor in this time while still keeping a sustainable model," said Lee. "We want to give our customers value and quality pricing, but we also have to compensate our farmers and employees so that it is sustainable."
To learn more about Daybreak Growers Alliance and how to sign up for a CSA visit: Daybreak Growers Alliance.
---
Kay Stephens can be reached at news@penbaypilot.com