Transformations
Barb Bausch: I'm Back
I need to tell you something. It's thoughts I have had for many years. To experience a season such as this, right now in Maine, is one of my greatest adventures — ever. I LOVE FALL! A window view is like watching a great nature film on television, where pictures are moved perfectly across the screen and I am totally lost in the beauty it presents.
The fall color is magnificent this year. How does this all happen, where each of those trees speak volumes? The wind provides that bit of flutter while color magically shakes and moves in all directions as if speaking daily thoughts and putting a welcome sign out.
The reds, oranges and yellows are so bright and cover a backyard distance of vast proportions. Just breathtaking, with the wetlands turning their mild green and loving pastel browns, truly adding another dimension to this whole fall occurrence. While looking out many windows I see picturesque postcard settings that anybody would enjoy receiving.
Eagerly trying to get that perfect shot of backyard color I have often noticed a deer eating out of the bird feeder, or a fox lurking in the wetland fields or a large turkey strutting by as they all venture across the gardened grasses. They take off running into that sumptuous presence of those beautiful trees and offer yet another fall scene not to be missed.
Gazing at this outside elegance never stops. As the sun rises, the tint intensity changes. As the wind moves, beauty slips easily around. As the trees stand so proudly, a perfect picture is created. It's just something about October days in Maine that yield a treasured happiness existing in a leaf changing scene. Temperatures cool and summer is truly over, while that alluring color loudly screams "I'M BACK!"
---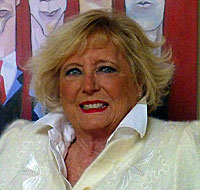 Barb graduated from the University of Iowa, where she majored in elementary education and went on to receive her master's degree at the University of Texas in Dallas. She spent more than 30 years working with elementary students and loved the challenge of connecting with sixth-graders - teaching them to appreciate good writing and to become lifelong readers. Now Barb and her husband, Leon, are retired and live in Maine. Barb spends her time fly-fishing, sailing, painting and entertaining. She is currently writing a book on entertainment. You can learn more about it at beingbarb.com.
---
Transformations
We tell stories.
We tell stories to make sense of our lives.
We tell stories to communicate our experience of being alive.
We tell stories in our own distinct voice. Our own unique rhythm and tonality.
Transformations is a weekly story-telling column. The stories are written by community members who are my students. Our stories are about family, love, loss and good times. We hope to make you laugh and cry. Maybe we will convince you to tell your stories.
— Kathrin Seitz, editor, and Cheryl Durbas, co-editor
"Everyone, when they get quiet, when they become desperately honest with themselves, is capable of uttering profound truths. We all derive from the same source. There is no mystery about the origin of things. We are all part of creation, all kings, all poets, all musicians; we have only to open up, only to discover what is already there." — Henry Miller
Kathrin Seitz teaches Method Writing in Rockport, New York City and Florida. She can be reached at kathrin@kathrinseitz.com. Cheryl Durbas is a freelance personal assistant in the Midcoast area. She can be reached at cheryldurbas@tidewater.net.