Transformations
Anna Chern: When Rocky met Gracie
Our rescue cat, Rocky, had been with us six months when we decided that he needed a companion. Cats are generally self-sufficient, but we had picked a needier one. He stuck so close to me that when I walked around I felt I was permanently wearing fluffy slippers. Coincidentally, I had just "Liked" Pope Memorial Humane Society of Knox County's Facebook page.
Two days after the "Like" button had been pressed, a great story appeared in my news feed about 16 Chihuahuas that had been rescued from Los Angeles shelters and brought up to Maine. They were all up for adoption. There was a picture of one of them alongside the story. The caption read "Zinnia." She was looking down.
"Get in the car," I said to my husband. "Why?" he asked. "We're going to see a man about a dog".
After an eternity of stop-start driving, we pulled onto Buttermilk Lane. It was late November. Leaves blew around us as we walked into the red building.
One of the volunteers took us into the Chihuahua arrivals hall. They were all still in their travelling cages. They had made the 12-hour journey. They looked so defenseless for such hardy souls.
The cages were on top of one another three high. I couldn't see her at first. Someone tried to put a little black haired Chihuahua in my arms but I was looking for Zinnia. I spotted her. She was in a middle row cage, just above a family of mum and baby cats. A very noisy little dog was barking in the corner but mummy cat stayed serene.
I pointed at her. The volunteer lifted her out. She was all paws and claws. Resistant. Like a lobster. It was like cuddling a crustacean. I walked her around the little room. We decided to take her outside on a leash. She trotted ahead like a jailbird making for the exit. Tail held high.
I remember the little nose turned up toward a watery sun. We weren't in California anymore. She started shivering. We took her back in and I held her while hubby did the paperwork. She fell asleep against me.
It was Thanksgiving eve and we had to wait four days longer to bring her home. We changed her name from Zinnia to Gracie, in keeping with the season.
All the way home in the truck she shivered and shook. I examined her closely. She wasn't going to win any beauty pageants; fraggle toothed and bug eyed she held herself in a low stoop for days.
We introduced all 9 pounds of her to all 16 pounds of Rocky. We kept an eye on them late into that first night.
She smelled his bottom quite a lot, which he didn't know anything about, our simple boy, but he went along with it. There was no hissing, scratching or fits.
Sixteen months on, they have learned to live side-by-side and even, yes, play together. Their individual personalities have put down real roots. She has relaxed physically and resembles a small fawn, Bambi, with the personality of Mussolini. He has grown larger and more sly, but fits the gentle giant stereotype. They both run after balls although she will retrieve; some dog traits are appealing to Rocky. They sleep at the same times, nap at the same times and follow each other around the house like lost twins. When it comes to food she is the picky one, which gives him plenty of opportunity to have what she is having. Without asking.
---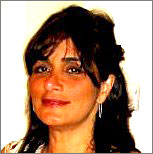 Anna Chern has lived and worked on three continents and speaks in many tongues. Born in New Delhi, transplanted to London, Paris and Canada in turns, she has grown to love the vagaries of the seasons in Maine and the slivers of sunshine. Her favorite place in Maine is any and every lake. She also loves South Carolina...and writing.
---
Transformations
We tell stories.
We tell stories to make sense of our lives.
We tell stories to communicate our experience of being alive.
We tell stories in our own distinct voice. Our own unique rhythm and tonality.
Transformations is a weekly story-telling column. The stories are written by community members who are my students. Our stories are about family, love, loss and good times. We hope to make you laugh and cry. Maybe we will convince you to tell your stories.
— Kathrin Seitz, editor, and Cheryl Durbas, co-editor
"Everyone, when they get quiet, when they become desperately honest with themselves, is capable of uttering profound truths. We all derive from the same source. There is no mystery about the origin of things. We are all part of creation, all kings, all poets, all musicians; we have only to open up, only to discover what is already there." — Henry Miller
Kathrin Seitz teaches Method Writing in Rockport, New York City and Florida. She can be reached at kathrin@kathrinseitz.com. Cheryl Durbas is a freelance personal assistant in the Midcoast area. She can be reached at cheryldurbas@tidewater.net.