Transformations...a pair of prose
Anna Chern: 'Rama and Sita Forever' and Shelly Baer: 'He Sees My Face and We Write Our Book'
Rama and Sita Forever — by Anna Chern
It was the summer of Zeffirelli's "Romeo and Juliette" some moons ago. My BFF and I wailed and hiccupped our way through most of the movie, much to my father's consternation. He had suggested this as a literary outing, not a gnashfest.
All summer she and I debated how the ill-fated duo could have resolved their dilemma and punched fate in the nose. It was hopeless. Shakespeare had tied up all the loose ends, leaving us to conclude that true love was high drama indeed best viewed on a Cinemascope screen with a Dolby soundtrack.
That fall my auntie Corinne came to visit us from India. A glamorous apparition in her bright green sari, jangling her dozen bangles she came bearing endless gifts in little silk or jute bags tied with red and green gauze ribbons. The bags smelled faintly of cardamom and coriander, which she also carried in her assortment of spice tins. These found their way into my favorite Kofta curries as she took over the kitchen. Her visits were like mini festivals organized around visits to her scattered sisters and brothers all around the globe. My uncle was an Air India captain and her tales of adventures in Narita, Seattle and Fiji, albeit drawn out, were always well told. Her acerbic tongue belied an entirely sweet nature.
What I looked most forward to was diving into her huge suitcase or three and pulling out the most colorful silk saris she had brought with and which she would wrap around me . Coconut oil would be applied to my hair and lovely kohl carried in a tiny silver holder tied to a tiny silver applicator wand would be drawn around my eyes completing my excited (barely) teenager in Bollywood look. I told her all about the Zeffirelli film.
"Romeo and Juliette, eh." she said "All passion and flash and that silly poison business. Now Rama and Sita, there's love. True enduring love."
"Sita and who?" I asked. My aunt scolded my mother for not imparting vital cultural information "Haven't you taught her anything about the Ramayana at all" she would ask for the nth time.
"Come, I'll tell you" she said. "OK but the short version" I said "I have a new Beatles album to listen to. Look at this cute poster of Paul McCartney!"
"So, Sita was the much in-demand daughter of a ruler who picked Rama as her bridegroom because he was the only suitor strong and valiant enough to break a huge bow in two. When the time came Rama's father wanted to pass his throne to Rama as he was the eldest son but-yes there is a wicked stepmother involved-the stepmother wanted her son to rule so she got the king to banish Rama to the forest. Sita would not leave Rama's side and they had many adventures together in that forest fighting off evil creatures, and amidst all this Sita was abducted by Ravana the ten headed ruler of Sri Lanka who had a faible for beautiful women.In a bid to rescue her, the monkeys led by the general head-monkey Hanuman decided to fly to Sri Lanka to locate Sita and capture Ravana. The monkey general and Rama then built a causeway from the tip of India to Sri Lanka and a mighty battle ensued leading to Rama's reunion with Sita. The couple then returned to rule over their empire."
"You see. This was not so much about doom and gloom and killing yourself for love" she said "Sita and Rama overcame unbelievable odds and stuck by each other. In the end only perseverance and patience pay off in love. Think of building a bridge between India and Sri Lanka to get your love back!"
I have had decades of living and time enough to reflect on the wider story and its lessons. True love can indeed be experienced in non-glorious Technicolor conditions provided there is enough commonality of background, world outlook and life purpose to drive a couple through the inevitable peaks and troughs of the day to day. In every couple there is the pull and push of the planner and the dreamer and as long as each of you can assume the reins of one or other, switching when necessary and cheering each other on in the process, you will most likely get through the nasty patches .A bit of mystery thrown in is also good. No one needs to be completely knowable.
Unromantic? Possibly. Enduring? Definitely.
---
He Sees My Face and We Write Our Book — by Shelly Baer
He caught me with words. What happens when two smart, not looking for love, nothing in common on the exterior, writers connect through email? Robert initiated contact through Facebook. We had been "friends" on Facebook but never conversed. We knew each other eons ago through the Arthritis Foundation conference circle. I remembered Robert; he always stood out, but we never spoke. Although, he said we did. Through his initial word toss, he hit a zinger, "You have a lust for life. Sorry for the cliché. Share with me some of your stories." He read me. I was hesitant, who was this guy?
I recently ended a semi-serious relationship with a separated Rabbi, but Robert's words intrigued. Just what I needed, a new male distraction. I hit back with a poem...Nice to hear from you, let's get to know each other through our poetry. He bit and dug up an old poem about his soon to be ex-wife. Robert's emails and writing showed a deeper level than I thought he was capable of. Typing exploded: I shared a sexy developing essay about my ex-Rabbi. "We have to talk. What is your number?" He called from a bar. Our match began. We spoke, emailed, texted, tentatively at first, then daily and evening phone calls became ritualized. Commonalities beyond our shared illness unfolded. Robert directly pursued, flattered, and made his desire clear. "What would you do if I showed up at your door in Miami, pretty lady? -Your Ohio boy," his email flashed.
Robert wanted only the friends with benefits thing. He wanted to re-invent his life and be a player. He wasn't looking for love. I didn't think I wanted that. I had done "FWB" disastrously before, but still considered. Why not, he's cute, doesn't live in Miami, professes his prowess in bed, and I was curious about being with a man with my illness. His seductive sexting simultaneously radiated danger and shivers to my brain and body. "One last fling," I reasoned, "before back to the Internet dating minefield." Two months passed, and against my better judgment, Robert inched under my skin, from initially supportive virtual acquaintance to something deeper. How could this be, we hadn't yet touched. I battled sleepless nights. One Saturday from a music festival, Robert drunkenly called every twenty minutes. He had the opportunity for sex and didn't bite. I mirrored the contradictions I saw, "You're not a player. You're kind, you're good and you respect women." By Tuesday, I shared, shaking, "I felt jealous. I'm not that friends with benefits girl, and I think I'm falling for you." Then my words caught him and Robert told me he loved me too. Our stories converged.
---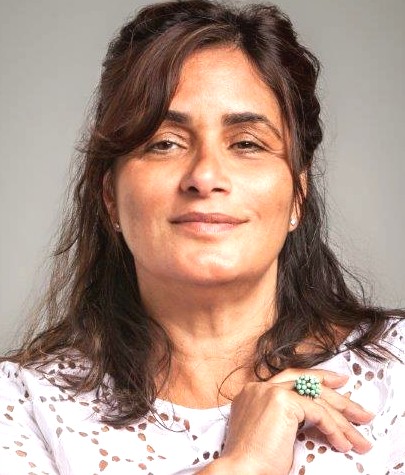 Anna Chern, left, has lived and worked on three continents and speaks in many tongues. Born in New Delhi, transplanted to London, Paris and Canada in turns, she has grown to love the vagaries of the seasons in Maine and the slivers of sunshine. Her favorite place in Maine is any and every lake. She also loves South Carolina...and writing.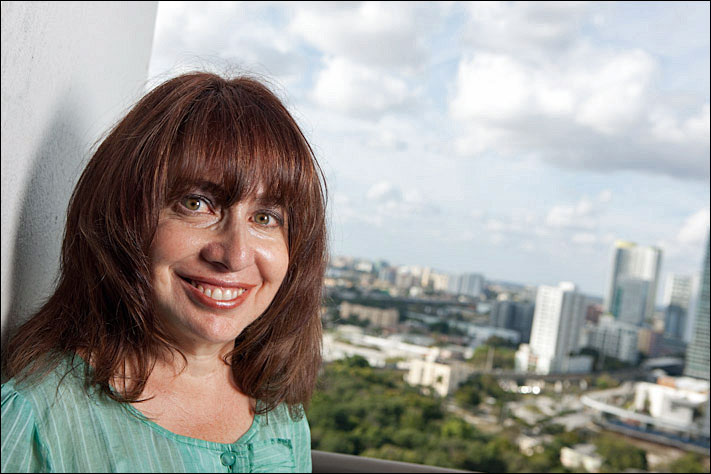 Shelly Baer, right, a licensed clinical social worker, has worked in the Miami community for more than 20 years. She's employed at University of Miami Miller School of Medicine's, Mailman Center for Child Development as Coordinator of The Emerging Transformational Leadership Program and Associate Director of Leadership Education in Neurodevelopmental Disabilities Training Program.
Ms. Baer was diagnosed with juvenile rheumatoid arthritis at age 3, but it has never slowed her down. She pushes boundaries and doesn't let her disability hold her back. In 2006, through her involvement in Center for Independent Living, Ms. Baer co-created Uncensored Life: Raw Beauty, a photography exhibit that showcased the beauty, sensuality and empowerment of women with disabilities.

She has a coaching and counseling business helping individuals find love and have healthy relationships. Recently married, she is working on a memoir about her dating dramas with a disability and another project with her husband. Check out her website, www.love-ABLE.com.
---
Transformations
We tell stories.
We tell stories to make sense of our lives.
We tell stories to communicate our experience of being alive.
We tell stories in our own distinct voice. Our own unique rhythm and tonality.
Transformations is a weekly story-telling column. The stories are written by community members who are my students. Our stories are about family, love, loss and good times. We hope to make you laugh and cry. Maybe we will convince you to tell your stories.
— Kathrin Seitz, editor, and Cheryl Durbas, co-editor
"Everyone, when they get quiet, when they become desperately honest with themselves, is capable of uttering profound truths. We all derive from the same source. There is no mystery about the origin of things. We are all part of creation, all kings, all poets, all musicians; we have only to open up, only to discover what is already there." — Henry Miller
Kathrin Seitz teaches Method Writing in Rockport, New York City and Florida. She can be reached at kathrin@kathrinseitz.com. Cheryl Durbas is a freelance personal assistant in the Midcoast area. She can be reached at cheryldurbas@tidewater.net.