Transformations
Aegina Angeliades: Back at the Ranch...an excerpt from 'My Skin Don't Fit'
This is an excerpt from Aegina Angeliades' memoir, My Skin Don't Fit. Her funny and heart-rending story details one woman's quest to resolve her physical and spiritual conflicts, told in a refreshingly honest way.
Chapter 10
Back at the Ranch
I wasn't convinced that all spas were bad. I concluded that my mistake was looking to the Europeans for an effective weight-loss program. The truth is Americans are probably
the most advanced with weight-loss strategies, exercising facilities, and spa treatments; so some ten years later, I proposed going to Canyon Ranch.
Canyon Ranch is an award-winning, highly acclaimed spa and resort in Lenox, Massachusetts, about a four-hour drive from New York City. My mom wasn't interested in going but agreed that the spa retreat could serve as our Christmas gift. Phaedra, Irena, Ilana, and I were thrilled.
Canyon Ranch is beautiful. It is built on expansive grounds with manicured gardens and lawns. When we pulled up to the ranch, the staff greeted us. They valet parked our car, grabbed our bags, and welcomed us to our getaway.
The lobby was large yet intimate, and after checking in we were handed our tan canvas Canyon Ranch welcome bags filled with water bottles, schedules of events, and fresh fruit. Canyon Ranch set up consults for us with the staff nurses so we could go over our intentions for our time there. Did we want to get in shape? Clear our minds? Get spiritually fit? Relax? A bit of everything?
The two-bedroom suite that my sisters and I were to share had a washer and dryer and the best brands of toiletries. We were provided with robes, slippers, razors, and tampons. There were down comforters on the beds, CD players full of New Age music, and affirmations written on little notes strategically placed on the tables and desks.
Sure, it cost about a grand a day per person to stay at the Ranch, but truly everything was included. Well, everything except spa treatments. They were additional.
There was a library, a board game room, movie room, computer room, and meditation room with a fireplace. They had huge indoor and outdoor pools. Racquetball, squash, volleyball and basketball courts. A fancy dining room and a casual express cafe. Gift shops and pricey boutiques. A massive gym with state-of-the-art equipment. Hip, trendy exercise classes. A locker room with those showers that have twenty heads blasting water at you, whirlpools and Jacuzzis, cold plunges, eucalyptus steam rooms, and quiet rooms for in-between-time naps.
There were fresh coffee, tea, and fruit stations throughout the resort. Pitchers of water with thinly sliced cucumbers. Fruit. More fruit. They considered anything a guest could possibly need or want, and provided it ahead of time.
As accommodating as they were at the Ranch, they maintained a solid set of values and beliefs. There was no alcohol there and you couldn't find an Equal, Splenda, or Diet Coke if your life depended on it.
Irena called the front desk and requested a "DC" (Diet Coke) even though I was pointing to the paragraph in the welcome packet that stated, "We recommend eliminating artificial sweeteners from your diet in favor of natural sweeteners like stevia..."
When they told her they did not have Diet Coke, she told them there was a deli about a mile down the road. She then added, "I could really use some Tylenol PM too. Thanks."
She handed me back the welcome packet with a sentence she had circled at the bottom of the page: "If there is anything we can do to make your stay more pleasurable, please do not hesitate to ask."
They ended up bringing Irena a six-pack of Diet Coke cans and a box of Tylenol PM. They didn't even charge her.
I was reading about the various classes and events. At any given hour, from six a.m. to six p.m., there were at least ten different activities to choose from: Yoga, T'ai Chi, basketball, golf, bike riding, circuit training, Pilates, pool aerobics. I was busy circling the classes I wanted to take most, wishing I had more time. Wishing that there were more hours in a day.
Irena was unpacking her pocketbook. That's all she brought. No luggage. Not even a duffle bag. Just a carton of Marlboro Light 100s and a bunch of Lost DVDs.
"IRENA! It's a freakin' spa. You didn't bring workout clothes? A bathing suit? What are you going to do? Smoke butts and watch TV all day?"
"Listen, Yo, don't tell me how to spend my vacation. You wanna go spin and hike? Knock ya-self out. Me and BFF (Best Friend Forever) are gonna catch up on Lost and fumage our brains out. Right, BFF?" (fumage = smoke)
"Right, BFF! Watch Lost. Fumage," Ilana concurred. "So you can just adios yourself, T-A-C." Irena said.
That's what Irena called me. T-A-C. Three's A Crowd. Often on family trips, I had to room with Irena and Ilana because Phaedra hated company, sharing, and compromising. Even though Irena was only a year younger than me, she got along better with Ilana, who was some six years younger than her. I was often a buzz kill for Irena and Ilana. They were BFFs and I was T-A-C.
I tried to set up shop with Phaedra in her bedroom on the first night, but it didn't quite work out. I got in one of the two queen-sized beds and began flipping through the television channels. Phaedra was pregnant with her first daughter at the time. She was very prego and very uncomfortable. She was twisting, turning, and groaning. She was only one year older than me but she always got her way. She asked me to lower the TV.
So I did.
"Can you make it lower?" So I did.
"Lower," she demanded.
Phaedra was briefly satisfied when the TV was muted and even then she rolled her eyes and said, "What's the point? You can't even hear it; why don't you just turn it off?"
So I did and reached for my book. "Can you turn off the light?"
"No. I am reading, Phaedra."
"Ugh. Fine Aegina. Read. All of a sudden you're a reader.
That's just great."
Thirty seconds later: "Listen, what time are you getting up?" Phaedra asked.
"When? What? Tomorrow?" "Yes, Aegina. Tomorrow."
"I don't know, Phaedra. Like six?"
"Are you gonna be loud? Like, are you gonna make noise when you get up?"
"Um, I have to get up and move around, but I don't know. God. I guess I will be as quiet as possible."
"Do you have your stuff together? Like from now? Like by the door? Or are you gonna gather it tomorrow? That is gonna be really annoying, Aegina. I can't be woken up. I need to sleep, Aegina. You don't get it."
"Fine, Phaedra. I'm going to go and sleep with Irena and Ilana!" I screamed, grabbing my things.
"Yeah, I think that's best."
I stuffed my belongings into my Canyon Ranch bag.
"You don't care, do you?" Phaedra tried to convince me.
I walked through the common dark area of the suite and opened the door of the second bedroom.
"Oh! Look who's here! It's T-A-C!" Irena yelled without looking over at me or taking her eyes off Lost.
Ilana and Irena were sharing the same bed by choice. Ilana was lying on her stomach with her size eleven feet by Irena's head and the pillows. Ilana is the youngest and tallest of us all by a good five inches. Irena was holding the remote with one hand and a lit cigarette with the other.
"You guys! You can't smoke! Oh, MY GOD. I am calling Mommy. Are you crazy?"
"T-A-C, if you wanna go sit in the S.P., knock yourself out, but if you ask me, the whole thing is freakin' roo-ood."
"The what? The spuh-what?"
"The S.P., T-A-C. The smoking pavilion? It is like way far, and outside! It's practically winter out there. They can really get over it."
I got in the empty bed, put the pillow over my face, and went to sleep.
I got up early in a surprisingly good mood, considering I kept waking up to the smell of smoke and the sound of Lost most of the night. I got coffee and sat in a remote corner of the Ranch by a window overlooking the stunning landscape. There were staff members up and about, tending to the Ranch's grounds and preparing for the day ahead.
After an hour or so of reflecting and planning, I went back to the room where the BFFs were now awake and had resumed their Lost marathon.
"Listen, you guys." I had the Canyon Ranch bag on my shoulder and the daily schedule in my hand, all marked up with notes and circles. "I was thinking. How about we do ONE thing every day together, then you can watch Lost all you want for the rest of the time?"
Ilana was lost in Lost, but Irena replied, slightly intrigued, "Like what, T-A-C?"
Excited, I continued, "Well, like at ten, after breakfast and stuff, there's a canoe-slash-hike. I think that would be a fun thing for all of us to do together!"
After a heavy sales pitch, I got the BFFs to agree to the activity. Phaedra was game right away. All she planned to do at Canyon Ranch was outdoor sports, but she was concerned that the conservative staff would limit her activities because she was eight months pregnant. She dressed in a large navy windbreaker, attempting to conceal the growth in her belly, and met us at the canoe/hike gathering spot.
"Irena! You have sneakers!" I screamed. I was so proud of her effort—even though she was wearing her pajama bottoms and a leather jacket.
"Oh, relax yourself, T-A-C. The lady stopped me at the door and made me 'borrow' them. She's holding my slippers as collateral."
Ilana was getting nervous. "I don't know how to hike, Aegina. I never went on a canoe ... I'm scared. Do you think I can do it?"
"Ilana, you will be fine. Look around. Most of these women are like sixty. You're twenty-something years old. You can walk, can't you? Hiking is walking. Just on a pretty trail."
"Hi, gang!" One of the activity leaders greeted us. "Okay, so there are, let's see ... two, seven, nine, okay, ten of us this morning. Welcome to canoe-hike!"
The four of us were put with a single older lady and called "Group 1: Canoe." The remaining five people were in "Group 2: Hike." Two instructors would take our group in a van to a lake, and we would paddle canoes to the other side. The other group and their two instructors rode a different van to a trail, where they would hike up and over some mountain to the lake. They would take the canoes back to our van and we would hike up and over the mountain to their van.
As we drove to the lake, the instructors went over some basic canoe protocol.
"So, has everyone been in a canoe before?" the instructor asked. He was in Indiana Jones gear with sunglasses hanging from a leather string around his neck and several water bottles strapped to his belt like ammunition.
The random lady thrown into our group raised her hand first so the instructor said he would canoe with her. He said that the lady instructor, who looked like the female version of him, would canoe with Phaedra since they were both "four months" pregnant. He concluded that I could row with Irena and Ilana.
Indiana Jones said that the hardest position in the canoe was the back because that person really controlled the direction of the canoe. Of course, I assumed that position. We put on life vests. Irena leaned on Ilana's shoulder with one hand and my shoulder with her other and wobbled into the canoe, her large white Prada bag dangling from her wrist. Ilana then held onto me for dear life as she stepped into the canoe and fell/sat in the middle. They were both facing me and lifted up the paddles that were resting in the canoe.
I was up to my ankles in water as I pushed the canoe deeper into the lake and confidently stepped in. It was a picture-perfect autumn day. Sunny blue skies, sixty degrees, light wind.
Phaedra and prego-instructor were already way ahead, and the Indiana Jones/random-woman team were holding their canoe back and waiting for us to get it together. Irena and Ilana were clumsily maneuvering their paddles. Canoeing was much harder than I anticipated. We were not in sync, and despite the effort all three of us were exerting, the canoe was not moving.
I had no idea how to guide them so I just started making random suggestions. "You guys, stop. Listen. Wait! Let me. I'll paddle. Just take your paddles out. No! Lift them. Now move them. Not that way. This way!"
Irena rocked on her butt to reposition herself and the canoe rocked with her.
"Careful!" I screamed. "Don't move so much."
Ilana dropped her oar in the water and reached out to try and grab it. This caused additional rocking. I tried to move around in my seat, hoping to balance the canoe, but it just made everything worse.
The canoe was swaying and rocking, and within seconds it tipped over. Completely upside down.
I came up from being submerged in the water, shocked and confused. We were all fully clothed and the cool water was quite sobering. But we all knew how to swim and it was just a still lake after all.
I saw Indiana Jones frantically rowing toward us. He was screaming to us, "Remain calm, canoers. I'm coming!"
Prego-instructor rowed a very irritated Phaedra toward the shore off to the right of us. She hopped out of the canoe as she approached land and began running toward the houses on the lake screaming, "S-O-S! S-O-S! EMERGENCY! S-O-S!"
Irena, Ilana, and I were bobbing in the water and Ilana started to laugh. It was making me mad because the situation was not entirely in control.
"Stop, Ilana. It's not funny!"
"I can't help it—you know I laugh when I'm nervous. Are we gonna be okay, Aegina? I'm scared!"
Indiana Jones told us to hold on to the back of his canoe, but when Ilana and I grabbed on, his canoe did not move despite his rowing efforts. He told us to let go. He told us to swim. He told us to wait. He told us he didn't know what we should do. He told us this had never happened before.
I told Ilana to follow me and said to Irena, "Come on. Let's just swim. It is not far. It's right there." I pointed in the direction of the land.
Ilana copied my one-armed sidestroke move. We were making progress, but Irena stayed bobbing in the same spot.
"I can't. I can't feel ... like my hands ... you guys."
"What? Irena, I'm serious. Move it! NOW! I am soooo serious!" I commanded.
"Just go. Leave me ... behind. It's okay. Really. Save yourselves," Irena offered dramatically, rolling her eyes up into her head as if she were on the verge of passing out.
"IRENA! This is not Little Women. We did not fall through an ice pond! MOVE!"
"T-A-C, it's really okay. Don't worry about me. I can't feel my hands ... I am numb. I'm not gonna make it."
I grabbed the back of Irena's shirt and towed her the ten feet to land.
Prego-instructor had successfully gotten an old lady in one of the lake houses to open her door. She stormed into the woman's house and rummaged through her belongings, emerging with towels and sheets. She came running down toward us as we dragged our cold, wet bodies out of the water.
"You should be ashamed of yourselves," Betty White yelled from the back of her lake house. "Scaring an old lady half to death! Barging into my home like that. Like a bunch of criminals!"
"Get undressed," Prego insisted. "Here. Take off those clothes. Quick. Get them off. Wrap yourselves in these towels. Socks off too. Everything."
I was undressed and warm in a matter of seconds and looked over at Ilana who had stripped down to her Frederick's of Hollywood fire-engine red bra and underwear.
"Where in the hell ... ? What were you dressed for?" I asked.
Irena, however, was staring off into space, her entire body shivering. "I can't feel my hands." She held up her hands. Her fingers were pressed together and cupped. "I can't get undressed. I can't use my hands."
I pulled at Irena's clothes as she stood like a frozen statue. She stopped talking. She stopped blinking.
"Abort hike. Over. ABORT HIKE. OVER!" Indiana Jones screamed into his walkie-talkie. "Return to the Ranch."
We had to wait for the Canyon Ranch emergency van to come and pick us up since the van we came in was now across the lake where we began our canoe adventure. The hike group had to retrace their steps to their parked van.
We traveled back to the Ranch in silence. Phaedra finally interrupted the quiet. "If you guys didn't want to go, you should have just not come! I knew it. I knew you guys wouldn't hike. You didn't have to freakin' flip over and ruin the trip for everyone! You should have stayed in the room!"
We said nothing. There was nothing to say.
The Canyon Ranch emergency van driver took us straight to the nurses' station where we were forced to go through an evaluation. I walked out of the medical office with a clean bill of health and curled up near the fireplace in the library and fell asleep. When I woke up it was time for dinner so I headed to the dining room.
I saw Phaedra on the salad bar line and sat down next to Ilana, who was dumping a stashed Equal into her iced tea and eating from a mound of fresh vegetables.
Phaedra sat down with her heaping plate of salad and stated, "Tomorrow I'm going on a hike. Alone."
Irena, looking refreshed and well rested, took the last empty seat at our table. As Ilana filled her in on the latest episode of Lost, Irena, listening intently, picked up a fork with her left hand and placed it in her cupped right hand. She stabbed the fork into Ilana's salad, still holding it with her right, cupped hand.
"What the hell are you doing?" I asked.
"What do you mean, T-A-C?" Irena said, chewing.
"Why are you holding the fork like that? Why are you holding your hand like that?"
"You mean this?" Irena glanced at her cupped hand that had a fork wedged in it.
"Yeah. That's what I mean." "You mean my claw?" "Your what?"
Irena proceeded to tell us that her right hand had frozen into a claw. She then demonstrated how it (her claw) worked. She picked up various utensils from the table (with her good hand) and strategically placed them within her claw. This was nothing to be upset about, she assured us.
"It's not bad. Not bad at all." She turned her claw palm side down and then up. "I think it's kind of cute."
"Open your freakin' hand, Irena! That is not funny. You are a moron. It is so NOT STUCK LIKE THAT!" I said.
"Don't be jealous, T-A-C. Just because you didn't get a claw, you don't have to spoil it for me."
Later the nurse called our suite to check up on Irena and her claw. "Yup, still a claw!" Irena exhaled smoke and chuckled. "Sure Karen, I will let you know. Okay then, uh-huh, talk to you tomorrow."
The next morning I was the late riser. Irena and Ilana were putting on their shoes and heading to breakfast. I cracked my eyes open and saw the red numbers on the alarm clock. "You guys, breakfast doesn't open until six. You still have twenty minutes."
"This whole hand-turned-claw thing has me starving, T-A-C," Irena explained. "We'll just go and wait. Right, BFF?"
I got up shortly after and gathered my meditation books and journal. I walked by the café where my sisters sat chatting and holding coffee mugs with their hands or claws depending on which sister you were looking at. I waved as I passed and kept moving, knowing I needed some alone time.
When I got back to the room to change into my workout clothes, the phone was ringing and my sisters were laying in the bed seemingly oblivious to the sound. I rolled my eyes at them, while they remained focused on the TV screen, and grabbed at the phone. "Yes?"
"Oh, yes. Hello, this is Mrs. Robertson. I am calling ... well, okay, I am calling from the Light and Easy—"
"I'm sorry? From where?"
"The café? Where you just ate breakfast?"
"No, that wasn't me, it was my sisters. I haven't been to breakfast yet."
That got their attention. Both Irena and Ilana woke up from their Lost coma and started shaking their heads and slicing their fingers across their throats.
I watched them, curious, as the café lady continued. "Well, are they there?"
I hesitated. "Um, no. They're not here. Is there a problem?" I glared at Irena.
"Yes. Well ... no. Actually, sort of, yes. I would just like them to please bring back the salt and pepper shakers that they stole. I mean, borrowed."
"Salt and pepper shakers?"
Irena left her cigarette dangling between her lips, reached for her Canyon Ranch bag, and removed two shiny, red glass salt and pepper shakers, one at a time (with her good hand).
My mouth dropped open and I assured the café lady that as soon as I found my sisters, or the shakers, I would personally see to it that they were returned.
"I guess they wanted to use them in the room," Mrs. Robertson offered before I hung up.
"Are you guys kidding me right now? I'm so done with you two. Really. I mean, REALLY? You really freakin' stole something from Canyon Ranch? What is the matter with you? You were the only two in the café, jackasses!"
I confiscated the salt and pepper shakers—and the sugar cube holder I happened to spot in her bag as well—and placed them on the desk in our room with a note to housekeeping. "We borrowed these from the café this morning. Please return. Thanks."
Things quieted down at the Ranch for the next day or two. I occasionally escorted Irena to the smoking pavilion, which she agreed to use after complaints about the stench from our room caused threats of a room-cleaning fee.
We got to the pavilion one day and Irena took a cigarette out of the pack with her good hand, effortlessly placed it in her right claw, and then brought the claw, with assistance from the good hand, to her mouth for a puff.. "So I was thinking...this guy...lost his toe in a biking accident. He was on one of those organized tours or something. Anyway, he got like, six hundred grand. For a toe! I'm thinking my hand has to be worth a cool mill. What do you think, T- A-C?"
"Irena, you did not lose your hand. It's right freakin' there, actually. And just so you know, if you keep playing this crunch-up- my-hand game, you'll become arthritic."
"Game? There's no game here, T-A-C. I don't understand why you hate my claw so much." Irena walked back into the building.
Towards the end of our stay, Ilana agreed to go on a bike ride. It was so beginner they listed it as a meditation event—the bikes were just used to get to and from the meditation spot.
The staff fitted us to bikes, adjusted our seats, and checked our brakes. They insisted we all wear helmets and take a water bottle. Safety pups.
I had not ridden a bike in a while and I was having so much fun. I felt like a kid as the wind blew sweet blessings in my face. The biking route was flat and scenic. A short, straight road ahead. We could see a river in the near distance.
When we got to the water, I took in a deep breath of fresh air. I looked over my shoulder and saw Ilana trying to dismount her bike. She looked disoriented and she clumsily fell onto the dirt, her bike collapsing in front of her. She started to fan her face with her hand and pull at the round collar of her sweatshirt.
"What's wrong with you?" I asked.
"Nuh-thing," she said in two syllables separated by gasps of air. She then "hoo-ed" several times in a row, like a pregnant lady in a Lamaze class. "It's just that ... the hill. That ... hill ... was tough." More difficult exhales. "I feel hot. Oh, God. Oh, no. It's happening. I'm seeing the spots."
The spots?
One of the Ranch guests directed the staff rider to Ilana. "Hey, little lady. You feelin' okay?" he said.
"Yeah. I am ... just ... hot. It was the ... hill. When I work out ... I sometimes see ... spots. Once in a while, I faint, but really, not all that much. Once in Greece, we walked up a hill, and I got dizzy. Like this. I fainted. Right after I saw the spots."
The spots.
"Listen, we don't want to take any chances here. We're going to give the emergency pick-up van a call, okay, little lady?"
"Yeah, I think that's a good, idea. They aren't going away. The spots."
The walkie-talkie came out. Help was called. The two instructors deliberated about how to get everyone back.
I intervened. "I'll wait with her. Please, just take the others back."
They hesitated but finally agreed. The people on the meditation/bike activity waved and rode off, wishing us luck. One of the staff riders kept looking back at us—the two riders sitting on the rocks. You could tell he was nervous about leaving Spots and her sister behind.
The white Canyon Ranch emergency van screeched to a halt on the dirt path, made a jagged U-turn, and stopped in front of us. The driver was a young woman with short, spiked hair, wearing sunglasses and brown overalls. She got out of the van and slammed the door. She grabbed my bike with one hand and hung it onto the rack mounted behind the van. She stomped over to Ilana's twisted bike and hung it on top of my bike.
We got in the van. She got in the van. Ilana opened the sliding window and said, "I feel better, T-A-C. Sorry. I forgot about my spots."
As we drove in silence I went over the morning ride in my head. What hill did we ride up? How was she hot? It was, like, fifty-five degrees.
"You girls were part of that pack of sisters that flipped in the canoe, right?" the driver said.
"Yeah," I giggled, "That was us!"
With that, she pulled over, slamming on the brakes. Before we were at a full stop, she turned around, pulled off her dark Ray-Bans and stared right into my eyes with a scary focus. "I am doing a Canyon Ranch jog tomorrow at eight a.m. I do not want to see you two or either of your other sisters on my jog. Do-you-understand- me? I don't know if you are spies here to test the Ranch's safety procedures or what, but I will have nothing to do with it. Are you listening?"
Ilana and I nodded in silent agreement.
I was more than happy to leave Canyon Ranch when our stay was over. Most guests remain on the grounds for that last day to stretch out their retreat as long as possible, but we called the bellhop right after breakfast.
"I'll be outside fumaging, T-A-C. I'm taking my pocketbook with me, so just make sure the dude gets that bag, okay?" Irena pointed her claw to an over-stuffed Canyon Ranch bag leaning on the wall in the corner of the room.
The bellhop came and stacked our things onto his caddy. Irena's Canyon Ranch bag tilted over, its contents spilling onto the floor. Little bottles of toiletries. About five hand towels. Her unused Canyon Ranch water bottle. A pair of slippers from the spa. The salt and pepper shakers from the café. And a stack of printouts from the computer room of articles on "frozen limbs" and of lawsuits filed by people who lost the use of their hands in freak accidents. Irena had begun preparing for her day in court. That day never came because the key witness for her case, her claw, abandoned her soon after and all she was left with was her worthless, usable hand.
---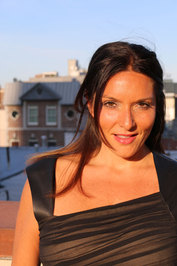 Find Aegina Angeliades on Facebook.