In reviving the Bronco, its very first SUV (b. 1965, d. 1996), Ford seems to have cast a critical eye on the Jeep Wrangler and said, "Right, we're going to build a vehicle with the same off-road cred, but minus the faults." Ford succeeded, especially with this Sasquatch variant. 
From some angles it looks Jeep-ish and from others Land Rover-y, but the new Bronco is a mid-size body-on-frame sport-utility vehicle that shares a skeleton with Ford's also-new Ranger truck. Do not confuse it with the also also new Bronco Sport, which is a compact SUV based on the Ford Escape crossover. Like the old Bronco II (1984-'90), the new Sport is smaller, less powerful, less rugged and less expensive than the Bronco.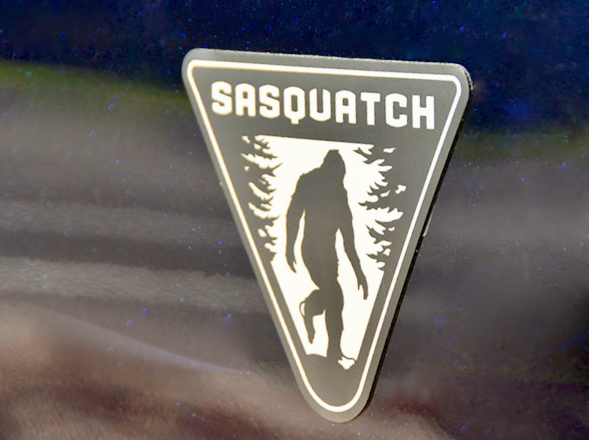 A bronco is a horse with an attitude. A Sasquatch is a large, hairy humanoid also known as a Bigfoot. A Bronco Sasquatch has both attitude and big feet: LT315/70R17 Mud/Terrain tires on beadlock rims that altogether stand 35 inches tall. Goodyear normally labels these tires Wranglers, which in this case would not do, so Ford got the word "Territory" molded into the sidewalls instead. 
The Sasquatch package is a $4,995 add-on that also requires the Bronco's $795 Advanced 4X4 system, which includes electronic Dana front and rear locking axles, self-adjusting Bilstein shock absorbers and even more ground clearance. All that's lacking is a grab handle so passengers can hoist themselves up and in more easily.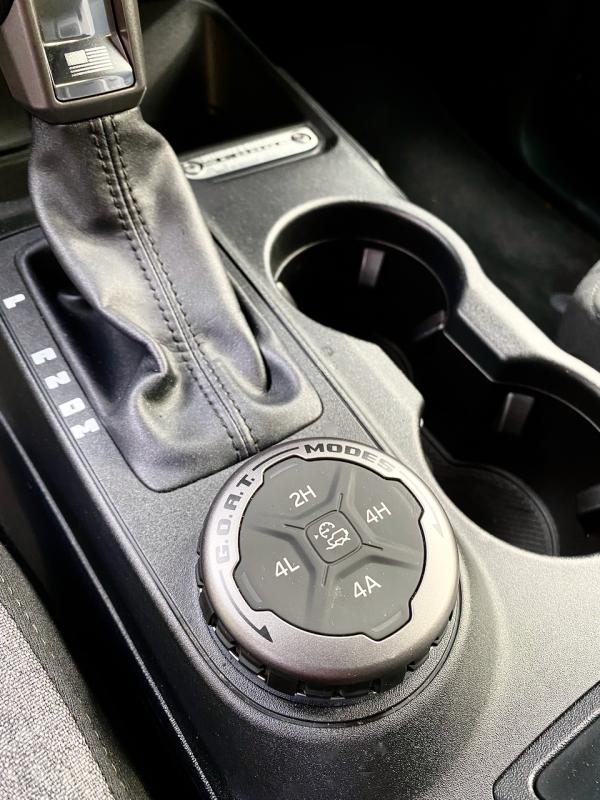 Sasquatch or not, Broncos get either a 10-speed, driver-shiftable automatic transmission or a manual gearbox with a clutch pedal and seven forward speeds. (Seventh is a low-speed "crawler" gear for off-roading.) 
The Bronco's base engine is a 2.3-liter EcoBoost 4-cylinder that's turbocharged to 300 horsepower and 325 torques.
A 2.7-liter turbo Four rated for 330HP and 425 pound-feet of torque is available, but only with the automatic transmission. Both drivetrains include Ford's driver-selectable G.O.A.T. (Goes Over Any Terrain) drive-mode system.
Other notable features of the new Bronco include removable hardtop roof panels and doors, which are set into a fixed roll cage; fold-down back seats (accessible, in our tall two-door, only by skinny teenagers); a front skid plate; and roof rails, tie-down points and fore and aft tow hooks. It also has many of the amenities of ordinary cars—pushbutton ignition and stop-start, a back-up camera, a touchscreen with Apple CarPlay and Android Auto, a Wi-Fi modem and plenty of safety equipment, including emergency brake assist.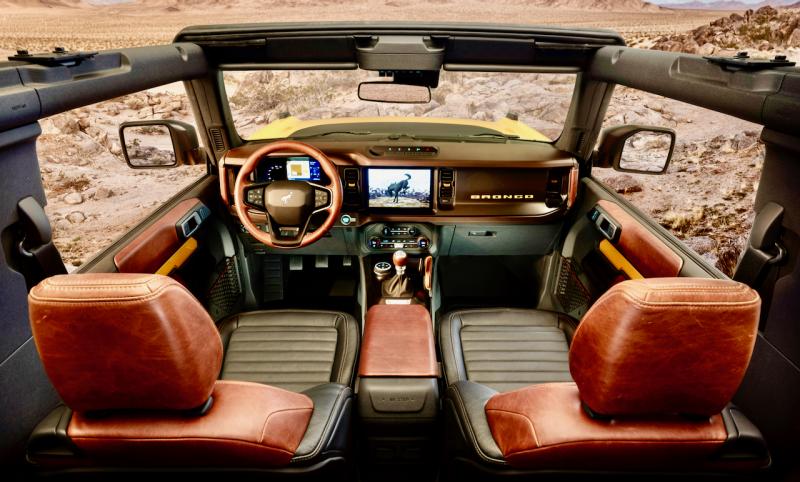 One "feature" the new Bronco does not have is the sloppy steering and lane-keeping of a Jeep Wrangler. Even the two-door Sasquatch, which on its big feet appears to be nearly as tall as it is wide, rides and handles better than expected. The bumpiness of a rough road comes into the cabin, certainly, but even on a washboard surface the Bronco tracks straight and true. It's fun to drive and feels not only well sorted, but also quite all-around livable. Except for the lousy gas mileage, even interstate driving is no chore.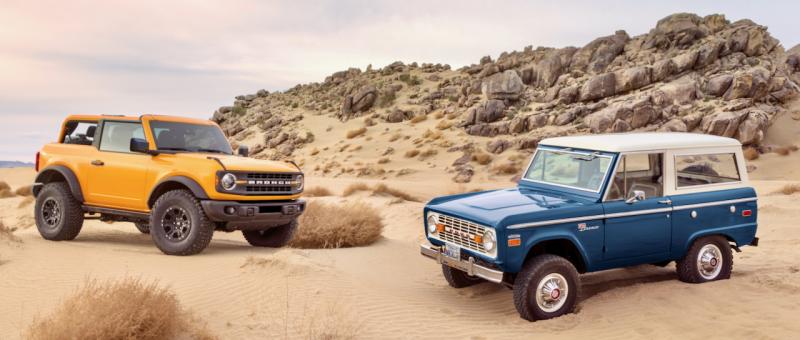 If there's anything to complain about with the Bronco, it's at the back. The tailgate swings aside and then the rear glass pivots up. Nothing new there, but the door is heavy and awkward and lacks a positive stop; and I wonder how long before that rear window begins to rattle or let dust in. Surely the company that came up with the F-150's MultiPro tailgate can do better than this. 
Broncos come in Base, Big Bend, Black Diamond, Outer Banks, Badlands and Wildtrak trims at starting prices from $28,500 to $47,780, and in 2022 there will be an Everglades version with a snorkel for the engine. Cleverly, in its unspoken campaign to impress (or irritate) Jeep Wrangler owners, Ford makes the hard-core Sasquatch package available on every model. In fact, our sample 'Squatch is otherwise a Base Bronco, so it lists for about $35,000. 
Silvio Calabi has been reviewing cars since Ronald Reagan removed the solar panels from the White House. He lives in Camden.