You have to do it. You don't want to do it. But it's time.
We are now officially in Year 2023 and that Christmas tree has to come down. Instead of dragging it to the transfer station, here are a few places locally that take un-ornamented Christmas trees back as food for the animals or to be chipped up into mulch. Here are a few ideas and places to enjoy your road trip and make a fun day of it.
Christmas Tree Collection
Starting Monday, January 2 —Waterville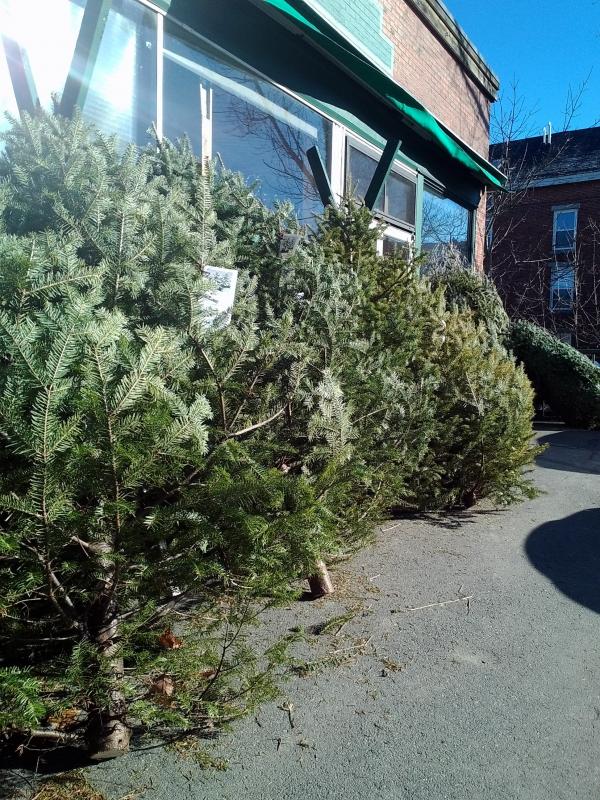 Trees can be dropped off at the curb of Quarry Road Recreation Area located on North Street (place on the left side of the road below the 1-95 overpass). Make sure they are free of all decorations, tinsel, and stands. The City of Waterville Department will begin picking them up to be chipped and reused as mulch. For more information call the Department of Public Works: 207-680-4744.
Make a Day of It: Go visit the Colby College Museum of Art or the newly opened Paul J. Schupf Art Center or catch an indie flick at the Railroad Square Cinema. Try authentic Lebanese cooking such as spinach and cheese pies at the Lebanese Cuisine, which was featured on Food Coma TV in 2018. Five minutes away in Winslow is Big G's Deli, a state icon for sandwiches bigger than your head, but be aware, this small eatery is massively popular, and it is usually a half-hour wait. Best to order for takeout ahead.
---
Bonfire of the Trees
Saturday, January 7— Hallowell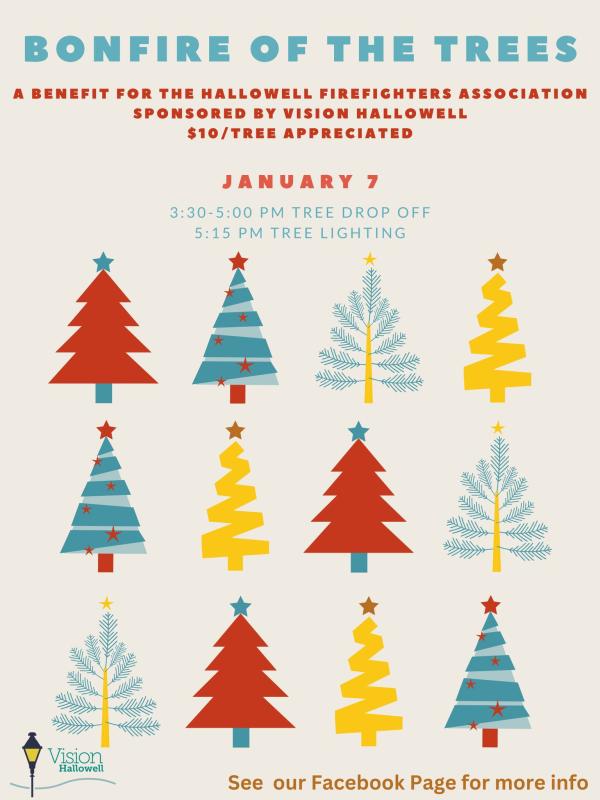 Bring your tree to Granite City Park by 3:30 p.m. so that the organizers can assemble them all into a big public bonfire. At 5:15 p.m. the tree lighting will commence.
Make a Day of It: The Hallowell Antique Mall is a unique spot with a huge variety of historical items. You never know what you're going to find. Down the road is the ever-popular The Liberal Cup, a brew pub with great beer and affordable prices with classic English pub fare.
---
Christmas Tree Drop Off
Saturday, January 7— Albion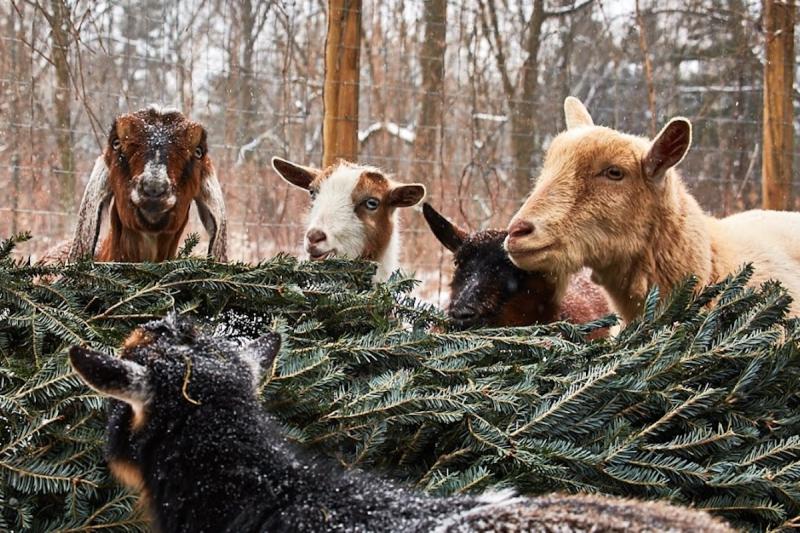 The Hart to-Hart Farm & Education Center (16 Duck Pond Ln, Albion) is happy to take back your Christmas trees as food for their goats. The take-back event goes from 10:30 a.m. to 2 p.m. Things to make sure of: Trees must be untreated and tinsel/ornament free. If you're unsure whether your tree is chemical-free, please contact the business where you purchased your tree. This is for the health and safety of the goats. While visiting the farm, enjoy petting the goats and other animals.  FMI: Details
Make a Day Of It: Ten minutes up the road, check out Stone Tree Farm & Cidery, a delightful place open on the weekends that we covered in a 2021 story. 
With no snow on the ground, they may still have outdoor games still available such as corn hole and croquet sets on site as well as Cam Jam frisbee. Mammie's Country Kitchen nearby is a cool little spot open on the weekends to grab some homestyle cooking like a chicken casserole or homemade Whoopie Pies. There is also the locally popular Unity House of Pizza, an unassuming place with a no-frills restaurant on one side and a bar with a pool table on the other. Local reviews attest to their good pizza and hot sandwiches.
---
Kay Stephens can be reached at news@penbaypilot.com