For the holidays, we're continuing our series to shine the spotlight on Maine craftspeople. This week, we're focusing on Maine Made gourmet and specialty foods made from all around the state.
Cup of Sea tea made from seaweed

Portland, Maine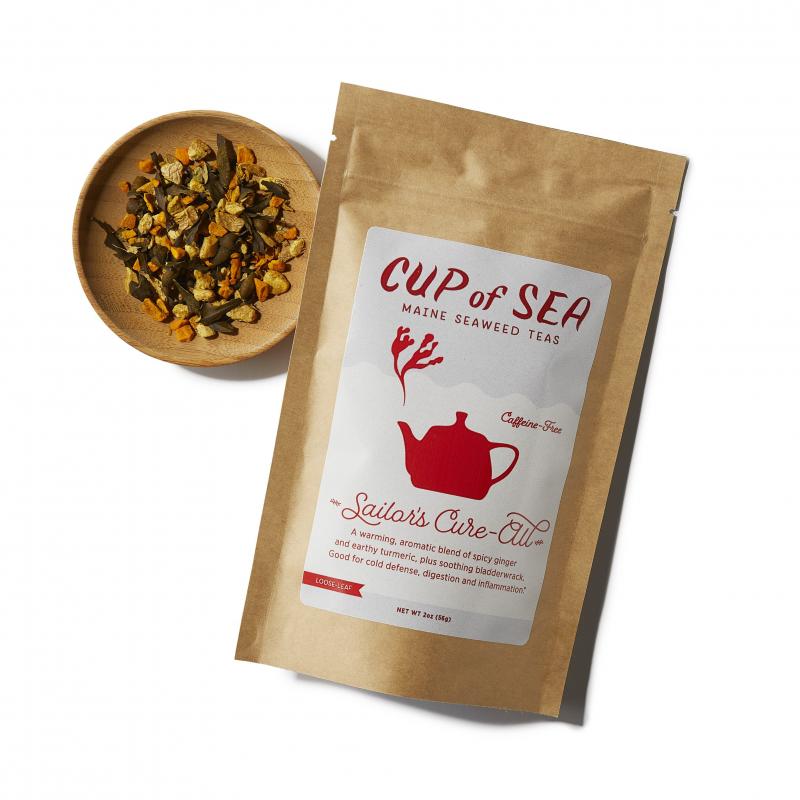 The back story:
Josh Rogers, a freelance cookbook editor and web content strategist on the side, got the idea to make tea from seaweed after noticing how alike green tea and kelp tasted. He started making tea from seaweed and opened his own store, Heritage Seaweed, the country's first and only all-things-seaweed store, in Portland, Maine. "I source flakes of dried seaweed from local harvesters including Atlantic Holdfast, who's based on a remote island seven miles off Stonington," he said. "I blend the seaweed with caffeinated or herbal tea ingredients in small batches at our Portland shop. You'd be hard-pressed to find a more nutritious tea. It's chock-full of minerals, antioxidants, and anti-inflammatory agents. Ultimately, a cup of tea is one of the easiest ways to add seaweed to your diet."

Cost: $12.99 per bag. You can buy it online or in-person at Heritage Seaweed, 61 India St, Portland.
In his words: "We have five blends and they couldn't taste more different--warm ginger, white truffle honey, smoky malt, regular old black tea, and a green tea with a distinct whiff of sea breeze. People are all over the map on whether they can detect the seaweed, but most everyone likes it if they try it."
---
Bub 'N Mutha's Gourmet Dry Rubs

Winter Harbor, Maine
The back story:
John Fuhrman is the founder of Bub 'n Mutha's.  (If you want to know where the company name comes from, check out his story on his website—and yes, his mother is very much an inspiration!) He is also a veteran and their company mission is to grow enough to be able to hire area veterans for full-time jobs right here in Maine.

From his labels to his recipes, John likes to put fun into dry rubs. "Barbecue does that better than any other style of food and it's an American invention," he said. "Our rubs are very unique in that they use 100 percent natural ingredients and no preservatives. Both flavors use far less salt than the other blends on the shelves in supermarkets. In addition, we use real Maine ingredients from real Maine companies. Both of our flavors use Raye's Mustard ground mustard seeds. Our DownEast Dinnah (pronounced DINN-uh) Dust also uses real maple syrup crystals from Maine Made Maple in Madison and espresso ground locally at Coffee Hound in Brewer, Maine."  

Cost: $15.99 for individual dry rubs. They can be bought online or at these retail stores across Maine, including all Reny's Department store locations.
In his words: "With all that's going on in the world, barbecue is a great distraction. No one has a bad time at a barbecue. For 2020, we won 1st place at the International Flavor Awards for our Honey 'n Heat in the dry rub category."
---
Ass Over Teakettle Bloody Mary Mix

Cornville, Maine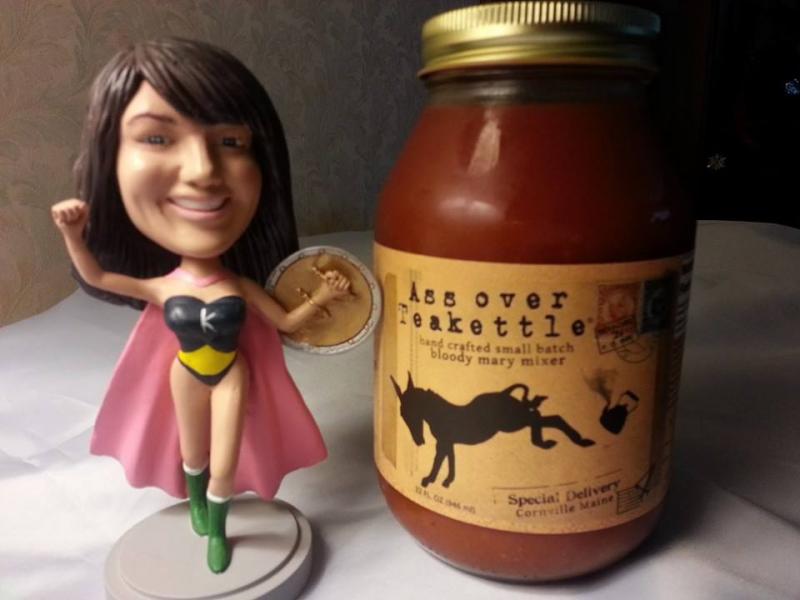 The back story:
Katie Quinn, a bartender from Cornish, Maine has a hilarious backstory on how her initial Bloody Mary skills needed some improvement. With some guidance from a friend, her recipe improved. So much so, she started making them at Bullwinkle's Bistro, Sugarloaf's on-mountain restaurant. On her best day, she served 512 Bloody Marys in one lunch! After that, a group of Katie's regulars encouraged her to start her own business and bottle her Bloody Mary mix with the unforgettable name. "I make six gallons at a time in my commercial kitchen with my own tomato juice and Worcestershire sauce, that is then hand-bottled and labeled," she said. "It's small-batch, with classic ingredients, just what a Bloody Mary is supposed to be. People have said it has a wonderful balance of flavor and spice, and a fresh tomato pop with a horseradish heat. It tastes fresh and not from a bottle."
Cost: Prices range from $3.50 to $30.00 depending on jar size. They can be found online and at these participating Maine stores.
In her words: " I have a YouTube video on my website that shows the process. This will be the last Bloody Mary mix you will ever use. It will kick you right square in the donkey!"
---
Kay Stephens can be reached at news@penbaypilot.com