For the holidays, we're shining the spotlight on Maine craftspeople. Shop locally and support innovators and entrepreneurs who keep the creative economy alive in this state. Each week, until the end of December, we will bring you this series until you can't take it anymore. Ready. Set. Go.
Beach Star Ornaments

Appleton, Maine
The back story: Lorraine Coffey started Maine's Natural Inspirations in 2014 as a creative outlet.
"I have always loved nature," she said. "I started pressings and using the flowers from around my home and town in Appleton, Maine. I began using resin to preserve the flowers and fell in love with the process. Then, I started making ocean scenes in late 2019. I love the ocean and started using my collection of sand, rocks, and shells in the work."
To make the star ornament,  she starts with 3" x ¼" laser-cut wood star from New England. "I add shells or sand I collect from local Maine beaches," she said. "I match the resin colors to the background paint I choose.   I love making the star and Maine-shaped ornaments. The color combinations are truly unique and allow each piece to be one of kind, which adds to the handmade process."
Cost: $9.50 - $9.99 each. The star ornaments can be found in Lisa Marie's Made in Maine, Freeport Market, in the Freeport Village Station, Bonnie's Place in Rockport, Maine Artisans in Lincolnville Beach, or through her Etsy store.
In her words: "It's truly amazing to me that ornaments I have made are decorating trees around the country. I hope to have a piece of Maine in every state."
---
Handmade candles with personalized boat names

Brunswick, Maine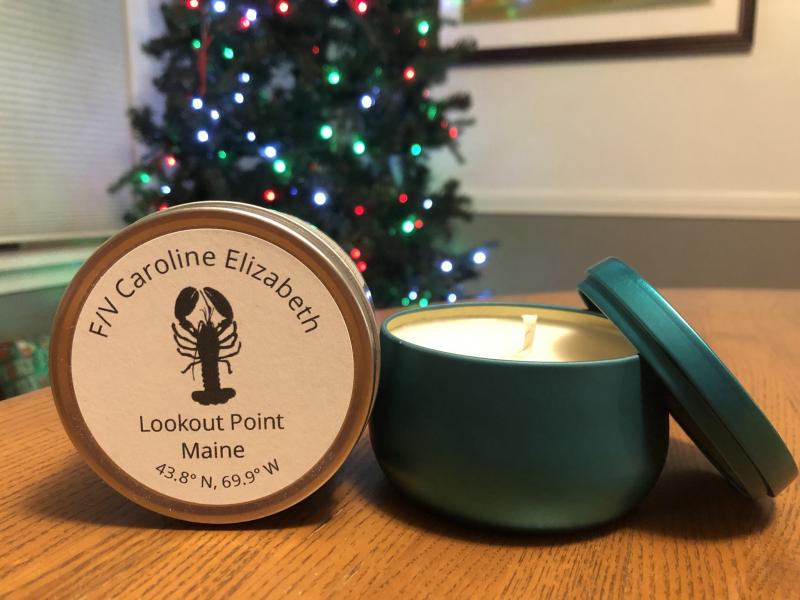 The back story: Marybeth Poulin began making candles alongside her father when she was a little girl.
"I remember helping my dad wick the molds and deciding on colors and scents," she said. "We had a lot of fun! It was me and him, a special time together considering that I had three older brothers."
Over the years, Marybeth made candles for family and friends. It was when she became an empty-nester and had more time on her hands, she decided to start a business. "There are a lot of candles for sale, so I had to think of a way to have mine stand out. I decided to make customized candles that I design and create, with a label unique to each candle.
Customers can choose the scent and color as well." Each candle tin is eight ounces and beyond boat names, Marybeth can customize labels for anniversaries, birthdays, weddings, gender reveal, showers, adoptions, retirement, and graduations.
Cost: $15 each plus shipping. You choose the scent: Fir, Bayberry, Musk, Sandalwood, Cinnamon, or Blueberry. Send Marybeth an email at canlitme@gmail.com.
In her words: "I have made candles for most of my life. It is as enjoyable to make them as it is to burn them. Now I have the added pleasure of making candles for others and knowing that it brings joy to them makes me happy."
---
Custom cribbage boards

West Newfield, Maine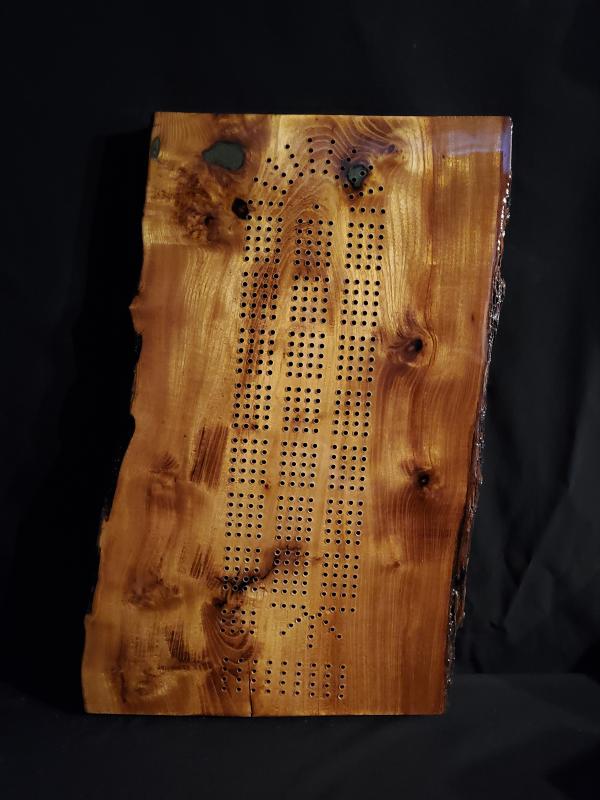 The back story: Bekki and Warren Kimball are the father/daughter team that create the cribbage boards at Simply Cribbage. Warren had been making some simple cribbage boards occasionally and was gifted some beautiful cherry burls with the suggestion that they might make some interesting cribbage boards. This gift led to a love of making cribbage boards and a new partnership. The wood used in the boards is from local areas including their own backyard and from several small mills located in the U.S. Bekki designs the boards and does the resin pouring while Warren drills out the holes with his drill press.
Cost: $30 to $110. Find them on Etsy
In their words: "So many people have told us about the great memories they have of their parents or grandparents teaching them how to play cribbage. We love listening to them talk about how much they enjoyed those moments with their family. That is probably one of our favorite parts about selling cribbage boards is we get to be a small part of the future moments that people have with their family and friends."  
---
Kay Stephens can be reached at news@penbaypilot.com