Bernie Sanders launched a million memes from President Biden's inauguration with his practical jacket, oversized patterned mittens, and grumpy expression. He is not just a mood. He is all of us, to a degree. Some Maine artists and makers have jumped on the trend with their own creations from the meme. Check them out.
Bernie's Mittens "Mood" Wine Glasses

Lewiston, Maine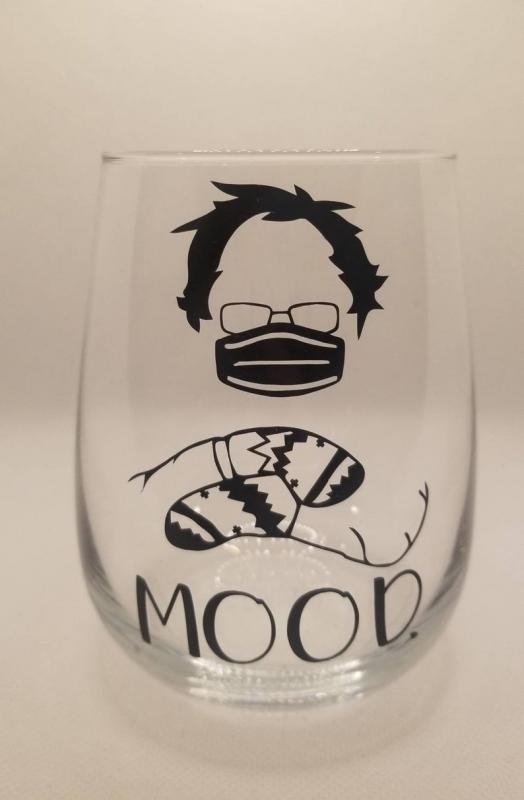 The back story: Allison McBride, of Lewiston, has an Etsy shop called popanthro and makes all of her handmade stemless wine glasses to order. After finding a stencil online, and manipulating it a bit, she used her vinyl cutting machine to create the perfect Bernie stencil and transferred it onto her glasses.
"I saw the Bernie meme going crazy online and I just got the idea to adapt it to what I do," she said. "It's mostly been positive."
Cost: $10 each. They can be found on her Etsy Shop.
In her words: "It's a funny meme and even though I got all different political opinions when I posted it, luckily many people saw the humor in it. I think people are just looking for something to take their mind off things happening in Washington and just have a fun sigh of relief."
---
Hand-poured soy candle "Bernie's Mittens"

Wells, Maine
The back story: Autumn Poulin, creator of DowneastDoodleCandles on Etsy, hand-pours each of her all-natural soy candles. 
She couldn't help but have a little fun with the Bernie meme for a limited edition candle. A portion of the proceeds of each candle benefits the Kennebunk Animal Shelter. The scent of this candle is a cozy, balsam fir. She makes her own labels and whipped this one up in no time. With an added bit of sass, she lists the "Bern Time" as 50+ hours.

Cost: $20 each. She can be reached through her website.
In her words: "We're not political at all. Everything is so serious and stressful right now, that I just thought of featuring the mittens as a great way to create something new for these cold days."
---
Miniature Felted Bernie figurine

Bridgton, Maine
The back story: Ruth Boisvert, of Bridgton, who operates CryoftheLoomStudio, has always been a needle felter. Inspired by a crocheted miniature Bernie doll that made the national news, she found her inspiration.
"My background is in fine art and once I saw the little crocheted guy on the national news, I saw that she was selling the pattern on Etsy and I had to try one," she said.  It takes her about five hours to create each little Bernie.
Cost: $95.00. Find them on her Etsy shop. Gallery 302 in Bridgton is carrying them as well. 

In her words: "I don't see it as a political statement; let's just be done with politics. I just think he's a little work of art." 
---
Kay Stephens can be reached at news@penbaypilot.com