Transformations...
Harrah Lord: 'Avoiding the Rabbit Hole'
Kathrin Seitz gives writing workshops based on Jack Grapes Method Writing. References to Grapes, bookends, the seven elements, transformation line, deep voice and image moments pertain to one of her writing assignments. The following is a result of that assignment, by Harrah Lord.
Avoiding the Rabbit Hole
Three days till Wednesday's class and another exposure.
It's Sunday morning and today I AM GOING TO WRITE—journal, scribble out images and surround them with bookends. Right! Got-it! Those seven elements are mine.
It's fall. The sun is out, the temperature mild. John shouts, "Hey, Hon, can you come help me put the finishing touches on the shed?" He's been outside assembling this 4-by7-foot pre-fab Walmart structure for days and I knew my time would come. And here it is . . . he needs me.
("But I was going to spend the morning writing my ass off." I whine insincerely to myself. I welcome the distraction!)
"Sure, I'll be right out, Sugar-pie!"
Evidently at this point of assemblage, "finishing touches" means adding a roof and front doors. There are a lot of screws that need to find their homes and those dwelling places are above my dear John's disabled shoulders—shoulders that no longer raise his arms. A condition for which there is no remedy. Just live with it and have a wife who can reach the top shelf and, in this case, also handle a screwdriver.
"Here I am, Sweetie, ready to screw!"
"At last!"
"Ha!"
So the screwing begins. There are so many. It's the roof we're raising, He holds onto me while I climb the stepladder. My arms get tired holding them above my head. My fingers are cold. I drop screws, he picks them up and we forge on. Our cranky bodies cry out in rebellion. We laugh. What the hell? This stuff used to be so easy.
After the roof is up and the doors attached we stand back and admire our joint efforts. How pleasant! We work so well together, so thoughtfully, patiently, respectfully, collaboratively. How far we have come in our six short years together.
"Wanna drive out to Morse's and treat ourselves to the best Reubens on the Midcoast? We can put the top down."
Magic words to my ears. I look at the blue sky, feel the temperature reaching for 60 and the air so still. I watch tawny maple leaves let go, give into the pull of gravity, and find their way down to the ground. And I let go of the unappealing idea of going upstairs to sit in front of a glaring monitor, tapping keys, digging for the unknown.
Yeah, yeah . . . I could plunk myself down in a comfy chair in the backyard, grab my neglected journal and locate a forgotten pencil. Surrounded by the scent of fallen leaves and the bustle of my furry and feathered friends I'd have my image moment! Naah...
"Sure! What a great idea..., I'm hungry."
Well, now it's Monday. Another opportunity. Only two more days. The pressure's on. I need the pressure. (But evidently . . . it's not enough.)
After breakfast and a short but sleepy meditation session I throw on my dingy jeans and regulation turtleneck ready to hit the writing deck. But as I pour my tea, my eyes are captured by the assorted debris covering the floor at my feet. Cobwebs, dust bunnies, unrecognizable food droppings, crumpled leaf remnants and just plain old dirt! "Dang-it! Didn't I just clean-up all this crap?" My much beloved Black+Decker Pivot Lithium 20 volt hand-held vacuum calls my name. And I answer.
Forty-five minutes later I find myself changing sheets and towels, and embarking on two loads of laundry.
After that chore completed I hear my name, again. This time it's all those plants I've drugged indoors out of the cold. They are thirsty.
The kitchen garbage needs emptying, off to the shed I go with my offering.
On the way back, I notice the birds' have no food in their feeder. A blue jay sweeps down for a landing, pokes all around and goes away pissed—or maybe it's only disappointment I read in his swift flight off to the neighbor's yard. The birds get fed.
Back in the kitchen the fridge beckons. I get fed.
Finally, I trudge up to my writing lair. It's 2:45 and I turn on my computer, log into Word, open my journaling file and "boing" I have mail, lots of mail. I start to open one after another, drawn into the predominant subject: the Trumpster's election and another day of infamy! Links abound. So much shock, despair and head scratching. What the hell? I tumble down an unexpected rabbit hole.
At 4 p.m. I crawl out and start to write . . . so pathetic. Nothing works. No images, no moments, no transformation line and certainly no deep voice. Nada. My brain is fuzz. And then, from somewhere behind my right shoulder I hear the voice of my personal Jiminy Cricket, "Take comfort, sweet one, know that this state is perfectly normal for anyone who decides to write... seriously or not seriously." The message seeps in and, for a while, I plug on.
But at 5 p.m., I surrender: it's Super Moon night! She calls and we scurry off to join dozens of fellow moon watchers on the golf course by the bay. And there in all her luminescent glory, she bathes the sea with shimmering light and smiles down on us needy mortals. How reliable, how perfect, how stunning. She claims all our attention and we offer it willingly. Such a welcomed interruption after such a whammy of a week.
Returning home we over-consume our favorite spaghetti dinner and then... hold on... we shuffle off to the Time Out Pub to dance and shake our bulging tummies to the down-and-dirty Mississippi drumbeat of Cedric Burnside. Quite the perfect day of avoidance.
On Tuesday, as it turns out, Jack is so right. After breakfast and dressing I head on up to my writing spot. I summon the courage and the digging begins. I tumble down into a borehole and there, face-to-face I find "My Voice." It fills the shadows with confusion, sadness and disappointment. Then suddenly, as Leonard promised, "there's a crack in everything and that's how the light gets in." I find my crack, the shadows flee, the light shines.
Avoidance is exposed for what it is: FEAR!
And I can deal with that.
---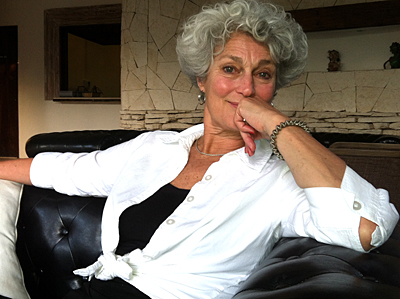 Harrah Lord is an almost retired book designer and an avid Airstream traveler. Her past occupations include model, men's clothing designer, seismic analyst, calligrapher and art director. Sixteen years ago she settled happily in Rockport, after giving New York, Cambridge, Mass., Baltimore, Md., Denver, Colo., Los Angeles, Calif., and Sonoma County a chance to capture her heart.
---
Transformations
We tell stories.
We tell stories to make sense of our lives.
We tell stories to communicate our experience of being alive.
We tell stories in our own distinct voice. Our own unique rhythm and tonality.
Transformations is a weekly story-telling column. The stories are written by community members who are my students. Our stories are about family, love, loss and good times. We hope to make you laugh and cry. Maybe we will convince you to tell your stories.
— Kathrin Seitz, editor, and Cheryl Durbas, co-editor
"Everyone, when they get quiet, when they become desperately honest with themselves, is capable of uttering profound truths. We all derive from the same source. There is no mystery about the origin of things. We are all part of creation, all kings, all poets, all musicians; we have only to open up, only to discover what is already there." — Henry Miller
Kathrin Seitz teaches Method Writing in Rockport, New York City and Florida. She can be reached at kathrin@kathrinseitz.com. Cheryl Durbas is a freelance personal assistant in the Midcoast area. She can be reached at cheryldurbas@tidewater.net.