For the month of December, we continue our series to shine the spotlight on local craftspeople who make things by hand. It's important to shop local and to support the innovators and entrepreneurs who keep the creative economy alive in the Midcoast. So each week, until Dec. 25, we will bring you this series until you can't take it anymore. Ready. Set. Go.
Unity, Maine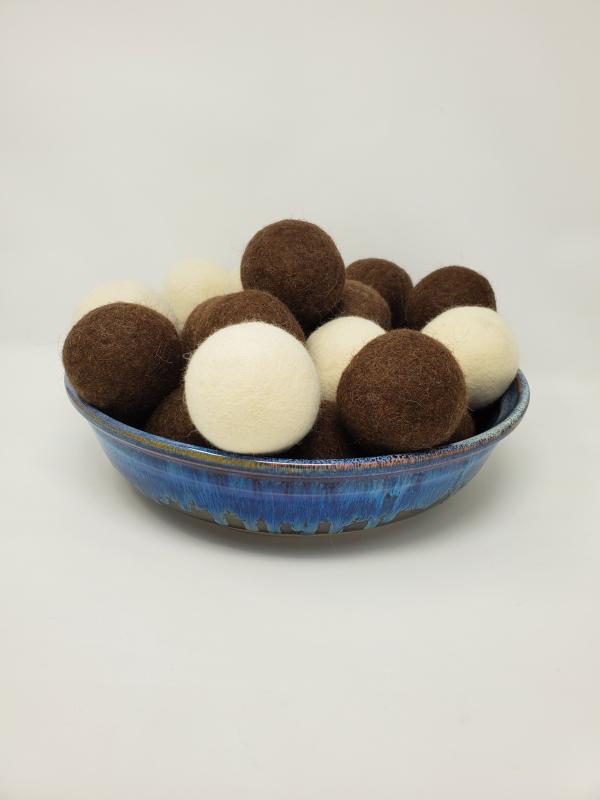 Handmade dryer balls made from alpaca fibers
The back story: Corry and Robin Pratt own the alpaca farm Northern Solstice Alpaca Farm in Unity. "Currently we have 35 alpacas and we also believe we have four new babies on board; we're just waiting on ultrasound, " said Corry.  "Our dryer balls are made from local, ethically sourced alpaca which hold no harmful chemicals and are beneficial for those who are hypoallergenic. They are also are recyclable, sustainable, and economic." One can last you your entire life if you take care of them. "What's unique to ours is a lot of companies use something in the core, but ours are alpaca all throughout," she said. "We card the fiber and then wet felt it into a snowball; the friction adheres the ball and then tightens. Then we wash and dry it, which shrinks right up into a solid ball. You put them in a nylon stocking in the dryer. They can be used over and over. And unlike wool dryer balls, which have lanolin in it, which can coat your clothes the way chapstick does if it's left in the dryer by accident, our alpaca dryer balls have no lanolin and no odor or greasy coating. They even reduce static and pull lint from your clothes."
Where to find it/price range: $9.00 apiece. The dryer balls are sold individually. They can be found at all three of their store locations in Northport, Ellsworth and their farm in Unity as well as online.

In their words: "You can even put a couple of drops of essential oil on them, to lend your own fragrance. As we enter the flu season, just put two drops of the doTerra™ On-Guard oil will help boost your immune system and invigorate your body to fight against illness."
---
Mermaid Mugs

Lincolnville, Maine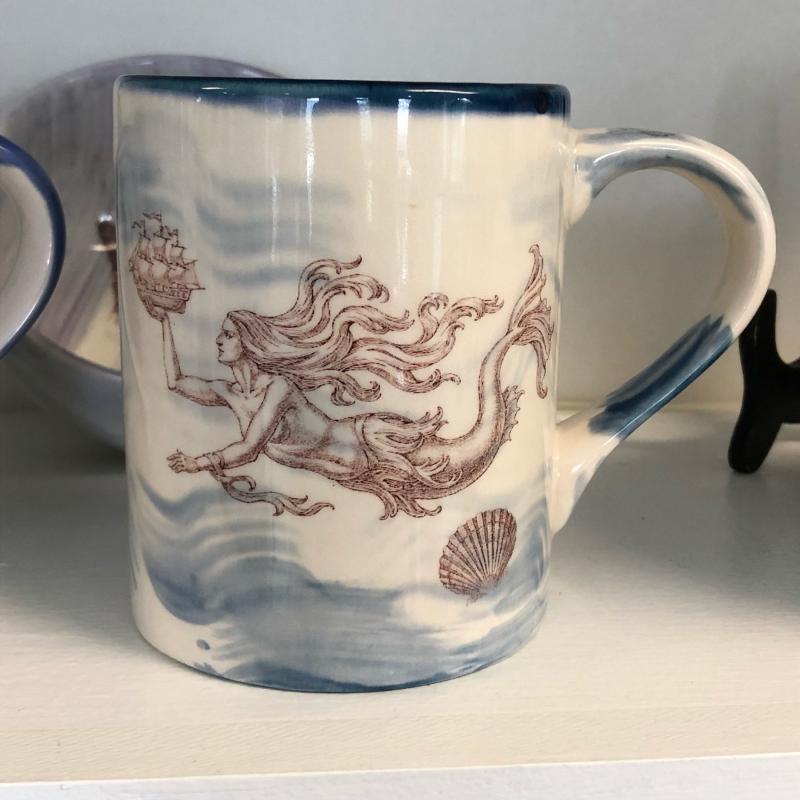 Handmade Mermaid Mugs
The back story: Randy Fein is accomplished ceramic sculptor and well-known arts educator. She works out of her studio on Melvin Heights Road to craft ceramic art, including handcrafted mugs, fired three times. With a background in printmaking, she finds the images of mermaids and Photoshops them. "I created this method where I make my own decals and then they are fired onto the clay in a third and last firing," she said. "It's quite a process; like an overlay on top of the glazes."
Where to find it/price range: $25.00. They can be found at Belfast Harbor Artisans and at Waterfall Arts' HANDMADE show. Randy can also be reached online.
In her words: "I love the water, I love to swim. I love that when you're in the water, your whole being changes. I started making these pieces without fully knowing the whole folklore of mermaids, but I think they get a bad rap, that they're seductresses and that they lure men to the rocks, and make them crash. I always thought that was unfair."
---
Origami Nautical Ornaments
Rockland, Maine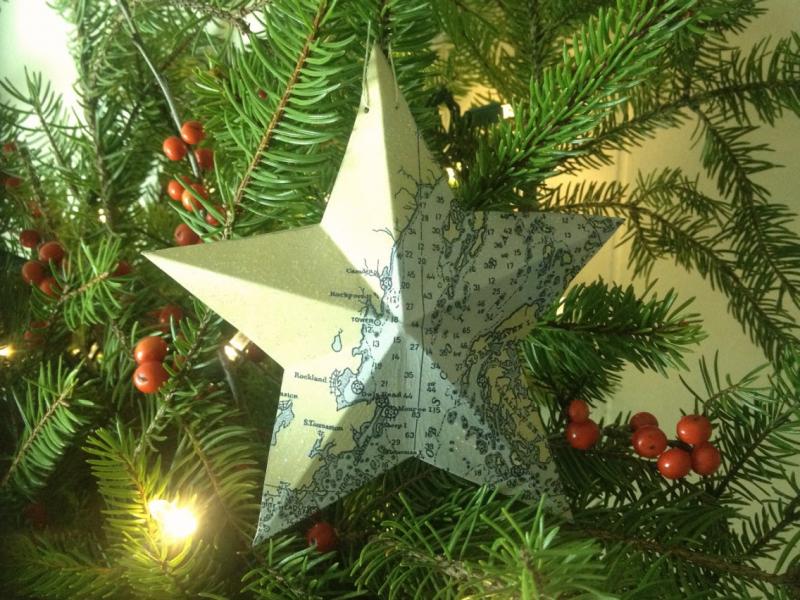 Ornamental star made from nautical charts
The back story: Blenda Risteen, the one-woman creator behind The Orange Chair Studio, started off making decorative paper lamp shades, but wanted to create some products that appealed to more people, especially her local customers. She began using nautical charts to make tree ornaments. "I have always loved origami and I used to make these folded stars out of thick metallic papers for our Christmas tree," she said. "I realized I could use the same idea with the designs I was already using for my other products. The nautical chart ornaments were an instant hit. I sold hundreds of them the first week! And they've been my best selling item ever since."
Where to find it/price range: $8.95. They can be found in several stores in Maine including Archipelago in Rockland and Lisa Marie's Made in Maine as well as through her website.
In her words: "My favorite kind of art is the kind of art that, when I look at it I think, 'Wow, that person must have had so much fun painting/drawing/sculpting that...' My hope is that the joy I have while creating each item shows in my work too!"
---
Kay Stephens can be reached at news@penbaypilot.com