ROCKLAND—Photographer Jim Dugan, surprisingly, is not a "morning person."
You wouldn't know it from his almost surreal sunrise photos of the Penobscot Bay which pop with blues, purples, coral reds.
"I sweeten the color a bit, but try not to go overboard with it," said Dugan.
"My routine is to get up and look out the window," he said. "If there's nothing going on outside I go back to bed. "But, if I see vibrant color, I'm compelled to get up to capture it. I've never been an early riser, but I can't resist a good sunrise.  I only take photos when I just can't help but to get up. Then I'll come back and take a nap."
While Dugan's work favors still water with pilings, sailboats, lighthouses, he also captures brilliant color in the mundane, with his industrial landscapes.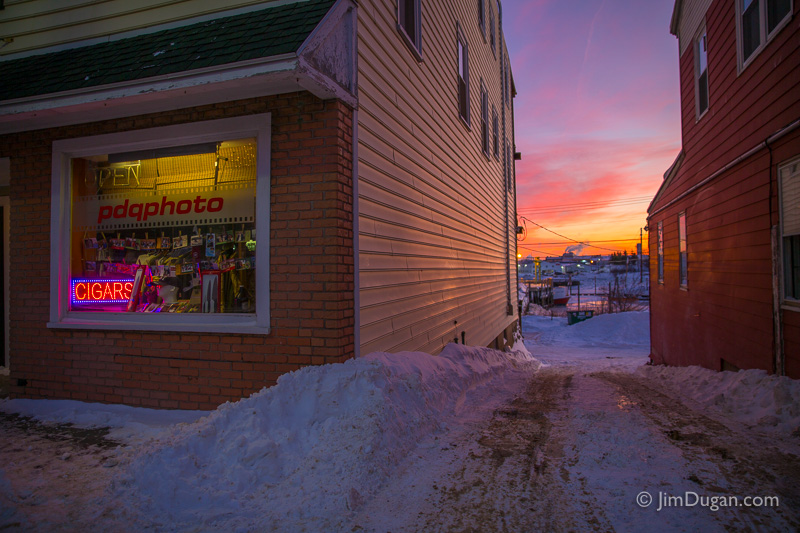 With this one, his eye caught the juxtaposition between a neon cigar sign in the PDQ window and its corresponding neon sunset.
"I just took my morning walk and saw that little sliver of sunrise between the two buildings and said Holy Cannoli," he said of the PDQ portrait. "It's probably not ever a photograph that would sell, but I saw something in it."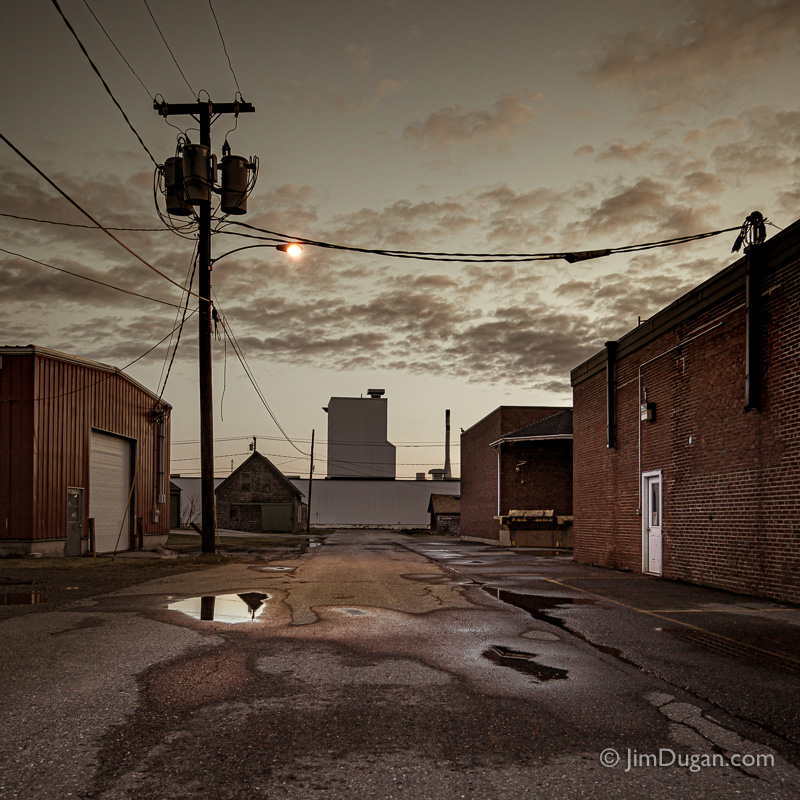 The one photo noticeably devoid of sunrise color is the industrial landscape of a puddle next to the Bixby building.
"The word photography literally means drawing with light," he said. "The Bixby photo was probably a half hour before sunrise and the way the light hit that puddle in the foreground was what captured my attention.  A lot of industrial photographs came out of the 1920s and 1930s and that was sort of an homage to that."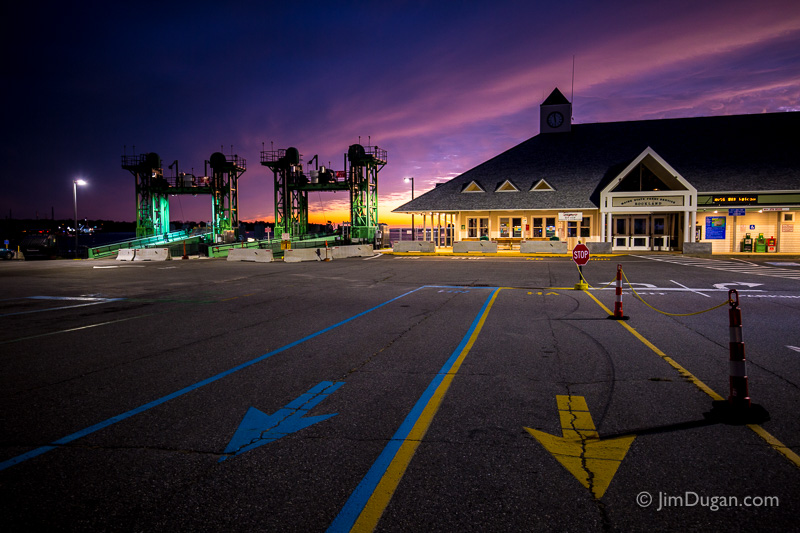 The ferry terminal, which is just a short walk from his house is one of his favorite subjects. The blue and yellow lines and arrows in the foreground work off the neon green steel and the light that bounces off that. "I'm always looking for foreground and those lines and arrows were exactly what I was looking for," he said.
Dugan, who graduated from college with a journalism degree, started doing photography in college in 1981. He grew up in Pennslvania and came to Maine to the Maine Photographic Workshop in 1989 and has stayed here ever since.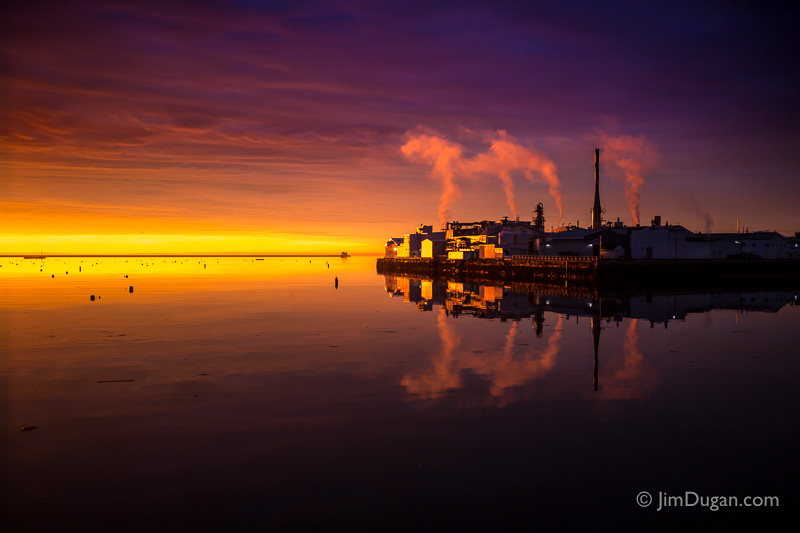 He tends to shoot with a wide angle lens and prefers the time just before the sun rises and only a moment or so once the sun has broached the horizon. After that, he said, the light becomes too harsh. Most of his photographs capture that moment just before sunrise.
There are a number of "regulars" he calls them, other sunrise photographers, who gather when the sun comes up and by and large, it's a non-competitive group. "I'm not the only one who does this, but I think there is a good camaradie between us; there's room for everrybody to get his or her shot."
But apart from a few joggers or dog walkers at that hour, very few people take advantage of the beauty at that hour.
"The thing that just amazes me is that every morning, there's something to see; it's a like this incredible show we have for about 15 or 20 minutes and sometimes only three minutes."
We should probably take advantage of that as the summer winds down.
For more information on Jim Dugan's work visit: https://jimdugan.com and visit his studio at 407 Main St. Rockland for First Friday Art Walks.
All photos courtesy and ©Jim Dugan.
---
Kay Stephens can be reached at news@penbaypilot.com