"Well folks, we made it." That was our pilot speaking as our plane taxied to a stop on the runway, wind-driven rain lashing at the windows. The past hour's "turbulence" had left us all a bit tense. Even the pack of young men sitting behind me, bragging loudly the whole trip about how much they were going to drink once they hit the French Quarter, had fallen silent as we were buffeted back and forth, punctuated with flashes of lightning.
My sister and I had plans for this visit, plans for my favorite thing – a project. Though in spite of my recent trips to Florida, I'm happiest staying put. But give me something to work on, and I'm fine wherever I am. She's the opposite and dreams of the open road. Not long ago she traded in her perfectly good car for a 2006 Ford minivan, and now the two of us were going to turn it into her future traveling home. The roughly 31 square feet of space had to accommodate Bitsy, her three Boston terriers and their assorted gear: food for her family of four (remember the dogs), cooking stuff, clothes, bedding, and an on-the-road commode.
The 23.2 miles across Lake Ponchitrain, by the way one of the longest bridges in the world over open water, gave me a chance to check out the van.
Bitsy had already removed the seats and seat belts, but she hadn't stripped it back to its metal shell, unlike in many of the DIY YouTube videos we'd both been watching. Our first stop was at Home Depot where we managed to cram two sheets of plywood, a few 2x4s,and assorted other stuff into the back and drove to her house in Mandeville. It would be the first of so many trips we even knew which cashier to avoid, the one who had trouble figuring out her computer.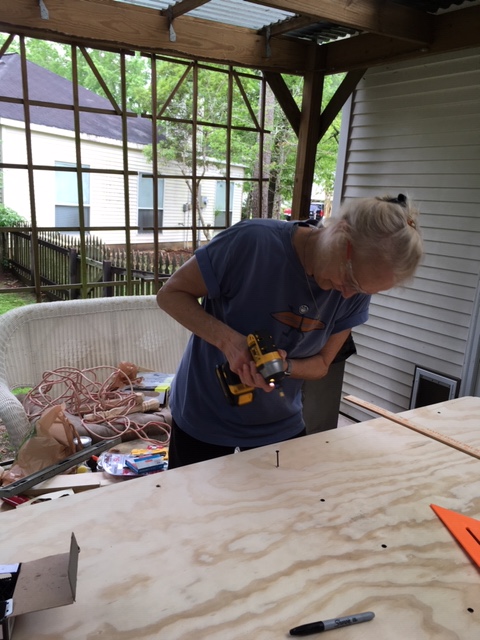 We had five days together, and that first night we mapped out our plan: plywood floor, bed and curtains. Step one was to cut out the floor. One YouTube guy had shown us how to make a pattern of the wheel wells; it worked, and the new floor fit – first High Five! "Let's paint the floor," we decided so back to HD for paint – three colors, those little sample bottles they make up for you at $3.50 each. Bitsy assured me we could cover the whole floor with one of them. Before long we had a blue floor with a grid of yellow lines. With a stencil cut out of an old file folder we had pink and yellow flowers inside the squares. Another High Five.
Plywood sheet number two cut in half the long way became the bed. With two layers of a thick foam pad she had and with a new mattress cover (trip to Bed, Bath and Beyond) wrapped over pad and plywood and stapled underneath (another HD run for the staple gun we'd forgotten to buy) and three turned wooden legs for show (the legs out of sight against the van's side were 2x4s) and she had a bed. We'd used a plastic bin to measure the height as under the bed would be storage space.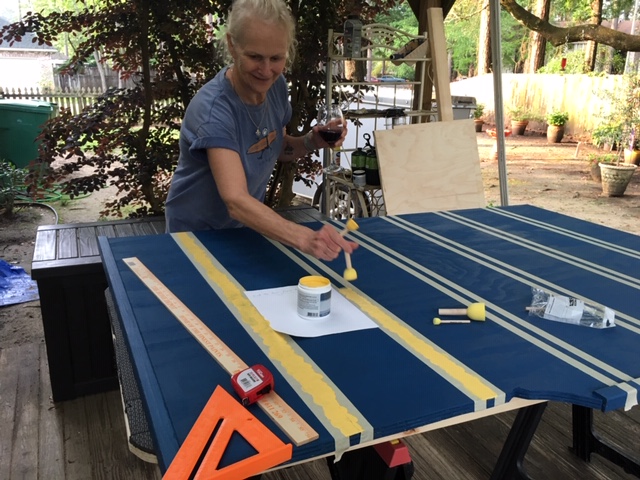 We decided to take the next day off and drive back over the Lake to New Orleans and do a walking tour. Though Bitsy's been in the area for years, like most of us living in a place popular with tourists, she only goes down to the Quarter when someone's visiting. She'd found a tour of cemeteries online, a tour that started at a voodoo shop. The shop had nothing to do with it, as the shop was closed and our guide just ducked into an alley to take our money and off we went, some fifteen of us, on a walk through the Quarter to St. Louis Cemetery, the oldest one in the city.
Writing this my head is full of the weirdness of the place: row after row of closely-spaced tombs, the old marble tombs and the whitewashed stucco ones, interspersed with crumbling brick tombs that have lost their stuccoed outer shell and are slowly disintegrating into piles of rotten mortar, wildflowers growing in the spaces. It's a Catholic cemetery, maintained by the local church that sets the rules. Tour groups, and there are forty some of those our guide told us, must follow the church's rules. One of is "no filming."  And here's why.
"Remember the film Easy Rider?" our guide asked. Check out the scene they filmed here, he suggested, with the actors dropping acid, climbing all over a large tomb, and a glimpse of one couple tearing off their clothes and going at it "right there, between those two graves" and he it pointed out.
Sure enough. We looked it up as soon as we got home :youtube.com/watch?v=SDAdzb9IeGU
When the church authorities finally saw that scene many years later they were horrified, hence the ban on filming in the cemetery.
Back home we started in bright and early the next day. The newly-painted and polyurethaned floor was dry, the decorative legs were dry (it's  a girl van- these details matter) and the jury-rigged mattress securely stapled. Time to lug the behemoth of a bed out to the van. 
I should mention here that most of this work was done outside on the patio, sides open to the Louisiana spring air, but with a roof complete with ceiling fan. We'd sat out the night before, the air thick, sultry, warm, the voices of children playing out in the street, under the canopy of live oaks that rim my sister's yard.
Back to the bed. Installing it about did me in. As the boss carpenter on this job (with Bitsy as my lovely assistant— yes, that's how we referred to ourselves) I was the one bending herself into a pretzel ( old bones, old joints) fastening on the legs, securing them to the floor as she handed me the dropped screws, etc. Four of the six legs were in place before I realized the whole thing was in backwards and had to be done over. 
Even so, as we smugly told each other, a man would have heaved the tools across the yard, uttered some foul words and stalked off, leaving his lovely assistant/wife tense and speechless. Not us. One big sigh and we undid all the nicely tightened bolts, turned the bed around and started over. Big high five when we were done!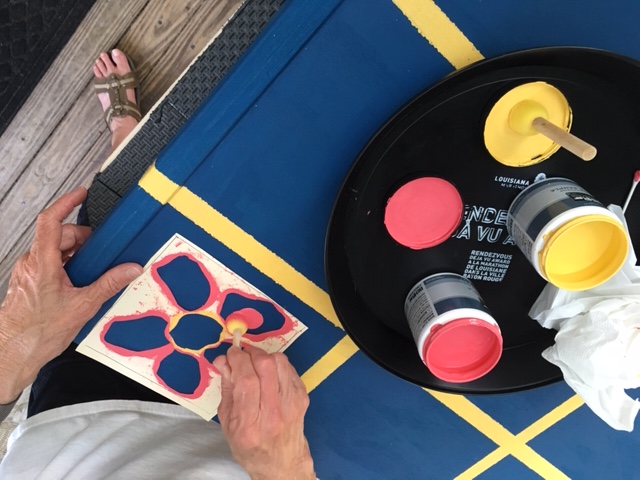 This is Day Three and all that's left are the curtains. A camper van needs curtains, right? And they have to hang from something, right? We've come up with a plan that includes half-inch PVC pipe, an assortment of end joints, Velcro and hot glue. Of course, there has to be fabric; add one trip ( so far) to Jo-Ann's where we scoured the sale table. We're taking off for Pensacola today to visit my nephew, but she's bringing her sewing machine along. Tomorrow we'll find out how well our curtain system works.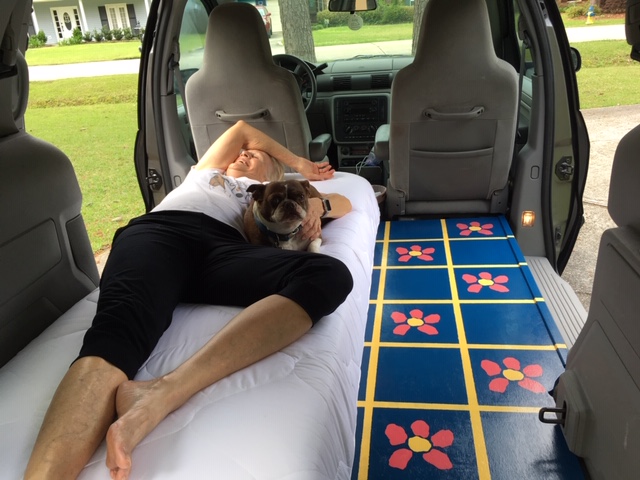 Bitsy promises to visit me this summer, so if you want to see the results, her home-on-wheels, stop by and we'll give you a tour.
News from Lincolnville
Meanwhile, some early Spring notes:
On Saturday, April 13, Ukrainian egg decorating will get underway at the Lincolnville Community Building (next to the church, 10 a.m. to 2 p.m., with a $10 suggested donation ($15 for families). 
The process is a wax-resist method using bright aniline dyes and beeswax melted over a candle.The dyes are not edible, and will stain clothing, so wear old clothes.
Children are most welcome but must be supervised by an adult because of the open candle flame.
Take raw, room temperature, clean eggs, blown or intact, a roll of paper towels, and a kistka (tool for applying wax to egg, if you have one), and a snack to share.
Instruction, dyes, tools, beverages, inspirational books and designs will be provided.
---
Emilia, Jed, Ray, Silas and Luca, at 3 Bug Farm, has launched its first indiegogo campaign to raise funds for farm improvements.

 

While today is not the most spring-like of days our greenhouse is quickly filling with healthy green plants. Our rough seedling sale start date is still mid May. We will let you know an exact date as we get closer. We are hoping to offer some more cold hardy seedlings earlier this year so that those of you itching to get planting will be able to! More to come on that later. 

On another note, at 3 Bug Farm we just launched our first indiegogo campaign to raise funds to improve our farmstand, farmstand driveway, walk in cooler, farm sign and wholesale wash station.  We are selling limited edition 3 Bug Farm shirts (made from recycled materials and printed by our friends at  Hearth and Harrow in Rockport ) and 3 Bug Bucks ( to be used as farmstand cash).  

 

Thanks for your support. Click the link below to help support us as we grow!

 

Here's to hoping warmer days are right around the corner!