PORTLAND—Longfellow Books was the place to be on September 20 for an author talk amongst Maine writers Chris Holm, Bruce Robert Coffin, and Richard Cass with an enthusiastic audience of 20-25 people on the floor.
The topic: Author Stephen King and how each person in the audience had a personal connection to the man, his books, his movies, and his legacy in Maine.
Portland Downtown kicked off its inaugural week-long Stephen King Week event from September 18 to 22, in honor of King's 76th birthday, which was on September 21.
Holm, one of the speakers who led the lively discussion, had his own story about King:
"Stephen King's novel 'The Tommyknockers' was the first adult novel I'd ever read," he said. "I was 10 years old at my grandmother's house and after driving her up the wall, she told me to go distract myself and find a book in my aunt's room. The first one I picked up was 'Are You There God? It's Me, Margaret' and I knew I wasn't the target audience for that book. Then I saw a book on the nightstand of 'The Tommyknockers' and the cover was so eerie with this farmhouse emitting this creepy, green-yellow light, I knew that was a book I wanted to read. I brought it home and read it under the bed—not even under the covers, it was so scary. Just in case anything came for me."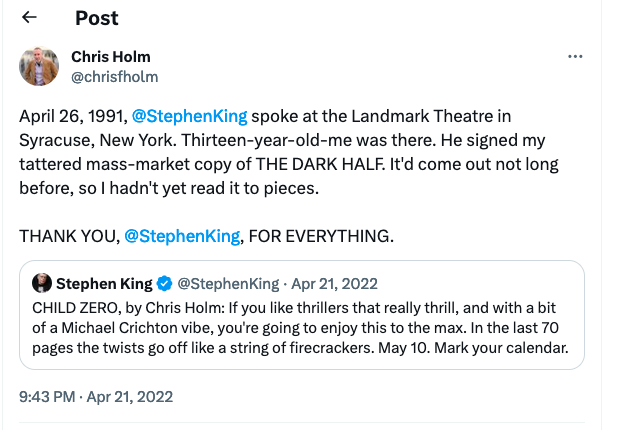 Holm's story didn't end there. "When I was 13, Stephen King came to Syracuse to a ticketed event where I grew up, and even though he wasn't supposed to be signing books at this event, he made an exception for an incredibly dorky, superfan," said Holm. Imagine the delight then, when Holm's book garnered unsolicited praise from King. "To be able to tell Stephen King a story he liked was a thrill. I'm forever grateful."
Holm's story echoed many of the same stories people in the audience relayed: that Stephen King was the first adult author they ever read at a young age that just made sense.
"We all touched on our first experiences with Stephen King," said Holm. "Bruce said he was around 10 or 11 when he first read 'Salem's Lot,' which is what inspired him to become an author. He said he was terrified, but couldn't put it down. He said, 'I didn't know people could write about things like this.' When you're talking about someone like Stephen King who is so beloved, we tried to make it more of a conversation with the audience as they had just as much of a connection to his work as we do. I talked to a young King fan and aspiring writer who had his own encounter with King a few weeks ago and got a book signed.  I thought, 'It's wild to see this full circle moment and to see his generosity.' It's been a through line with pretty much anyone who has ever interacted with him.
Fun Fact

Every year, Stephen King donates to the scholarship auction of Maine Press Association a signed copy of a book, which is auctioned off. That generates a good sum to then turn around and help fund journalism education of a current student.
"We talked about his influence on our own writing; on his short stories, on his film adaptations, and took a poll of the audience to see which films resonated the most. Films like 'Stand By Me,' The Green Mile,' and 'Shawshank Redemption.' The other thing we touched on was King's generosity, particularly in the writing community. There are a lot of authors he has championed over the years."
Holm mentioned a few writers King has shone a spotlight on, including Michael McDowell. "McDowell was an openly queer writer of mysteries and southern Gothic novels and was not accepted in the mainstream when King described him as 'the finest writer of paperback originals today.' I think he just sets the bar ...and he certainly inspires me and certainly anyone else who has been lucky enough to interact with him. If a guy like that can keep paying it forward—76 years old—and take the time to lift up other struggling writers, it's up to us to do the same."
Happy birthday Stephen King.
---
Kay Stephens can be reached at news@penbaypilot.com