For the holidays, we're continuing our series to shine the spotlight on Maine craftspeople. It's important to shop locally and support innovators and entrepreneurs who keep the creative economy alive in this state. So each week, until Dec. 25, we will bring you this series until you can't take it anymore. Ready. Set. Go.
B&W Clothespin Artwork Display

Cornish, Maine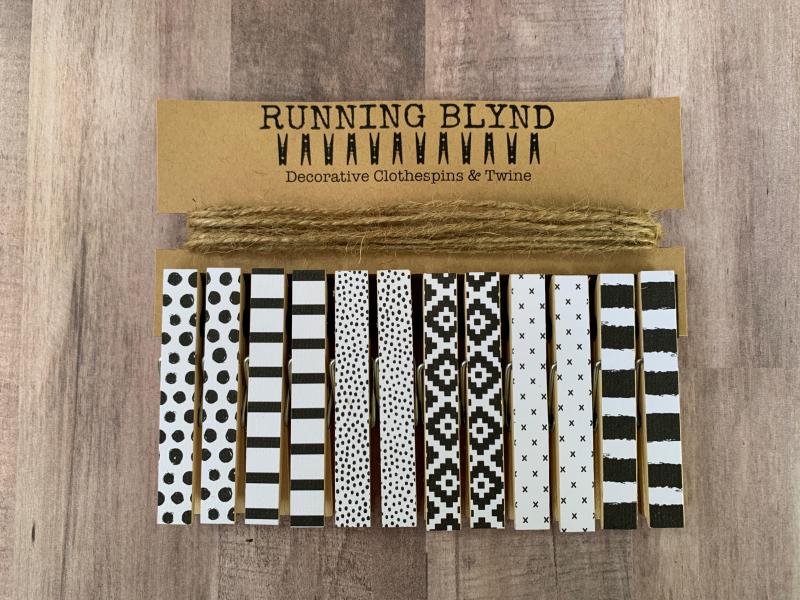 The back story:
Julie Littlefield is the maker and owner of Running Blynd, a small handmade business located in the small southern Maine town of Cornish. She creates fun and functional home décor. and her signature items are decorative clothespin magnets in a variety of sizes, as well as a variety of other clothespin products. All of her products are hand painted and/or decoupaged. Pictured are set of 12 decorative clothespins in black and white theme with 10 feet of jute twine and two wood push pins for hanging. "Use it to display your photos, kids artwork, cards, postcards, etc.," she said. "The possibilities are endless." 
Cost: $18 each through her Etsy shop.
In her words: "My inspiration for my products began when my kids were needing an easier way to hang multiple things on the fridge and it has evolved into other products over time."
---
Happy New Year "Good Riddance to 2020" handmade cards

Rockwood, Maine
The back story:
Robin Merkle lives in Rockwood, Maine with her husband Todd, where they enjoy a beautiful view of the Moose River. "When one retires to the north woods of Maine, it is necessary to have a hobby to get through the long, cold, snowy winter," she said. "I don't ski, or snowmobile. I tried iced fishing once and decided it was too cold for me. So, while my husband enjoys the outdoor activities, I stay inside doing the artistic things that I have always enjoyed. I paint, I sew, and mostly I design and make cards, like this one, a set of 10 cards with envelopes to say "Good Riddance to 2020." For a while, I donated the cards to our deployed military through an organization called Operation Write Home. Then, when our troops were recalled, the need for donated cards lessened. I had way more cards than I could ever use, so I started selling them to friends and neighbors. A couple of local gift shops also carry my cards. Through my Etsy shop, I have sold cards in 40 states and as far away as Singapore and Australia. I am happy to see that the demand for my cards is growing, and maybe someday I will sell enough to actually support my hobby. The challenge is to come up with unique designs."
Cost: $18.00 each through her Etsy shop.
In her words: "A lot of my inspiration comes from the north Maine woods and the 'Good Riddance 2020 Happy New Year' design has been very popular in this year of the pandemic. "
---
Lobster Gauge Bracelets

Friendship, Maine
The back story:
Crystal Lee runs an Etsy shop called Lobstermanswife in Friendship, Maine. She started making these bracelets back in 2015, which are very similar to the gauges that lobstermen use on their boats to determine whether a lobster is big enough to keep. "I saw some bracelets made using a real lobster gauge and wanted to put my own spin on the idea by engraving boat names and personal messages on mine," she said. "Since my husband is a lobsterman and I come from a family of lobstermen, this seemed like a great way to promote the industry and bring extra money to the table while being a stay-at-home mom." To make them, she hired a professional to create a die using a legal measure and who cut the bracelets from a hydraulic press. After they are cut, she stamps the metal with letters/numbers/image, sands and cleans the metal, and bends it by hand to create a bracelet.
Cost: $25.00 (brass, aluminum, and copper) at her Etsy shop
In her words: "I am inspired by the hard-working lobstermen in my community and my coastal lifestyle. I walk the shore almost daily combing the beach for new treasures and I'm always making something new."
---
Kay Stephens can be reached at news@penbaypilot.com