WARREN—University of New England college student William Cox, 19, has found a novel way to offset the cost of his college books and materials. He's offering custom hand-drawn portraits to the Midcoast community.
Without a website or professional presence, he recently posted on Midcoast Message Board, a FB group with almost 26,000 members, that he was looking for commissions in order to pay for his college supplies.
He posted some of his recent portraits and the response from the community was not only overwhelmingly positive in terms of his artwork, but many also praised his ingenuity and fortitude. As a result of that one post, he picked up about five new customers for commissioned portraits.
"From that one post, I made about $600, which allowed me to pay for all of my college books and a calculator," he said. "I couldn't believe how expensive that calculator was; I'm still bamboozled by that."
Cox grew up in Warren and attended Medomak High School, taking as many art classes as he could.
"I really started being committed to drawing in middle school," he said. "Growing up we didn't have TV or cable internet so I kind of just occupied my mind with drawing and found I really liked it."
Now, as a freshman at UNE, he's double majoring in animal behavior (pre-vet) and studio art.
His portraits are mostly done in graphite pencil and charcoal and are often recreations of sentimental photographs and of people's pets. Take a look at the inspiration behind each one.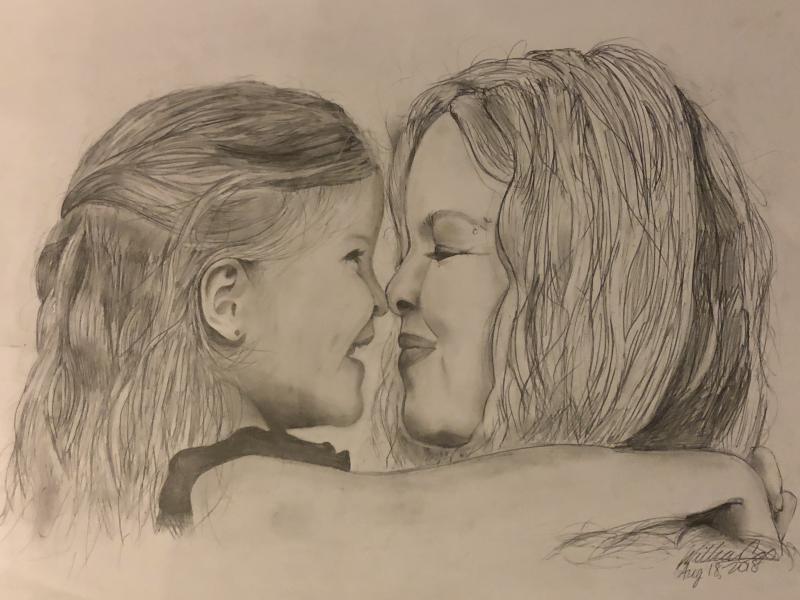 This one was one of my first customers to show interest in my art and in the end she has bought three of my pieces of her children. This is one of her and her daughter.
 

 

This is an old photo of somebody's parents and he wanted me to recreate it so he could give it to his mother.
The same customer who I'd done the mother-daughter portrait for wanted another done of her other daughter. This one was done in charcoal on gray paper. Then I used pastels for the pops of color.
I actually was testing out this type of paper and I threw together Stevie Nicks, cause she's awesome. My friends' mom was crazy over it and wouldn't not let me sell it to her, so it became hers.
One departure from his portraits is his favorite, an oil painting that depicts a hellish landscape above the ocean waterline and tranquility below. "The concept was climate change and it reflects the destruction of humans upon the ocean and coral reefs."
| | |
| --- | --- |
| | |
| The artwork was entered into two competitions and won an Honorable Mention from both the Bowseat and the Scholastic Arts Awards of New of England. | "This is my friend True; he has the best hair ever. His last name is Crane so I incorporated the birds into his portrait." |
Given his love of animals, he has done a number of pet portraits for people.
"I love drawing dogs, so that part is fun," he said.
With a full course load at school, he doesn't have a lot of time to draw, but is open for more commissions, because he's got a new goal to work toward.
"I got accepted through UNE to study abroad in Morocco in the spring of 2021 and I'm excited about that, so I will continue to do portraits to help pay my way there," he said. Everyone who goes there has the best stories. It's so surreal. You can spend an entire weekend in the Sahara Desert riding camels and stargazing and I can't wait."
The experience will undoubtedly spark the inspiration for more portraits.
"Oh, it definitely will," he said.
To view more of Cox' work visit his Facebook page.
---
Kay Stephens can be reached at news@penbaypilot.com