WATERVILLE—If there was one last piece to slide into place to cement Waterville's place in Maine's creative economy, it has been the recent opening of the $18-million Paul J. Schupf Art Center in downtown Waterville.
After seven years, Colby College, city officials, business leaders, and Waterville community members have seen their plan come to life with the December 17, 2022 opening. It's a venture that aims to make art accessible and flexible to all, and in some cases, free. Come join us on a virtual tour.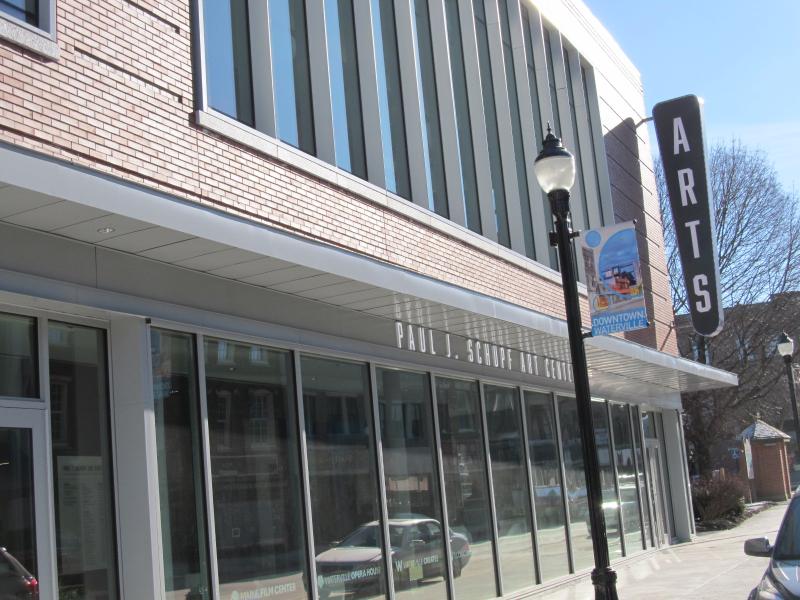 The three-story glass-enclosed minimalist building hosts three programming divisions and is home to the community arts organization Waterville Creates and its three programming divisions – Maine Film Center, Ticonic Gallery + Studios, and the Waterville Opera House, which is connected by an enclosed sky bridge. Schupf Arts also includes an extension of the Colby College Museum of Art via the Joan Dignam Schmaltz Gallery of Art.
1st Floor - Clay Studio & Arts-Education Classroom
| | |
| --- | --- |
| Waterville Creates | Ticonic arts-education classroom. Photo courtesy Paul J. Schupf Art Center |
Ticonic Gallery + Studios is where the hands-on art process happens.
"We have a dedicated clay studio with three kilns and eight wheels for adults and youth," said Waterville Creates President & CEO Shannon Haines. "Any clay member can come in 24-7 with a key card, throw work on a wheel and we will fire it,"
"We also have an after-school Clay Club, which just started," Haines said. 
After the community conducted numerous polls and surveys to determine what the public wanted to be offered in an art center, pottery classes and art classes were at the top of the list.
"There's nothing else like it like in Waterville," she said.
Next door to the clay studio is an arts-education classroom offering painting, drawing, and sculpture, along with 3-D printing workshops in weekly art clubs for youth, regular after-school programs for teens, special one-time workshops, and multi-week classes. "On Thursdays, kids can just drop in for two hours and participate in an art-making activity," said Haines. FMI: Ticonic Galley + Studios.
1st Floor − Ticonic Gallery and Joan Dignam Schmaltz Gallery of Art
| | |
| --- | --- |
| Ticonic Gallery | Ticonic Gallery |
Ticonic Gallery
The Ticonic Gallery is a bright white-walled room with 15-foot high ceilings. The idea is to present a selection of exhibitions each year that incorporates local, regional, established, and emerging artists.
The inaugural exhibit, "Common Threads" was created through a series of workshops over the summer of 2022 engaging the community around questions, such as: "What are stories that need to be told?" The exhibit used work created by the community under the guidance of two artists, Elizabeth Jabar and Colleen Kinsella.  Haines said this gallery will display six to eight exhibitions each year and the next one will be Youth Art Month. FMI: Upcoming Exhibits
| | |
| --- | --- |
| George Sopko, Director of Media Relations, Colby College and Waterville Creates President & CEO Shannon Haines. Photo by Kay Stephens | Ticonic Gallery. Photo by Kay Stephens |
The Joan Dignam Schmaltz Gallery of Art
The Joan Dignam Schmaltz Gallery of Art is an extension of the Colby College Museum of Art. Its inaugural exhibit, called "Light on Main Street," which is on view through January 23, features contemporary art with two video installations, along with a sculpture of terraced beanbags covered in green shag carpeting that also serve as fun seating to view the videos and art.
"We're excited to be in the heart of downtown and have this new state-of-the-art gallery space," said  Julianne Gilland, Deputy Director of the Colby College Museum of Art. "We have a long collaboration with Waterville Creates and other arts partners, so this is a natural extension and sort of a new 'front door" for the Colby College Museum of Art."
"One of the great things with these large walls, light, and projection, is that we're now able to display artwork that we might not always be able to over at the other space," she said. FMI: See their website for upcoming exhibitions at both locations.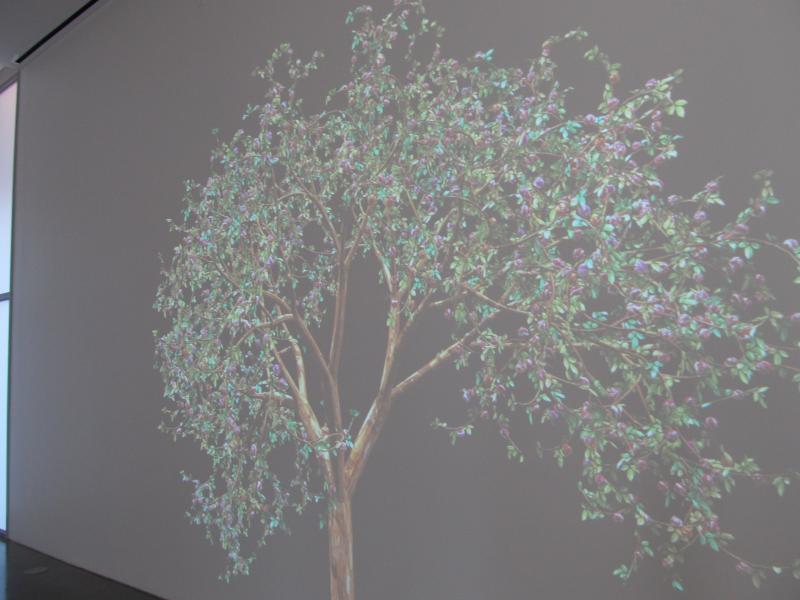 Community Spaces
One thing that sets this Center apart from other art galleries and maker spaces in Maine is the degree of accessibility to art that's not so formal or ritualized. For example, in the second-floor hallway, there is a cart with free art supplies—notebooks, colored pencils, markers, and scissors. One can simply sit with a coffee, beer, wine, or other beverage and create; there's no pressure to buy anything or be part of anything. There are also multiple comfortable sitting areas around the Center that encourage people to stop moving, sit, and reflect.
2nd Floor — Maine Film Center
The venerable Railroad Square Cinema, Maine's only Sundance Art House Project cinema, and hub for Maine International Film Festival, which has been located at Railroad Square since 1978, moved its three theaters to the second floor of the Paul J. Schupf Arts Center under the umbrella of the Maine Film Center.
"We do first-run films, as well as one-off events such as filmmaker-hosted events and parties," said Haines. The largest theater has 111 seats, the second one has 41 seats, and the third is a micro-cinema with 21 seats that can be rented out for private events, premieres and parties. 
Snacks, Beer & Chocolate Café
| | |
| --- | --- |
| Kate McAleer, founder of Bixby Chocolate, was on hand on opening day to serve customers. Photo courtesy Waterville Creates | |
There are two concession stands in the building. The one on the first floor belongs to the award-winning Bixby Chocolate, which serves chocolate beverages, specialty coffees, chocolates, bonbons, toffee, and Maine sea-salted caramels. The second concession stand on the second floor serves typical theater fare such as candy, chips, popcorn, drinks, wine, and craft beer. There is plenty of open seating in the hallways of both floors to enjoy the food and drinks under the expansive windows.
Connection to Waterville Opera House
The Center sought to connect the space to the adjacent Waterville Opera House and managed that feat architecturally with a sky bridge on the second floor. All of the stunning costumes on mannequins that people see as they walk up to the sky bridge belong to past theatrical productions of the Waterville Opera House. In addition, there is now a rehearsal space for the Waterville Opera House, called Studio 1902, which is used for actors, directors, and backstage crew. It has a state-of-the-art projector, lighting, and sound system and was designed to be exactly the same size as the Opera House stage so that the actors can rehearse in a comparable space. Four shows a year will be provided at the Waterville Opera House. FMI: Visit their website for the next upcoming show.
Waterville's Art Community
"We think of the Center as the capstone of Phase One in the revitalization of Waterville," said George Sopko, Director of Media Relations, Colby College. "There are a tremendous amount of art assets in central Maine—the Waterville Opera House, Colby College Museum of Art, Maine Film Center, and Waterville Creates that have now been all brought together under one roof."
"People are delighted to see this in the downtown area and the vibrancy it's brought the area, especially at night," said Haines. "We're open 365 days a year."
Both galleries are open six days a week (closed on Tuesday) between 11 a.m. and 7 p.m. To learn more visit: Paul J. Schupf Art Center
---
Kay Stephens can be reached at news@penbaypilot.com