APPLETON—On Sunday, January 5, the goats penned in at Appleton Creamery were watching a steady stream of visitors with growing excitement as neighbors and community members stopped by to toss their Christmas tree onto a growing pile of evergreen and spruce trees in the front yard.
Even though owners Caitlin and Bradley Hunter have been accepting recycled Christmas trees informally for years, this past Sunday marked their third formal event: Christmas Tree Drop Off Day.
"We invited people to drop off trees for years, but this is the third year we've made it formal as part of the Midcoast Cheese Trail," said Caitlin, whom along with their daughter, Fiona, offered hot chocolate and cookies to the visitors. "Currently the goats are dry, which means they're not milking now, so there is no chance of balsam-flavored milk getting into the cheese. It's a nice winter snack for them — as it's high in fiber and in vitamin C — but also as entertainment value. Goats are not grazers like sheep and cows. They're like deer, so they prefer to nibble on small trees, brambles, rose bushes, and raspberry bushes."
Looking back at the goats, who were enthusiastically, poking their heads through the fencing to receive some attention from the visitors, she added, "But, I think it would be cool to have evergreen-flavored cheese in Maine."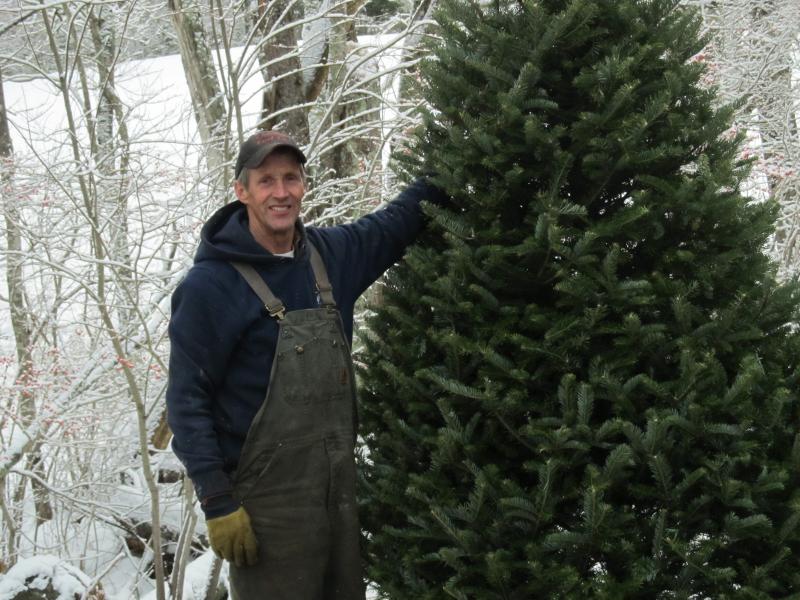 Dave Pettee, of Hope, dropped off a nine-and-a-half foot tree.
"You ought to have seen this tree when it was up and decorated with all of the ornaments my wife has," he said. "It's super nice when she gets it all decorated, got the lights on. It's the most gorgeous tree I ever had. It was sad to take it down, but when I saw they were taking trees in a drop off, I said, 'What better than that?' Because it breaks my heart to burn it. It's the best way to get rid of it. I feel super good about it."
Asked if she might experiment with that next year, she said: "I might. You heard that here first."
The Hunters' breeds include Alpines, Nubians, and half-Nigerians.
"Normally they eat hay," said Caitlin. "They always get excited when they see the tree drop off. They love people but they also know they're going to have a treat."
For the safety of the goats, it's required that all trees dropped off are free from tinsel, ornaments, leftover hooks and sprays.
Caitlin enjoyed seeing folks come out to see a working farm in winter. Their annual offer to take discarded trees also serves as a environmental service, keeping trees out of the landfill.
"Most of the trees around here are locally grown, so it all gets recycled back to where it came from," said Caitlin.
The only other working farm to offer a Christmas Tree Drop-Off Day was the Hart-To-Hart Farm in Albion, nearly an hour away, so this was a convenient option for Midcoast residents. 
With 40 or so trees donated this year, the goat snack would last all winter.
"We feed them one tree a day in addition to their regular food of hay," said Brandon. "We ration it out to one tree a day, so not to shock their system. The trees last until March. But if they get dry and brittle, we don't feed them anymore."
For more information on what other farms and creameries are up to this winter, visit Midcoast Cheese Trail.
Kay Stephens can be reached at news@penbaypilot.com
---