ROCKLAND—We first encountered Rachel Jones at a beer-drinking knitting group called "Unraveled" several years ago in a story, "Women who like to knit with a brewski."
Since then, the fiber artist from Owls Head has taken over an annex studio at Lincoln Street Center in Rockland with her successful shop making and selling unique hand-dyed yarns called On The Round.
Taking one's hobby and turning it into a lucrative business is a common dream for Americans, but most aren't ready to go full time with that goal. For many, the pursuit becomes part-time, which is commonly known as the "side business" or "side hustle."
According to a 2019 study, more than 60 percent of those surveyed wanted to start a side business doing what they loved to do in their spare time, but only 37 percent actually did so. And of those who started the side business, more than half put their energy into it after normal working hours, often on the weekends.
For Jones, the dream started in college, right after her dad died.
"I've been a knitter since I was seven, but in my second year of college after my dad passed away, it was an incredibly stressful time, so I jumped back into knitting because I was trying to keep it together," she said. "It was something to do that put me in a flow state; my mind was busy, my hands were busy and I wasn't thinking of anything other than being able to focus and chill."
Her favorite style of knitting was called "in the round," which knits in a circular pattern, a meditative practice for her.
All through college, she'd knit at parties and give her hats, scarves and fingerless gloves to friends, or sell them randomly at small shows.
| | | |
| --- | --- | --- |
| | | |
| First, she starts with super wash Merino wool yarn that is specially treated to pick up colors. | She cooks the yarn in layers of dye, controlling the process using the techniques she learned in college for painting, so that the yarn comes out in solid or speckled multi-colors. | Each batch of cooked yarn produces enough for three rings of yarn. After the yarn is cooled, it is dried, it is then twisted up into skeins and tagged with labels. |
While she was getting working on a degree in art education at the University of Maine, Jones, like most students, wasn't sure what her career path would be after college. When it came time to student teach, she told her advisor: "I want to find a way to knit for a living."
"I didn't know what that looked like," she admitted. "It wasn't a 'thing' in 2004."
Little did she know a seller's platform built specifically for the side business called Etsy, would launch in about a year online. But, at that time, Jones had no role models for her dream career—just drive.
It wasn't until she took a college apprenticeship with a fiber artist in Orono that the light bulb went on. The woman she worked with, Jodi Clayton, made felt scarves out of her home and turned that into her wholesale business, One Lupine Fiber Art. While apprenticing with Clayton, who'd by then, moved her business out of her home and into a studio in Bangor, Jones was picking up all of the other components of building a business: how to construct a dye station in an old gutted building and turn it into a working studio, how to dye wool, the day-to-day operations, how to sell retail and wholesale, and more.
After graduating, Jones continued to work for Clayton. Before she knew it, Jones was forming her own ideas for what she wanted to do with her life.
"I realized along the way I am a machine when it comes to production," she said. "I have an operations brain."
| | |
| --- | --- |
| | |
| She runs six pans on six burners for her dye kitchen about four or five days a week. | Her hands are usually stained with the dyes she's working with but comes off easily. |
After having her first child, Jones began to establish her own business plan. "Selling finished knitting is really hard; it's really time-consuming, so instead I started to make these felt bangles out of trash felt from Jodi's shop," she said. "A friend told me about Etsy, and so I started a small online shop and sold something the very first day. It was great."
The power of the Internet was just becoming apparent to makers and crafters like Jones in the early 2000s. For the next six years, she began hand-dying yarn and selling it on Etsy, utilizing all of the social media platforms—Facebook, Twitter, Instagram—that amplified her business. With the rich colors of dyed yarns, the platforms were ideal for sharing engaging photos as well as photos of her process.
In 2015, she left the Etsy platform, unhappy with the percentage that was being extracted from each sale and put all of her effort into selling through her own website.
"It took effort but was the best decision I ever made," she said. "Oftentimes, people are scared or resistant to change, but I never was. I throw myself into these situations."
It was a smart move; she was selling just as well, but now she had a new problem: her business was outgrowing her kitchen space.
"I had wool and yarn everywhere; I was setting up and breaking down the kitchen every night with only two burners," she said. "I was doing big shows and homeschooling three kids; working all night. It was a lot."
She moved the production into a new studio for a short while, but the location and space wasn't ideal. When Lincoln Street Center's annex came up for rent two years ago, the location was perfect, the plumbing was ideal for her dye kitchen and the space was big enough for inventory.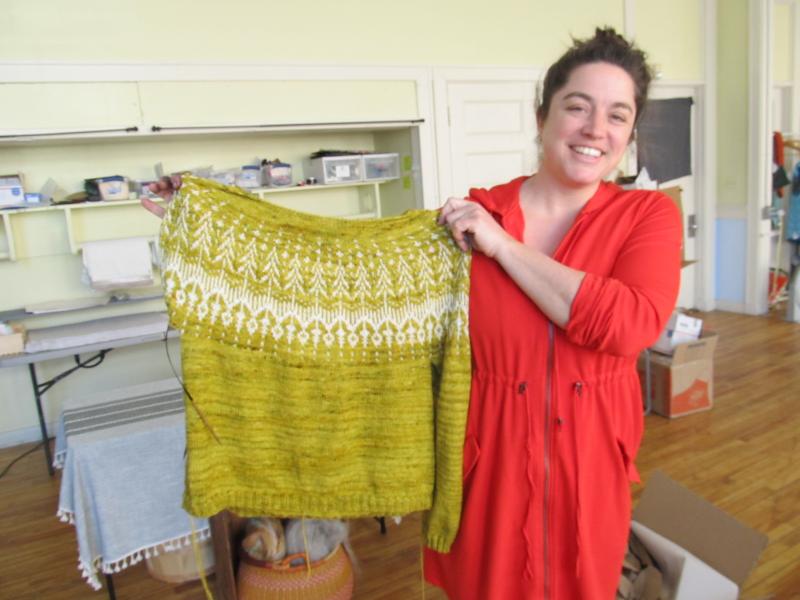 Now in her second year in the Lincoln Street Center studio, Jones's business has never been stronger. She ships about 10 to 20 packages of yarn a day, all over the country. "I physically work here about five days a week, but I'm also putting in a lot of time at home on social media and orders," she said. "I do about 90 percent of my business off my phone."
For Jones, the hobby is a full-fledged viable business.
"I can fully support my family on this business right now," she said.
Jones holds several open house evenings at her studio several times a year so people can come in, peruse the yarn, ask questions and get ideas on what they'd like to make. the next studio-wide Lincoln Street Center open house will be on March 29 at 5 p.m.
| | |
| --- | --- |
| "People come into the studio and see things I've made, then get ideas for what they want to make." | Jones holds studio open houses several times a year and people are welcome to stop by the studio by chance or by appointment to browse the yarn side of the shop. |
---
Kay Stephens can be reached at news@penbaypilot.com