MATINICUS — A few days ago one of the other island teachers asked for feedback on a quote she and her students found in a book they are reading together. This was the 7th- and 8th-grade multi-island one-room-school Skype reading group, by the way, which in itself is a marvel.
The quote went something like this: "Life is a constant struggle between being an individual and being a member of the community."
No kidding.
Just as I was ready to send these comments to Penobscot Bay Pilot, my husband came through the door.
"Have you heard what happened?" A lobster boat left Matinicus for Rockland on Saturday morning, intending to load up with provisions and wood pellets and barrels of kerosene for several islanders, and to make it back before the Saturday night blizzard. For reasons still unknown the 35-foot Loretta sank near Monroe's Island. The two men aboard got into survival suits and made a call for help as the boat went out from under them into 38 degree Fahrenheit water. The air temperature was 5 F . The two — father and son — were quickly rescued by crewmen from the ferry vessel Capt. Charles Philbrook and the Coast Guard.
Last I heard they were headed for Hamilton Marine for new boots and clothing in which to get home aboard another lobster boat.
All I could think was had they gone down in the middle of the bay in the two-hour pre-blizzard snow squall we were getting at the time, those men would have been mighty hard to find.
The wee dark hours of Saturday morning were starry and still, oddly still, and way below zero most everywhere. Saturday morning brought a thick, fluffy bay-effect snow not much evident on the weather radar. For a couple of days before the heavy weather it was eerily calm on this barely inhabited ledge-pile where the wind usually blows. There really is such a thing as "the calm before the storm." You can hear the silence.
In the face of an oncoming storm, are we dealing with this alone or together? Hmm; when an entire town is down to about 19 residents, this question of independence and community looms large. Mostly, we're drawn together by common worry over how to keep a couple of barely-adequate plow trucks going. We all worry, that is, but we don't all know how to fix a truck.
Extremely wise people are sometimes inclined to pontificate about what sort of folks would live in a place like this. The majority of us are here by choice, not by birth, despite prevailing mythology. Did we come here knowing we would spend the winter with fewer neighbors than we could count with our shoes off? Some will tell you that these outer islands are inhabited by a distinct race of natives, that each is a closed community, throwing out the welcome mat to none but offering a Hotel California to its hometown crowd, a remnant of the 19th century THAT has never seen a traffic light or a smart phone. That old chestnut still surfaces now and then but it is, of course, nonsense.
Are year-round islanders — to bring up the alternative folklore — a bunch of anti-social cranks, hermits and loners, misanthropes and malcontents, rabid lunatics, unwashed outcasts and general purpose wingnuts? Well — wingnuts maybe, yes. Are we really those pirates whom the judge on Union Street has unceremoniously kicked out of Rockland? We've all heard that story: check one box, jail or Matinicus? There is no shortage of self-effacing humor, "The Island of the Misfit Toys" and such. Any consumer of Midcoast media has read all of this stuff before. It is not terribly clever anymore.
No, most of us are not as described. A few may be, but the same can be said for your own home town.
Is it true that living here we have resigned from society? Hardly, as a young sternman finds himself unexpectedly thrust into the Department of Public Works, and neighbors with cross-country skis and snowshoes offer to do what they can for the others when the roads are blocked, and those with access to equipment freeze their fingers beyond numb — to painful — trying to move enough snow to keep things safe for the others.
The lobstermen who lost their boat on Saturday morning would have hauled back heating oil for others besides themselves. If we truly cared only for our own comforts we'd all stay home and ignore the snowdrifts that block airstrip and powerhouse until we decided we needed something.
Just the same, anybody here in conditions like we're seeing this winter ought to be prepared for a little Bush Alaska. We check on the neighbors and then hunker down at the ends of our narrow, snow-filled dirt roads and resolve to manage on our own, as we mutter and mumble and think out loud about each others' capabilities and decisions. Everybody is an expert, and I am guilty as the next. It's a time-of-year thing. I guess it's what we do because we can't go to the grocery store like everybody else who is anxious about the storm.
On the mainland, people engage in a flurry of pre-storm shopping not unlike preparations for a Super Bowl party. I wonder if that is becoming more a cultural tradition than an aspect of real disaster preparedness, as it is hard to believe that so many citizens are truly at risk of running out of Hot Pockets and coffee brandy.
"It's the Happy Hannaford Reunion," one mainlander commented, explaining that it's fun to run into so many neighbors out buying D-cells and water.
We order groceries from Rockland, which means faxing our lists to Shaw's, hoping they have time to get the requested items boxed up in the ubiquitous cardboard banana boxes, which we now use for everything out here. Somebody from Penobscot Island Air goes to collect the pile of heavy cartons filled with milk and cookies and beer and toilet paper. The air service brings the grocery order, each box labeled with large neon-orange freight sticker. We are, as a rule, always ready and well-supplied for hurricane, blizzard and zombie apocalypse.
So are we, all 20 or so of us, a tight-knit community working together to get through the winter in an isolated and peculiar world, or are we a bunch of every-man-for-himself types randomly tossed together on a rock in the middle of the water?
Yes. In reality we certainly do support each other enough to fend off real danger, manage the essentials and prevent suffering. But no, it is not possible — as logical as it may seem to those who aren't here — to get everybody in the same room and have a little community meeting and make a list of what people want from the mainland — truck batteries and rock salt, Oreos and prescriptions, kerosene, hardware, lettuce and rum and dog chow.
"Why not?" you'll ask, because it's only logical. "I see more people around the table at my uncle's house every Thanksgiving than you've got on that island right now!" That is true, but that is somehow not relevant. I cannot explain why.
Are we good at this stuff, here on Matinicus, where we get so much practice? Not necessarily. We're human; we don't always make the right call. Sometimes we are determined to manage everything ourselves when we really ought to be working together. Sometimes we count on other people when we really ought to be more self-sufficient. It's a tricky course to navigate, and needless to say, everybody will be "armchair quarterbacking" later. "Why didn't you do this or that? Why didn't you plan ahead better? Why, why, why?"
Don't tell me you've got it all figured out where you live, because you haven't.
Today, we are simply thankful that the 10 percent of our population who got a cold-water dunking this morning are safe.
---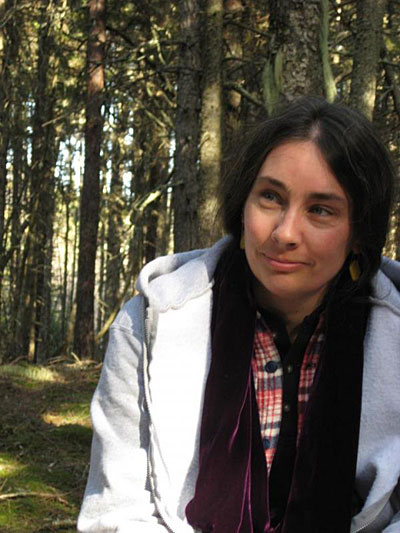 Eva Murray lives on Matinicus
More Industrial Arts
• Safely out to sea (Jan. 27, 2015)
• Je suis (Jan. 13, 2015)
• Making merry on Matinicus, with only a few (Dec. 25, 2014)
• The smallest emergency medical service around (posted Sept. 29, 2014)
• Islanders host 'Man Overboard!' discussion, rescue demonstrations (posted Sept. 8, 2014)
• Logistics (posted July 31, 2014)
• Black Hawks over Criehaven (posted July 16, 2014)
• On a sunny Saturday, when the steel band came to Matinicus (posted June 6, 2014)
• The last day of winter (posted April 16, 2014)
• Puppies, basketball champs not injured by explosive five-bulldozer wreck, dump fire, and zoning board (posted March 13, 2014)
• In a good old hardware store (in memory of Everett Crabtree) (posted Feb. 28, 2014)
• What is it like to be one of Maine's Search and Rescue volunteers? (posted Feb. 9, 2014)
• Arts and hobbies (posted Jan. 31, 2014)
• Santa Claus and the yard sales - why I own more monkey wrenches than you do (posted Jan. 15, 2014)
• Quiet on this last day of the year (Dec. 31, 2013)
• A one-room school Christmas (posted Dec. 21, 2013)
• Here's wishing us all a little rebellion in this happy season (posted Dec. 12, 2013)
• Roadside assistance (posted Nov. 27, 2013)
• On the many kinds of emergency responders (posted Nov. 18, 2013)
• (In defense of...) Breakfast for supper (posted Oct. 22, 2013)
• Fish Factory (posted Sept. 9, 2013)
• 350 dot Rockland... and many ruminations on small efforts (posted Aug. 30, 2013)
• Trains and planes and heroes (posted July 15, 2013)
• Joining the community of artists (posted July 4, 2013)
• Worth every penny (posted July 27, 2013)
• It's about showing up. Some thoughts on EMS Week (posted May 27, 2013)
• Ethanol, gasoline, and public safety (posted April 17, 2013)
• A system that makes it hard on people who want to do the right thing (part 2) (posted March 29, 2013)
• A system that makes it hard on people who want to do the right thing (part 1) (posted March 21, 2013)
• 'It's important' (posted Jan. 18, 2013)
• Tree crew (posted Dec. 28, 2012)
• Light the candles (posted Dec. 13, 2012)
• Firewood (posted Dec. 2, 2012)
• Missing man formation (posted Oct. 18, 2012)
• In the middle of the bay (posted Oct. 3, 2012)