As I write, it is beginning to get dark, and starting to rain in earnest. It is Dec 22; the pilots of Penobscot Island Air have been right out straight all day getting people off this island and headed for their various family gatherings in shore, or returning islanders home from the same, before the weather shuts air travel down for a couple of days.
Our friends, George and Robin, dropped off Rossi the dog with us two days earlier than they'd hoped to, but now it looks like they may be on the last plane leaving for three days. That's how it works when the weather forecast controls your life. Their son, who as I understand it somehow works in the Gulf of Mexico and in Alaska and once in a while in Casco Bay but technically lives in Montana, is flying back to New England for the holiday, but he can't risk getting stuck out here.
Along with the morning mail our daughter flew off, she having been home a couple of days for our annual Winter Solstice party, an extraordinarily fattening observance that appears to be in honor of butter and sugar and lasagna and egg nog (more on the egg nog later). Anyway, she works for a well-known Freeport retailer, where this time of years I guess it's "all hands." She couldn't get stuck here either.
No, dear reader, there is no ferry. We don't get a daily ferry. In the winter, the ferry comes once a month.
The airplane brought the island's only child, Eli, just short of 2 years old (and his parents of course), back from a grandparent visit in time to be the center attraction at this community's annual Christmas Eve church supper. That potluck meal is a Matinicus tradition older than anybody can remember, but one for which the supper crowd is shrinking pretty drastically. The year before Eli was born, my two college kids were the youngest in the crowd, not that Matinicus had entirely run out of children yet, but it seemed that year the mainland relatives all managed to talk the young families into Christmasing over there. It is very hard to get relatives to come here. This year, even my kids, who grew up on this rock, are missing the island Christmas Eve for the first time, obligated as they are to employers hither and yon.
Our next-door neighbor, John, called to borrow a fitting for his compressor, in order that he might blow out his water pipes, as he was expecting to be off-island for a while. He left Sunday afternoon and missed the party at our house. Another neighbor named John also missed the lasagna and egg nog because he was planning to haul his lobster boat for the winter the next day, and there was much to be done. A third neighbor, as it happens also named John, was working to all hours of the night making repairs to his cellar before another storm took its toll, helped (so I heard) at some very late hour by a most valiant plumber of this island who didn't expect to even still be here at that point. They have all left.
The air service carries Christmas cookies and Santa candy and such both ways, as neighbors bake for neighbors across the bay, and the pilots eat fairly well in the process. Freight trips result in boxes, last-minute orders from online suppliers, gifts sent by people for whom we care-take, the cheese plates and hams and assortments of chutneys and such as that. The majority of passengers, however, are inbound. Ben, the Island Institute energy fellow, left with a long list of errands, and Dennis left with a guitar and an amp and the sternman, and Darlene left on the same mail flight as our daughter, and Robert and Cynthia are leaving in their own boat in the morning. There will not be many on the island for Christmas; maybe 15 or 20, maybe a couple dozen if you count the hermit types who won't come to supper. That, however, is the new normal.
People bemoan this fact, and ask rhetorical questions along the lines of "What can we do about it?," which to me is suffering needlessly. I say just enjoy the quiet and the neighborhood of whoever's here, whoever's in the mood to be decent company. Other mothers of adult children encourage me to be mopey or resentful that my kids aren't sleeping in their childhood bedrooms on the 25th of December, but to be truthful, that doesn't worry me a bit, and I'm fine having the roast beef on the 26th or whenever they can get here. Folks like to ask things like, "So, what is The Island doing to get more people to move out here?""The Island" as a unified entity can't even pick out a Christmas tree; we damned sure don't know how to fix that problem. I, for one, do not feel that we can engineer a solution. I don't actually mind having only a few around, as long as they are willing to keep peace and eat together, and that is the one thing the people of Matinicus always do. Eat, I mean.
We ate on the 18th, on Clayton's birthday, when a most estimable chowder was provided by Wanda, loaded with lobster and very fresh scallops. I was told that every chowder-maker on this island has a different "secret ingredient," but if this masterpiece had anything unexpected in the pot it was darned scant, and that's as it should be. The very finest chowders, by most accounts, taste like seafood and cream, and not like anything peculiar. At any rate, I ate about three bowls, and I think that was about average consumption.
We ate on the 19th, when we had a cookie party at the school, all decorated for the holiday by Robin, who spent years working there as the educational technician and now sees to it that our one-room school does not sit neglected this year — this odd year without children. That is correct; we have no school kids on Matinicus this year, but our school is very certainly and most assuredly not closed. We've been through this before. It isn't over. Anyway, Robin was hesitant to cut a fir tree for just a couple of hours of cookies and coffee on an evening, so Paul and Emily surprised her with a live little balsam, dug up and plopped into a milk crate, decorated with snowflakes cut out of photocopied power company schematic diagrams, which was what surfaced in the recycled white paper pile.
We will eat at Loretta's Ladies' Night and we will eat at Emily's Christmas Brunch and we will eat in the church basement every 24th of December until there are only two of us left to do it. Like Charles Dickens' two lonely lighthouse-keepers in the storm, toasting the happy day only to each other, we will.
We ate on the 21st, or those with the spare time did, and among the joyous company was most of the crew of the Sunbeam, who, all except for the nurse, were able to make the trip because somehow we escaped another hard easterly that day. In addition to the regular crew they brought Scott Planting, who is the superintendent of the Maine Seacoast Mission ("the head honcho for the whole works," in our parlance). Scott sat on the couch with Riley the cat, grinning and eating, perhaps in astonishment that this Island of the Misfit Toys, this Alcatraz of the Willing, this haven for outlaws and pirates, according to the popular mythology, produced such partying, such…desserts. Baklava. Everything. "So," he asked somebody quietly — but was overheard — "Are you all basically friends? Is it like a fraternity?"
What an interesting idea.
Anyway, for three busy guys named John, for the nurse from the Sunbeam, for our son, Eric, who had to work in Vermont, for the plumber and anybody else of this island who didn't have time to stop by and toast the coming of winter, and for PenBayPilot.com readers who enjoy the homemade version of things, I offer a recipe for our egg nog. You'll likely never buy it ready-made again:
EGG NOG
2 dozen eggs
1 pound confectioner's sugar
3 pints heavy cream
2-3 quarts whole milk
Vanilla
1 cup dark rum (plus some more, very likely)
Fresh nutmeg
Break the eggs into a large bowl. I use a stainless steel soup kettle. If you like foam, reserve half the egg whites and beat these separately until somewhat stiff.
The question of the safety of raw eggs has to come up. I know there are supposedly ways to cook the egg nog enough to sterilize the eggs without ruining the stuff, but the one time I tried it I was a nervous wreck, sure I would mess up and really "cook" the eggs and just make a mess. If you want to do that, look up the instructions somewhere. I recommend you use nice fresh eggs that are from a trustworthy, reliable source; you'll have to make the decision on your own about what seems safe. Let me say that I have been consuming raw egg in egg nog, cookie dough, etc. all my 50 years to no ill effect. I know, I know…
Check the egg carefully for shells or anything else that needs spooning out. Whisk the vanilla into the eggs, then sift in the confectioner's sugar and whisk that together until there are no lumps. Mix in the milk and cream. Before adding the rum you may want to reserve some without alcohol. Mix in the rum, add the beaten egg white, grate a little nutmeg over the top, and refrigerate for a day or two. Seriously—this improves with a little age. You can always add more rum later. Oh, and use the good stuff. Don't waste all that heavy cream by using cheap rum. This is just a little for flavoring, by the way; the resulting drink is not extremely intoxicating.
This makes around 5 quarts. All measurements are approximate and you should definitely adjust sweetness, rumminess, etc. to taste.
Egg nog also keeps for a surprisingly long time if you don't have any friends over. But, by all means, have your friends over!
---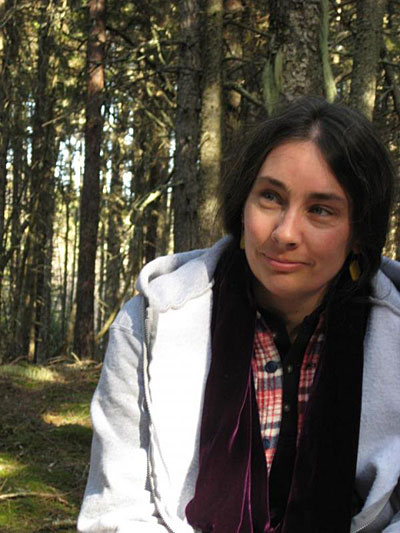 Eva Murray lives on Matinicus.

More Industrial Arts
• The smallest emergency medical service around (posted Sept. 29, 2014)
• Islanders host 'Man Overboard!' discussion, rescue demonstrations (posted Sept. 8, 2014)
• Logistics (posted July 31, 2014)
• Black Hawks over Criehaven (posted July 16, 2014)
• On a sunny Saturday, when the steel band came to Matinicus (posted June 6, 2014)
• The last day of winter (posted April 16, 2014)
• Puppies, basketball champs not injured by explosive five-bulldozer wreck, dump fire, and zoning board (posted March 13, 2014)
• In a good old hardware store (in memory of Everett Crabtree) (posted Feb. 28, 2014)
• What is it like to be one of Maine's Search and Rescue volunteers? (posted Feb. 9, 2014)
• Arts and hobbies (posted Jan. 31, 2014)
• Santa Claus and the yard sales - why I own more monkey wrenches than you do (posted Jan. 15, 2014)
• Quiet on this last day of the year (Dec. 31, 2013)
• A one-room school Christmas (posted Dec. 21, 2013)
• Here's wishing us all a little rebellion in this happy season (posted Dec. 12, 2013)
• Roadside assistance (posted Nov. 27, 2013)
• On the many kinds of emergency responders (posted Nov. 18, 2013)
• (In defense of...) Breakfast for supper (posted Oct. 22, 2013)
• Fish Factory (posted Sept. 9, 2013)
• 350 dot Rockland... and many ruminations on small efforts (posted Aug. 30, 2013)
• Trains and planes and heroes (posted July 15, 2013)
• Joining the community of artists (posted July 4, 2013)
• Worth every penny (posted July 27, 2013)
• It's about showing up. Some thoughts on EMS Week (posted May 27, 2013)
• Ethanol, gasoline, and public safety (posted April 17, 2013)
• A system that makes it hard on people who want to do the right thing (part 2) (posted March 29, 2013)
• A system that makes it hard on people who want to do the right thing (part 1) (posted March 21, 2013)
• 'It's important' (posted Jan. 18, 2013)
• Tree crew (posted Dec. 28, 2012)
• Light the candles (posted Dec. 13, 2012)
• Firewood (posted Dec. 2, 2012)
• Missing man formation (posted Oct. 18, 2012)
• In the middle of the bay (posted Oct. 3, 2012)