Transformations...
Bartlett Woods writers: 'Mouse Matters' and 'The Bewitched Horse'
Writing coach Kathrin Seitz went to talk with a group of writers at Bartlett Woods, an active senior living retirement community in Rockland. This is the second installment of stories that grew out of her time with them. The group publishes its own monthly in-house newsletter, Windy Words from the Woods.
"Isn't it wonderful how we can discover, or re-discover writing at any age? The writers from Bartlett Woods are truly an inspiration," said Seitz.
Mouse Matters
By the Almost Authors and Artists Club
Submitted by Bettina Dobbs
Like all fond parents, Father and Mother Mouse were anxious to have each of their eight children develop his or her special talent. The eldest, George and Hildegarde, should be receiving their special training soon. As their home was getting much too crowded, Father Mouse had gone mouse house hunting to benefit them all.
He found a lovely place called Bartlett Woods! The older people lived in little homes called apartments in the Big House. Being senior citizens, they moved about slowly, taking their time.
Bartlett Woods had a steady food supply, with trucks and people bringing things and with trucks and people taking things away. It was near the city, the ocean, the airport, the museums etc. There was even a small library on the third floor. The mouse children could have all the learning advantages of the city, while still living in the country.
Since the senior citizens now living at Bartlett Woods had lived in different parts of the big world, Father Mouse felt it would expose his children to a wider knowledge of the wonderful large world in which we all live.
The family settled in, enjoying a peaceful life until the parents suddenly and forever disappeared while dragging home a piece of cheese dropped during delivery.
George, the oldest boy mouse, had become the head of the Mouse family, while Hildegarde, the oldest girl mouse, became the substitute mother. That included trying to teach her younger sisters, Wilhelmina, Emmelina and Katherina, the mouse wifely skills her mother had taught her.
Being close in age, they worked happily together practicing cookery, sewing and mousekeeping, while Hildie told them the tales Mother Mouse had told of her cousins, Richard and Hepzibah raising a family in the Farnsworth Homestead, just a few streets away. It was important that their newest and youngest family member, Nonnie, hear them too so she would feel more a part of their family.
"How different mousekeeping must have been in those days with just one family of people living in a big house with everything so different?"
Why the things they used then would be called artifacts now. (Do you know what an artifact is?) Mrs. Mann read us the meaning from the big red dictionary in the library. An artifact is made by a person and used years ago.
Hildie told of smelly oil lamps used for light, like the ones people now use when the electric power goes off. And of a big black stove in the Farnsworth kitchen, which kept everyone warm during cold Maine winters, kept a water kettle steaming on its top for hot water and could even heat food in its little closet, called an oven, all at the same time! What would they think of next?
The Bewitched Horse
By A. Marcellus Esancy
She was my sixth generation grandmother and I love the story still. Did they cut off the tips of his ears? Like they say, "It was to keep the witches at bay." It was the 1813th year, thinking not of any fear. In the village the people still say it happened that way.
Just a young mother, from down on the coast, happened to have powers beyond the ordinary. They called her "Healing Nanny Rolfe." She was helping a young mother through a difficult birth, when the young girl said, "How do you do it Nanny?" Saying it in jest, "You must be a witch."
But the word spread and there was no more help from Nanny, or was it what happened up there in Daggets barn, after he got Henry's only horse away from him? It became an entertainment thing, and Nanny helped in a way. They say it happened just this way:
When they came to take the horse away, Susanna was very unhappy with what had taken place. She said, "That horse yonder had always been a plague, and would do them no good neither." Then it happened, the horse couldn't be kept tied or in its stall, nothing could account for its actions.
People came from near and far to see that "Bewitched Horse," of course it didn't hurt Sam Dagget, who had the only inn on the stage coach line. But after a while many decided probably the boys in the Dagget family knew a lot more than they ever got credit for. Nanny and her family moved back into the wilderness to the Blackrock country of Burkesville, Maine, and left the "Bewitched Horse" behind.
---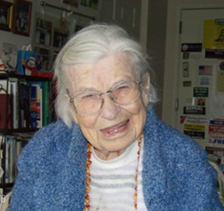 Ever since Bettina Hobbs learned to read, she wanted to write. While in the third-grade, at Franklin School in Framingham, Mass., she and a group of girlfriends were deciding what to be when they grew up. Bettina selected a nurse, because nurses always seemed to know what to do in an emergency. Or a teacher, because teachers taught the joy of learning. Or an author, because Bettina loved to write stories, especially for children. She was unable to achieve all of her goals, until she had my stroke and came to live at Bartlett Woods. Now with the time and opportunity she learned to use the computer with her left hand, as the stroke left her right side paralyzed. At the age of 95 she has accomplished all three of her goals! Bettina has also published two books; one is her memoir and the other is GEMS of the Gem Years.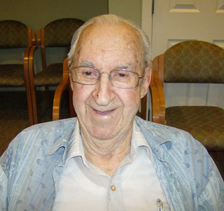 I was born young, it was a musty day on May 5, 1929. Down there at the Knox General Hospital in Rockland, Maine. Father said I was a cubby chap, and mother put me on her lap. She said "she bathe me all over," but I don't remember it. It has taken 83 years to get back to Rockland and Bartlett Woods. It has been a long journey. Not much happened till I graduated from Union High. I grew up with brothers and sisters, nine in all. Then a hitch in the U.S. Air Force, where I learned the trade in machine work. And after, drafting that carried me up to retirement in 1985. I had a marriage of 52 years, but no children of my own. Here I am at Bartlett Woods, where I have found creative writing, which will carry me the rest of my days. But I hate to talk about myself, yet.
---
Transformations
We tell stories.
We tell stories to make sense of our lives.
We tell stories to communicate our experience of being alive.
We tell stories in our own distinct voice. Our own unique rhythm and tonality.
Transformations is a weekly story-telling column. The stories are written by community members who are my students. Our stories are about family, love, loss and good times. We hope to make you laugh and cry. Maybe we will convince you to tell your stories.
— Kathrin Seitz, editor, and Cheryl Durbas, co-editor
"Everyone, when they get quiet, when they become desperately honest with themselves, is capable of uttering profound truths. We all derive from the same source. There is no mystery about the origin of things. We are all part of creation, all kings, all poets, all musicians; we have only to open up, only to discover what is already there." — Henry Miller
Kathrin Seitz teaches Method Writing in Rockport, New York City and Florida. She can be reached at kathrin@kathrinseitz.com. Cheryl Durbas is a freelance personal assistant in the Midcoast area. She can be reached at cheryldurbas@tidewater.net.