WALDOBORO—In life, John Stephens Sr. from Woodville, Maine, was a vibrant artist who came to his gift naturally, before going back to art school to earn his art degree in his 60s.
When he passed away three years ago, he left a studio filled to the brim with loads of art supplies, including acrylic paints, watercolors, pastels, watercolor paper, canvases, easels, and hundreds of art books.
In September, John Sr.'s widow, Barbara, passed away and the family decided to give away the contents of his studio to anyone who needed it. Early in November, Becky Stephens, John's daughter-in-law, posted an announcement to the Midcoast Message Board Facebook group that the family was doing an art supply giveaway in Waldoboro.
John Stephens

1946 - 2017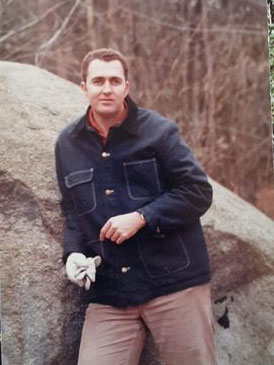 "I began my Art career at Walt Disney World, in Florida, as a portrait artist. My main interest, in the Arts, has always been painting, photography, and recently digital art.

I believe that Art, such as a painting, should be like a beautiful memory, a golden moment in time,which
expresses how creative and wonderful life can be. "
"We must have had 30 or 40 people come, mostly from the Midcoast," said Becky Stephens. "A lot of artists came by and many people came by to pick up art supplies for schools and school programs. Some were teachers, some were friends of art teachers."
Asked what kind of artist her father-in-law was, Becky Stephens said, "He actually did a lot of mediums; when he was younger, he did a lot of painting and drawing with charcoals. He took his first art class as a senior in high school. His teacher submitted a piece of his work to the magazine Art Education and it ended up being the cover. He worked for Great Northern Paper Company and when they shut down, he went back to his art. He ended up going to the University of Maine in Orono in his early 60s and got his degree in art. There, he learned a lot of digital techniques."
His work can still be found on Fine Art America. His compositions and portraits are vivid, stunning, ethereal, and playful. A lot of it in physical form is still at the house of Becky and John Stephens Jr.

"He had tons and tons of stuff just sitting there in his studio and I'm not exaggerating when I say there was probably $30,000 worth of supplies there," said Becky Stephens. "One of the people I met that day was Dawn Witham, an artist. She let me know she was struggling with the recent death of her son and she has used her art to her to heal from that. She was able to connect with us and pick up some things able to help her."

Many people left donations for the materials.
"There were several people who even wanted to look through proofs of his artwork and keep it and Dawn was able to take one of John's art booklets he'd made with poems mixed with artwork," said Becky Stephens. "It was a good turnout and we met a lot of interesting people. We know that John's supplies will be put to good use. I think that's the best thing to come out of this."

As John Stephens's own words in his Fine Art America biography attest, his art created beautiful memories, golden moments in time. And his raw materials, once sitting in the dark storage area, unused, have now been rippled out through the art community and schools in Maine.
"That would have made him happy to know people were using his art supplies for their own work, especially the kids at school," said Becky Stephens.

---
Kay Stephens can be reached at news@penbaypilot.com