My mother is from South Thomaston, and as it happened, her 75th birthday fell on the day planned for this year's Pies on Parade event in Rockland - last Sunday. My sister, Anna, was briefly home from Seattle, my husband, Paul, had got a substitute for the Matinicus Electric Company, our daughter, Emily, piled her boyfriend into the Subaru and drove up from Portland, even though he'd worked on his feet in a bakery all night, and along with our friends, Jennie and Jake, we had in mind to include Rockland's annual winter festival of good cooking as part of Mom's birthday party.
Good thing I ordered our tickets well ahead of time, because the event sold out. As a fundraiser for the Area Interfaith Outreach food pantry and fuel assistance, it seems a reliable success.
Pies on Parade has become an annual tradition for me since a few years back when I was offered a ticket in exchange for a newspaper article (I've bought my tickets since then, and expect to be a regular). Obviously we were holding out hope for good weather and were grateful for the mild temperatures this year; the first time I went, the temperatures were positively arctic (or perhaps negatively arctic). The Pies on Parade organizers provide metal forks for use through the afternoon, returnable at one's last stop (this cuts down on trash and is an admirable move). That year, walking up the sidewalk eating with that metal fork reminded me of the line about "don't put your tongue on the pump handle..." The fork froze to my mouth.
There were eight in our little gang this year, a couple deciding to hang back and finish some outdoor work considering the 40-plus degree weather. We piled into Jake's new pickup and Emily's Crosstrek thinking best to carpool as parking in Rockland might be a problem. It actually was not. We collected our tickets at the Lighthouse Museum at about 1:30 p.m., and perhaps we were late for the blueberry tartlets we'd heard about, as I didn't see any. Our loss. If they were anything like those from a year or two back (and I'm sure they were,) we really should have got there earlier.
The folks at the desk gave us a handout with the participating businesses and mentioned that sadly Comida was off the list. What had that restaurant planned to offer? Chocolate Dream Pie. Dang it. Oh well; technical difficulties.
Our first stop was Eclipse—the restaurant at the Trade Winds—for individual chicken pies and decadent-looking coconut pie squares. Both were excellent and got us started off with a high level of enthusiasm. Any uncalled-for wise-aleck remarks from me about less refined repasts in a fishermen's bar at the same location 30-plus years ago were "eclipsed," to be sure, by this welcoming restaurant called "Eclipse."
Before I ramble any further allow me to confess that we did not make it to every venue. For that I am truly sorry, and would have liked to have tried everything, but we were a large group and thus could not do this with a great deal of efficiency. I am not a reporter anyway, and a couple of places were out of pie by time we got there.
Please accept my regrets and apologies. Mea culpa.
I was especially interested in finding out what Scotch Island Pie is, offered by the Friends of Maine Island Seabirds. Hopefully next time. My sister and I did say hi to Kim Peabody at the Loyal Biscuit Company earlier that morning. They were offering a take-out treat for pie-eaters to take home to their dogs. Good idea!
Anyway, after Eclipse we headed north, and a few minutes later we squeezed through the tunnel in the Project Puffin Center to find, as is customary back there, a delightful ocean of "creampuffins." Regular pie, perhaps not, but a cream puff is a treat and a pleasure and the little puffin head cookies, complete with colorful beaks, made a legitimate case for a thousand expressions of "Aw, how cute!" Cute indeed, and delicious.
Adding to the fun (and the non sequitur) were the "Puffin Pluckers," Sunday's iteration of the local ukulele band, plinking and strumming away in the back room. As we ate our creampuffs it was Sittin' on the Dock of the Bay.
They done Otis proud.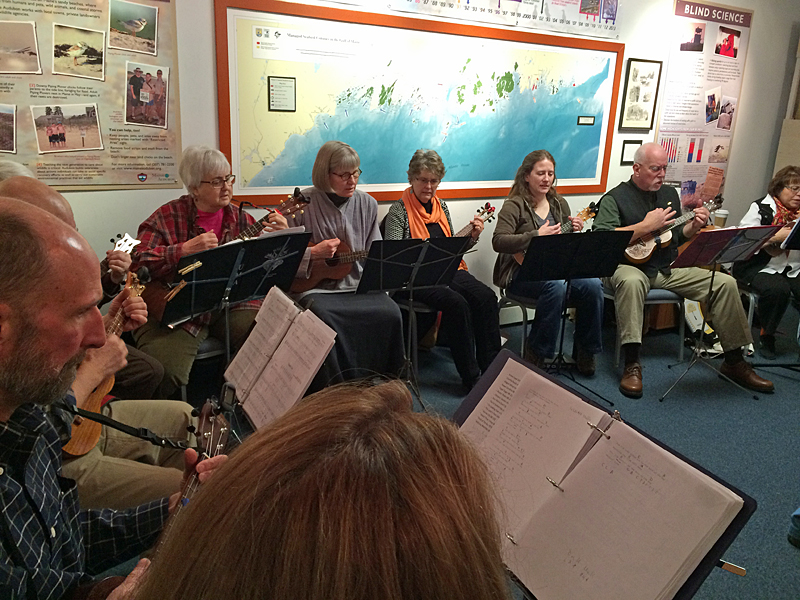 OK, guys, we have a lot of pie ahead of us. Less talking, more walking, and more eating!
We all loved the pies at Rustica, their "sweet apple pizza" a masterwork and something we found ourselves recalling a couple of times through the day. Crossing Main we headed over to the big wood-fired pizza oven parked in the street outside Café Miranda, for their complex and delicious multi-ingredient pizzas. I really like wood-fired pizza in any case, and in the street is a great place to eat it. Walking around the back to the rear entrance of Rock City Café, we thoroughly enjoyed both the tourtiere (French Canadian-style pork pie) and the red berry pie. As people came and went we somehow found ourselves standing beside the large back table in the café that was — how did this happen— empty! It must be break time. Our little party took over the table and a few of us went up to the counter with money in our fists and ordered some draft beer which, like everything else that day, tasted great.
Fog Bar, sadly, was sold out by time we got there, so onward up the street to the hearty shepherd's pie at Rock Harbor Brewery (made with Spruce Head Stout Ale—and my mom, the guest of honor, happens to have been born in Spruce Head). We were beginning to get pretty full and sharing was becoming more the logical tactic. Crossing Main again we were delighted to discover the Mayan Style (meaning heavily spiced) drinking chocolate from Bixby in Main Street Market. Peppery hot chocolate in a tiny cup—perhaps not a replacement for a more traditional (and larger) hot chocolate when you want a childhood memory, but this Mayan Style was something special, and I mean to have it again.
We began to break ranks. Some of us hit Snowdrop Confections for the buttermilk pie, while Paul came out of the Rockland Café with a grin and a whoopie pie. We waited for Anna to come out of Fiore after getting her pizzette but found that she had gone straight from there into the Playing With Fire glass shop and was deeply engaged in searching through displays of nearly-edible-looking art glass trinkets, pendants and beads.
That stop was a feast for the eyes rather the stomach. As Anna said, "It's all good."
A few in the group were growing tired but we were well advised to trek to the Limerock Inn. First, we made it to School Street and stopped in to the Over the Rainbow yarn shop to sample the offerings of the Hawthorn Inn. I like pumpkin pie, and the little slice of "drunken pumpkin bourbon tart" resembled the traditional version except for the extra bourbon tang. Nice. Maybe something to think about next November.
We hiked up Limerock for what would be our final stop. The Key Lime was amazing, the fudge pecan may have been amazing-er. There's no way I'd pick a favorite. Paul and I intended to share our piece, but before we left we'd had our own, despite being awfully full. There had not actually been much chocolate through the day; the fudge pecan pie was the perfect "dessert" to end the "meal."
Our group unfortunately missed the Signature Shepherd's Pie at Waterworks but I have had it before and please accept my recommendation. We also didn't get to the Granite Inn, the Berry Manor at Talbot House or In Good Company, but that is not for lack of trying. I remain curious about what Kimchee and Pork Belly Pizza might be like. They say it's always good to be left wanting more.
I think the idea—beyond the fundraiser of course—is for people to check out restaurants, stores and inns that they might not have otherwise had occasion to notice, and to think, "Well, that little sample from their kitchen was certainly very good! We should come back here soon for supper..." or what have you. That tactic worked exactly as designed on me. I have plans.
---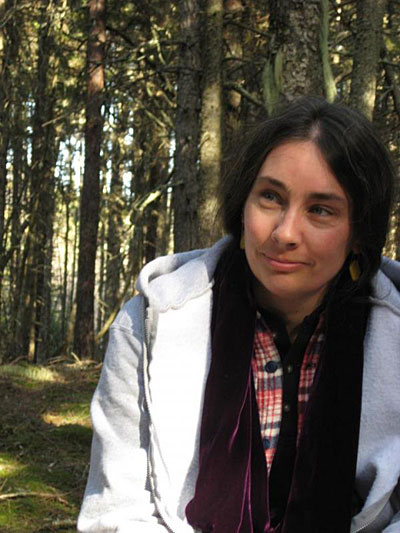 Eva Murray lives on Matinicus
More Industrial Arts
• Eva Murray: Pencil to paper (posted Jan. 21, 2016)
• A new year, a new winter (posted Dec. 31, 2015)
• 'A tiny, happy place' (posted Dec. 14, 2015)
• Metal artist Blair Clement brings wave-washed junk to life (posted Sept. 20, 2015)
• Maine veterans and a most sentimental biker (posted June 1, 2015)
• Wild Island Child (posted April 8, 2015)
• Last holdouts of offshore outpost finally accept reality (posted April 1, 2015)
• Truck on boat (posted March 16, 2015)
• Public works (posted Feb. 25, 2015)
• A constant struggle (posted Feb. 14, 2015)
• Pie Hero, Pie Villain (posted Jan. 29, 2015)
• Safely out to sea (posted Jan. 27, 2015)
• Je suis (posted Jan. 13, 2015)
• Making merry on Matinicus, with only a few (posted Dec. 25, 2014)
• The smallest emergency medical service around (posted Sept. 29, 2014)
• Islanders host 'Man Overboard!' discussion, rescue demonstrations (posted Sept. 8, 2014)
• Logistics (posted July 31, 2014)
• Black Hawks over Criehaven (posted July 16, 2014)
• On a sunny Saturday, when the steel band came to Matinicus (posted June 6, 2014)
• The last day of winter (posted April 16, 2014)
• Puppies, basketball champs not injured by explosive five-bulldozer wreck, dump fire, and zoning board (posted March 13, 2014)
• In a good old hardware store (in memory of Everett Crabtree) (posted Feb. 28, 2014)
• What is it like to be one of Maine's Search and Rescue volunteers? (posted Feb. 9, 2014)
• Arts and hobbies (posted Jan. 31, 2014)
• Santa Claus and the yard sales - why I own more monkey wrenches than you do (posted Jan. 15, 2014)
• Quiet on this last day of the year (Dec. 31, 2013)
• A one-room school Christmas (posted Dec. 21, 2013)
• Here's wishing us all a little rebellion in this happy season (posted Dec. 12, 2013)
• Roadside assistance (posted Nov. 27, 2013)
• On the many kinds of emergency responders (posted Nov. 18, 2013)
• (In defense of...) Breakfast for supper (posted Oct. 22, 2013)
• Fish Factory (posted Sept. 9, 2013)
• 350 dot Rockland... and many ruminations on small efforts (posted Aug. 30, 2013)
• Trains and planes and heroes (posted July 15, 2013)
• Joining the community of artists (posted July 4, 2013)
• Worth every penny (posted July 27, 2013)
• It's about showing up. Some thoughts on EMS Week (posted May 27, 2013)
• Ethanol, gasoline, and public safety (posted April 17, 2013)
• A system that makes it hard on people who want to do the right thing (part 2) (posted March 29, 2013)
• A system that makes it hard on people who want to do the right thing (part 1) (posted March 21, 2013)
• 'It's important' (posted Jan. 18, 2013)
• Tree crew (posted Dec. 28, 2012)
• Light the candles (posted Dec. 13, 2012)
• Firewood (posted Dec. 2, 2012)
• Missing man formation (posted Oct. 18, 2012)
• In the middle of the bay (posted Oct. 3, 2012)