We are finally wrapping up the extended movable feast known rather loosely as "Christmas." For my gang, calling it "the holidays" is not an obligatory nod to political correctness and is more than a simple acknowledgement of the existence of Hanukkah. It is our reality. We end up taking our revelry on the road, and because we are dealing with an almost unlimited potential for weather-related cancellations, getting around to the family can take a while.
December's ice storm, followed by subsequent stormlets, seriously sketchy road conditions, college kids coming and going, vehicles in the shop, the need to wait for substitutes before leaving the electric company's diesels (a.k.a. "the babies") and the usual worries for maintenance professionals about frozen-up pipes in the face of the well-advertised Polar Vortex resulted in "the holidays" going on into the second week of January.
My mother-in-law and sister-in-law reside in Cumberland County, where yard sales, rummage sales, garage sales and lawn sales are ubiquitous and have become the default activity for all free Saturday mornings through the more clement months. They have honed their treasure-finding skills to the extra-class mastery level. There's no telling what they might stumble upon at 7 some summer morning in the suburbs.
Evidently they tend to gravitate toward items that other, less discerning yard-sale patrons might overlook. As we opened our Christmas packages in Peggy's living room a few days ago, we found ourselves the beneficiaries of a Santa who, it seems, had been to a hell of a lot of yard sales.
Thankfully, we are a bunch of unreconstructed nerds.
Digging into his "stocking" (in reality a never-been-used canvas laundry bag from a yard sale), Peggy's brother, Paul, pulled up a nice old slide rule. Then another slide rule — this time in plastic — and then another, this one bearing the block-print name of some old-time schoolboy or engineer. If you are one of the people who actually knows how to use a slide rule, you might watch out when yard-sale Santa thinks of you. Meanwhile, on the couch 3-feet away, his wife was hauling a series of antique monkey wrenches out of an Arctic National Wildlife Refuge tote bag (from a yard sale). Santa brought not just one monkey wrench this year, mind you, but four. I now own 11 antique monkey wrenches. Take that.
In a cozy chair between Fred and Ethel, the cats, sat our Emily who, being a sensible and practical individual, had actually asked Santa for snow tires this year. Those alone wouldn't be much fun, though, and as a college senior in good standing she was logically situated for what was to follow. Have you ever heard of Shot Glass Chess? Perhaps I have lived a sheltered life. I had never seen such a thing. On a glass chessboard stand were tiny, delicate goblets, each with the image of a chess piece painted thereon, to be filled with the potation of one's choice as the game is set up. When you take an opponent's piece, he drinks it. Or you drink it. Whatever. One supposes players might put rotgut or box wine in the pawns and move up in quality until the king and queen glasses hold the best the premises can provide. Perhaps each type of piece is assigned a corresponding brew. The possibilities are endless, especially for chess as a spectator sport, not to mention the special distress caused by losing and swallowing ounces of Bud Light, gin, Bailey's Irish Cream, cheap blackberry brandy and whatever the lacrosse guys next door had in that mason jar, all in rapid succession. I don't know anything about the household from whose lawn sale this item was obtained, but all of the pieces were intact. They must have quit early. I wish our dear one godspeed and an iron stomach. Maybe buttermilk.
The recent college graduate was presented, with tongue only halfway-in-cheek, with a package of high-end, excessively classy, watermarked "resume paper," which might have cost a quarter or two bits at some lawn sale. Both 20-somethings were gifted with beer steins from Rummage Sale Santa: for the actual University of Vermont graduate, a University of Vermont stein perfect for quaffing whatever it is they quaff in Burlington, only randomly acquired from some unknown alum in Scarborough or Cape Elizabeth or Gorham or Saco. And for the German scholar, a München liter straight from the old country.
There were Monroe Salt Works stoneware pieces; there was a small jeweler's vise and bicycle bell. There was a fountain pen made entirely of glass. Pat got a blue Wedgewood bowl that was probably worth as much as my island car and I got a piece of Labradorite that I suspect I could use to dowse for water. The luxury, extravagance and poshness of our Christmas gifts caused us all some degree of squirming but we were reassured that the yard sales had provided well and that little outlay had been required.
Paul reached into his bag and pulled out the Transistor, Thyristor and Diode Manual. (Look, you idiot computer, "thyristor" is too a word!) Some thought it might be a gag gift but his daughter shook her head somberly. "No, he'll actually read it." Hey, it takes a lot to beat last year's treasure, which was a gross of carpenter's pencils. Now there was a find.
---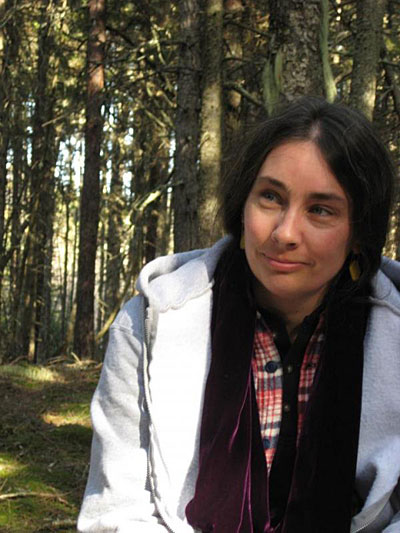 Eva Murray lives on Matinicus
More Industrial Arts
• Quiet on this last day of the year (posted Dec. 31, 2013)
• A one-room school Christmas (posted Dec. 21, 2013)
• Here's wishing us all a little rebellion in this happy season (posted Dec. 12, 2013)
• Roadside assistance (posted Nov. 27, 2013)
• Eva Murray: On the many kinds of emergency responders (posted Nov. 18, 2013)
• (In defense of...) Breakfast for supper (posted Oct. 22, 2013)
• Fish Factory (posted Sept. 9, 2013)
• 350 dot Rockland... and many ruminations on small efforts (posted Aug. 30, 2013)
• Trains and planes and heroes (posted July 15, 2013)
• Joining the community of artists (posted July 4, 2013)
• Worth every penny (posted July 27, 2013)
• It's about showing up. Some thoughts on EMS Week (posted May 27, 2013)
• Ethanol, gasoline, and public safety (posted April 17, 2013)
• A system that makes it hard on people who want to do the right thing (part 2) (posted March 29, 2013)
• A system that makes it hard on people who want to do the right thing (part 1) (posted March 21, 2013)
• 'It's important' (posted Jan. 18, 2013)
• Tree crew (posted Dec. 28, 2012)
• Light the candles (posted Dec. 13, 2012)
• Firewood (posted Dec. 2, 2012)
• Missing man formation (posted Oct. 18, 2012)
• In the middle of the bay (posted Oct. 3, 2012)