You can't swing an Elf on the Shelf without hitting some kind of holiday event this weekend, so I'm going to do my best and sniff out the most fun and interesting artistic events and entertainment  locally and around the state.
Midcoast
Friday: This weekend we've got Christmas by the Sea kicking off at the Camden Public Library at 4:30 p.m. performed by Camden Hills Regional High School Chamber Singers and Treble Choir, the CHRHS Brass Quintet, and the student-directed ensembles: Off Beats and Fortissima. Then pop over to the Harbor Park at 6:30 p.m. for the annual Tree Lighting Ceremony with more music from the CHRHS Chorale starting at 6:15 p.m. FMI: Christmas by the Sea. Up in Belfast, Waterfall Arts is hosting its annual HANDMADE art reception on December 6 from 5:00 to 8:00 p.m. featuring a curated collection of unique, high-quality handmade goods and artwork as well as food, beverages, and activities. FMI: Handmade
Saturday & Sunday: Studio Red is hosting a Holiday Dance Showcase at the Strom Auditorium Saturday at 6 p.m. and Sunday at 2 p.m in musical theatre, acro, tap, contemporary, classical ballet and even a Rockette style dance from 6 to 7:30 p.m. Tickets: $12
---
Portland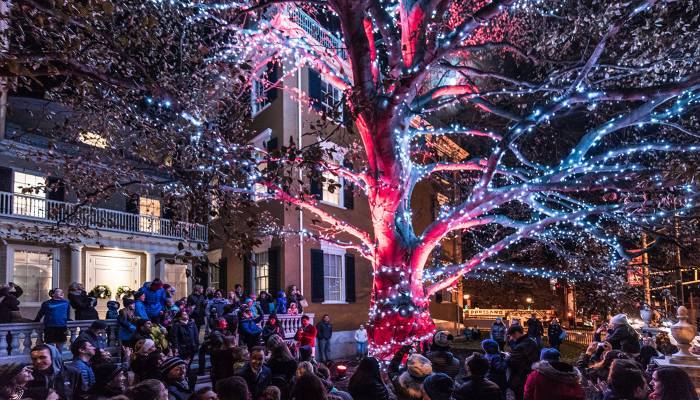 Friday: Portland Museum of Art is hosting its own annual tree lighting ceremony during December's First Friday Art Walk from 6 to 7 p.m. at 7 Congress Street. Portland's Poet Laureate Linda Aldrich will share season-inspired poems; musicians from 317 Main Community Music Center will sing holiday songs; and festive treats will be provided by The Black Tie Company. The the event revolves around the lighting of the 100-year-old copper beech tree. Following the lighting, warm up in the museum with hands-on activities and open galleries. PMA: Tree Lighting 
Saturday: Stop by Allagash Brewing for a Stomping Grounds Artisan Showcase at 4 p.m. for an evening of shopping local and craft beer. Guests will be free to wander through the Allagash brewhouse, where displays and tables full of original work will be on display (and for sale). Beer will be available for purchase as well as free cookies and coffee. FMI: Allagash.
---
Hallowell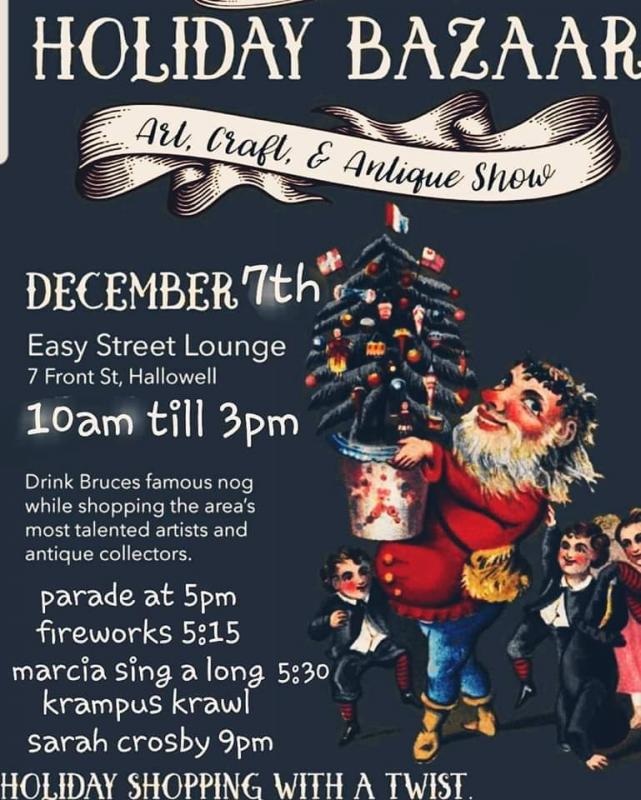 Saturday: Maine's coolest little inland town is doing up the festive season with Easy Street Lounge kicking off its annual holiday Bazaar at 7 Front Street starting at 10 a.m. until 3 p.m. with local artists, crafters, and antiquers. Find that perfect gift and sip some killer nog. FMI: Bazaar  Then, the Holiday Parade starts at 5:00 p.m., followed by fireworks at 5:15 p.m. then put on your bells and elf hats for a wacky Krampus Pub Krawl until 1:00 a.m. FMI: Hallowell
---
Bangor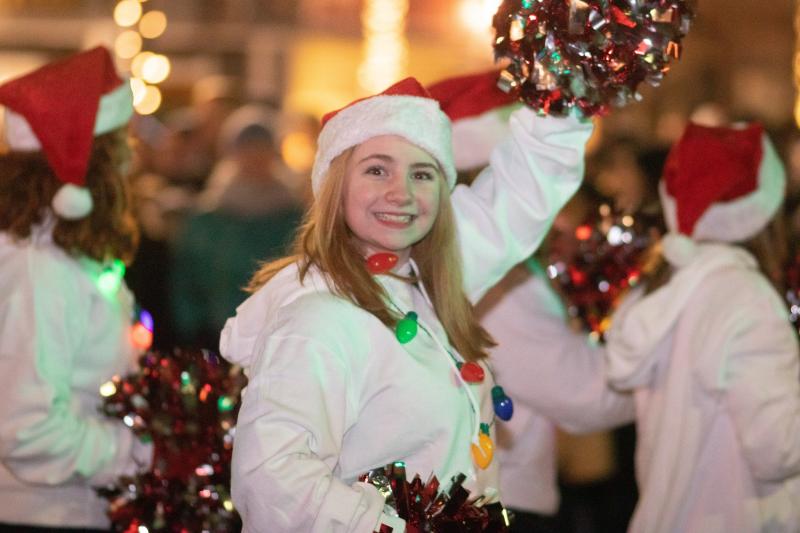 Saturday: The Queen City has its own Festival of Lights Parade from 4:30 to 7:30 p.m. in downtown Bangor, followed by the lighting of the holiday tree. FMI: Parade. Then there's "Coeexist," a community art exhibit that celebrates everyone's holiday, hosted by the Adams Community Gallery and Tea & Tarts featuring a community-sourced gallery show with art, performance, recipes, and rituals from a wide variety of holiday celebrations from 3:00 to 6:00 p.m. FMI: Coexist.
Sunday: On December 8, a live show, Double Dare Live (inspired by the iconic TV game show Double Dare) comes to Cross Insurance Center featuring two teams comprised of selected audience members competing to win prizes by answering brain-bending trivia questions, completing messy physical challenges and ultimately facing the legendary obstacle course. on December 8 is hosted by the iconic Mark Summers himself. Doors will open for the event at 3:00 p.m. FMI: Double Dare Live!
---
Kay Stephens can be reached at news@penbaypilot.com