A new trim package for Subaru's all-wheel-drive Outback wagon, called Wilderness, is available for 2022 and it's not just cosmetics. This variant stands taller (9.5 inches of ground clearance) on longer-travel shock absorbers and springs and the bumpers have been tucked in. For off-roaders, this means 20.0 degrees of approach angle (up from 18.6º), a "breakover angle" of 21.2 degrees (up from 19.4º), and the departure angle—how steep a surface the new Outback can descend from without dragging its tail—rises from 21.7 to 23.6 degrees. 
These are hardly Jeep or Land Rover numbers, but there's more: For off-roading, the Wilderness Outback's rear differential gets a lower gear ratio and the automatic CVT, continuously variable transmission, delivers the same drive ratio to the front wheels. (Power comes from a 260HP/277 lb-ft Four.) The Wilderness Outback is rated for 3,500 pounds of towing capacity and Subaru says it can climb a 40-percent grade on gravel.
There's X-Mode too—different drivetrain setups for snow/dirt and deep snow/mud. X-Mode can shift automatically from dirt-crawler settings to road speeds without interruption. 
All this plus all-terrain tires on 17-inch wheels should make tip-toeing across the rough stuff that much easier.
And drivers who do venture off the pavement, where tires and wheels are at risk, will also appreciate the new Outback's full-size spare.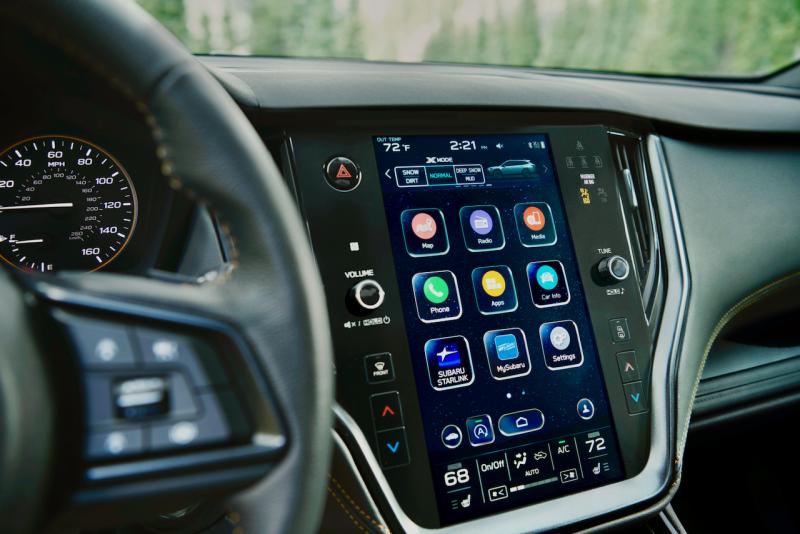 Otherwise, the Wilderness Subie is a family car with all of today's active and passive safety systems, from lane-centering to Subaru's excellent EyeSight Drive Assistance, which can "read" not only the car in front but also traffic farther ahead. There's a more advanced computer system too, that controls or monitors everything (multimedia , HVAC, drive modes, vehicle settings) through the largest touchscreen I've seen in a Subaru. 
Other Wilderness goodies include Apple CarPlay and Android Auto as well as Bluetooth and audio streaming with over-the-air updates. There's also a front-view camera, a hands-free power liftgate and a waterproof cargo mat. An upgrade adds a separate GPS system, a power moonroof and automatic reverse braking, which takes over if it seems we're going to back into something. 
Altogether, the Wilderness Outback is a capable, hospitable and comfortable car, but there are a few hiccups: The fuel-saving automatic stop-start is crude, sending a great shudder through the vehicle each time the engine re-starts. Adjusting the front seat heaters requires first activating the computer screen and then poking at a touchy interface. And, as always, Subaru styling remains a bit dowdy. But such flaws mean little to true Subaristas, who appreciate their brand's attention to rugged function over mere form. 
They appreciate value, too. A base Outback, surprisingly well equipped, starts at $26,945. Then come Premium, Onyx, Limited and Touring versions, and their XT upgrades; these start prices top out at $39,945, the same or very slightly more than last year. The new Wilderness model slots inbetween the Onyx and Limited, at $36,995; the upgrade mentioned earlier will tack on another $1,845.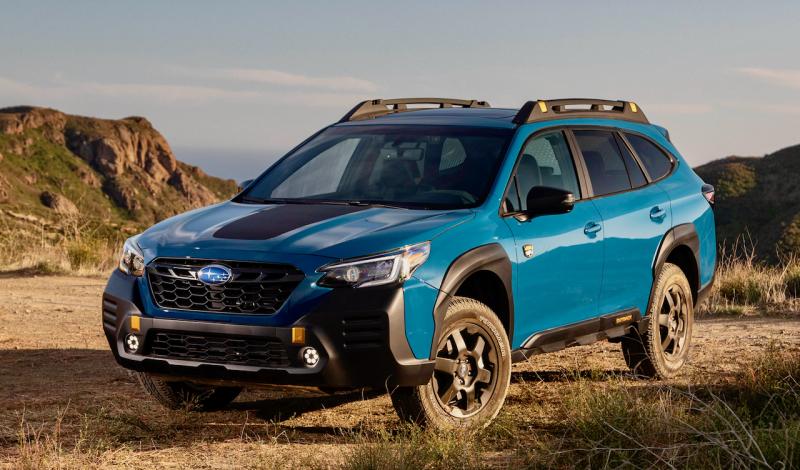 Silvio Calabi has been reviewing cars since Ronald Reagan removed the solar panels from the White House. He lives in Camden.