Transformations
Selkie O'Mira: Moody Mountain Road
Where am I? Oh. Moody Mountain Road. Right. I've done this trip so many times, I sometimes forget where I am. North Palermo Road to Greeley Road to Burnham Hill Road to Thompson Ridge Road, New England Road, Moody Mountain Road.
I smell like duck poop. My whole car smells like duck poop. When I transferred the little mallard to a clean carrier this morning, she let fly all down the front of me. These jeans were clean too. No point in changing them – might not be the last time today I am pooped upon. I cleaned it off as best I could. And then my pants were wet. And they still smelled like duck poop. But I can't worry about these things. That poor girl had a broken wing and a broken leg from a hit-and-run. I'd be scared too, and mad. I'd poop all over someone if I had the chance.
Now I'm headed home from the rehab center where I dropped off the mallard, and Moody Mountain Road is magical. Usually when I'm driving home, it's dark. If the pavement is warm and wet, there are often frogs all over the road. I can't bear to run over them. But this is a special trip, and it's mid-morning with the sun coming in at a slant, trees along both sides of the road in full spring green. It's a narrow winding road so the light changes from wide open full sun, ferns everywhere the brightest they'll ever be, to dancing shadows on the pavement of treetops in the wind. This stretch is like a cathedral – the trees on either side of the road meet in the middle overhead. The sun sparkles through the flickering canopy – the whole world is green!
I drive carefully. Youngsters are fledging and they're not yet street smart. The back windows of my Camry are open a little, and I've caught snippets of birdsong on either side as I passed by – some robins singing on the left, robins on the right, crows calling on the left, a jay, sparrows. Two turkey vultures fly overhead – the clean-up committee – looking for something to clean up.
The turtle in the back seat is quiet. She doesn't know where she is either, as she watches the light change from sun to shade and hears the birds passing by, although she may sense the direction she's headed. This girl is about the biggest snapping turtle I've ever seen, her rough carapace the color of muck, an ancient mandala on the back of her head, and I feel such tenderness for her. Her soft eyes, how they had looked at me, questioning, when I picked her up a few days ago. Blink.
I had no answers, only I'm so sorry. And now she's got a patched-up shell and she's going home. I whisper to her, there in the back seat, It's gonna be okay, Mama – don't worry, you'll be home soon. I picture that home in my mind so she can see it – the pond, the garden where I found her, the trees and their birds, the familiar sounds of all the beings who live there, the rocks and houses, the sweet cool grass. She'll find a good place – dirt, mulch, gravel – to dig a hole and bury those treasures she carries inside.
---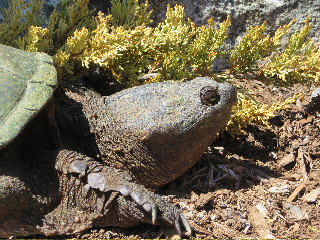 Selkie O'Mira lives in Camden. A selection of her poems are included in Stone In My Pocket: Poems and Images of Maine, and she is the compiler and publisher of Frances, a gathering of stories about a remarkable woman. In addition to being a writer, she is on the staff at Avian Haven Wild Bird [and turtle!] Rehabilitation Center in Freedom, and manages Avian Haven's Facebook page.
---
Transformations
We tell stories.
We tell stories to make sense of our lives.
We tell stories to communicate our experience of being alive.
We tell stories in our own distinct voice. Our own unique rhythm and tonality.
Transformations is a weekly story-telling column. The stories are written by community members who are my students. Our stories are about family, love, loss and good times. We hope to make you laugh and cry. Maybe we will convince you to tell your stories.
— Kathrin Seitz, editor, and Cheryl Durbas, co-editor
"Everyone, when they get quiet, when they become desperately honest with themselves, is capable of uttering profound truths. We all derive from the same source. There is no mystery about the origin of things. We are all part of creation, all kings, all poets, all musicians; we have only to open up, only to discover what is already there." — Henry Miller
Kathrin Seitz teaches Method Writing in Rockport, New York City and Florida. She can be reached at kathrin@kathrinseitz.com. Cheryl Durbas is a freelance personal assistant in the Midcoast area. She can be reached at cheryldurbas@tidewater.net.