From the Leafy Cafe Blog...
MiMi Mcgee: Dishing up gratitude with a side of spice
Gratitude is the gateway virtue. But did you know it is actually good for your health?
Studies show again and again that practicing gratefulness carries a host of benefits, including physical and psychological well-being.
Lately, I have been very grateful for the herbs and spices commonly used in our food at this time of the year. Thankful for the generations of cooks before me who fine-tuned or stumbled upon the process of adding cinnamon, ginger and nutmeg to our baked goods; sage or fennel seeds to our stuffing, etc.
Each of us has our regular repertoire of flavorings for the fall/winter/holiday table.
Did you know many herbs and spices contain phytochemicals and antioxidants and are considered "superfoods"? Some have powerful anti-inflammatory properties rivaling drugs such as ibuprofen, naproxen and aspirin.
"Consider adding spices such as cinnamon, ginger, clove and turmeric to your life on a regular basis."
As a plant-based chef and nutrition specialist, I use herbs and spices to divert the palate from heavily salted foods and certain fats. For this, many of my clients are grateful when these small diversions lead to improved health and well-being. The use of spices and herbal extracts are claimed to be the father of modern pharmacology. Consider adding spices such as cinnamon, ginger, clove and turmeric to your life on a regular basis. And check out this article for ways to incorporate super-spices into your daily meals: Spice-Spice-Baby.
As this is the season for giving thanks, we would all do well to count our many blessings. Starting with the obvious; family, friends and the foods we eat, down to the very smallest and unassuming of joyful additions — such as spices. Gratitude paves the way to forgiveness, acceptance, courage and happiness and some say even greatness.
Recipes from MiMi McGee's "kick-ass kitchen."
Pumpkin Pie with Super-spices
(Dairy-free, gluten-free, delish!)
By MiMi McGee ~ Leafy Café
Oven 350º
Ingredients:
Crust
1-1/2 cups Dates
1-1/2 cups Pecans, chopped
3/4 cup Gluten-free Rolled Oats
2 tsp. water
Filling
1-1/2 Tbs. Agar* Flakes or 1-1/2 tsp. Agar* Powder
2 cups Almond Milk
2 15-ounce cans Pumpkin Puree (not pumpkin pie mix)
1 tsp. Cinnamon
1/2 tsp. Ground Ginger
1/4 tsp. Ground Allspice
1/8 tsp. Ground Cloves
1/4 cups Date Sugar or Succanat (a brand of whole cane sugar)
Method:
For the crust: Pulse dates, pecans, oats and water in a food processor until dates are finely chopped and pecans and oats are finely ground. Press mixture into a 9 inch pie plate.
For the filling: Soak agar flakes or powder in almond milk for 20 minutes. Pour into a medium sized pot, and bring almost to a boil. Reduce heat and simmer, stirring frequently, until the agar melts, about 20 minutes.
Pour almond milk and agar mixture into a blender* and pulse for several seconds to further dissolve the agar. Pour mixture back into the pot and simmer. Meanwhile, preheat oven to 350°F. Add the canned pumpkin, the super-spices, and date sugar. Stir to mix well, bring almost to a boil and remove from heat.
Pour filling over pie crust and bake for 35–40 minutes, until crust is golden brown, being careful not to burn edges. Set pie aside to let cool and set before slicing.
Tip: When blending hot liquids: Remove liquid from the heat and allow to cool for a few minutes. Transfer liquid to blender and fill it no more than halfway. Release one corner of the lid. Place a towel over the top of the machine, pulse a few times then process on high speed until smooth.
*Agar is a derivative of a sea vegetable and available in most natural foods stores. Gelatin can be used in its place however agar is a healthy addition to the recipe adding fiber and it is free from starch, corn, soy, gluten, yeast, wheat, dairy and other common allergens. Click on the link for more information.
Pumpkin-Banana Smoothie with Apple
By MiMi McGee ~ Leafy Café
Makes 6 one-cup servings
Pumpkin is a wonderful source of vitamin A and beta-carotene, making it a tasty and healthy addition to your diet because boosting carotenoids from whole plant food sources is a MUST for cancer prevention. Apples add fiber and bananas add potassium, fiber and sweetness. With autumn in full swing and both pumpkin and apples in season, be sure to pick some up at your local grocery or farmers market to make this delicious smoothie, reminiscent of homemade pumpkin pie. Here we use pumpkin-pie spice, which is a blend of cinnamon, ginger, allspice and cloves.
Ingredients:
1 cup Pumpkin Purée (if using canned, use plain pumpkin, not pumpkin pie filling)
1 cup Non-Dairy Milk
1/2 cup Apple Cider or Apple Juice*
1/2 cup Frozen Banana*
2 cups Ice
2 Tbs. Maple Syrup, or to taste
1 Tbs. Vanilla Extract, or to taste
1 Tbs. Pumpkin Pie Spice, or to taste (alternatively, can use a combination of cinnamon, nutmeg and allspice)
Method:
Combine all ingredients in blender. Blend for 1 to 2 minutes until everything is incorporated.
*Note: you can omit the banana and/or apple cider and boost the non-dairy milk or add a bit of water and the smoothie is just as yummy.
---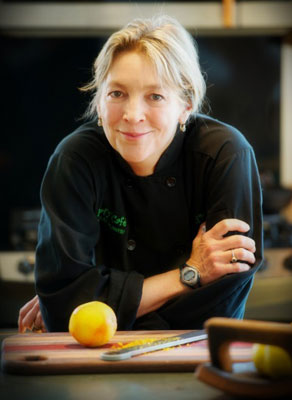 MiMi McGee resides in Appleton with her husband, David, and doodle dog, Rosie. She is a private chef, health coach and plant-based nutrition specialist. MiMi is a member of Chefs Move to Schools and the American Association of Drugless Practitioners, and is certified as a Food for Life cooking and nutrition instructor through the Physician's Committee for Responsible Medicine, as well as Weight Management Leadership from The Cooper Institute. Reach Mimi at mcgee.mimi@gmail.com, mimicgee.com and leafycafe.com.