Transformations
Mary Bok: Apple joy
Joy in Power! Like the day I finished Apple Painting, after having struggled over the "fiddly" bits—the precise shadows on the window mullions that indicated the location of the moon as it cast light beams down through the night sky through the southeast facing window, and onto the delicate apple seedlings growing in a tray on the window sill in my living room. I had been watching those infant trees as they put out their first, tiny green leaves, and grew up and up a little every day, as if they were reaching toward the light—any light—coming in through that window. I watered them. I sang to them. I murmured little prayers to bless them.
I loved those little plants, and gave them all much more of my understanding than could have made sense to anyone who might have stood in the living room doorway, watching. I knew in my heart of hearts that these little trees would someday become a hillside orchard, but I kept my interest, delight and hope to myself, and nourished them in my thoughts ... So it was not so surprising to me that I awoke one morning with the clear thought in my mind that those little trees had been dreaming during the night. Dreaming of the apples that would one day unfold from the blossoms that opened in the spring sunshine.
The bees would come and visit the fragrant flowers, the petals would, one by one fold over the kissed moment, and, in the enclosed shadow, an apple would gradually become its own reality. Those little trees could know this because it has been happening for millions of years. One and one and then again ... so that the whole repetition is imprinted in the seedling soul.
And that is where dreams come from.
How do I know this? Because I, too, am a dreamer; and one day I unfolded such a dream and made a painting on paper with watercolors. It took me a long while to finish the painting, but when, at last, it was done, complete out there on the paper in front of me, I could see all that it said. I could hear the whole story. I could know the power of those baby trees, grown at last, and full of their own Apple Joy.
I felt the Joy and when Kathy, my teacher, fixed a mat to frame the picture I knew in my heart of hearts that —
Joy Is Power
Joy is its own inspiration
Joy is apple dreams made real!
And now, on the hillside, there is an orchard choir singing hymns to the autumn's cider!
---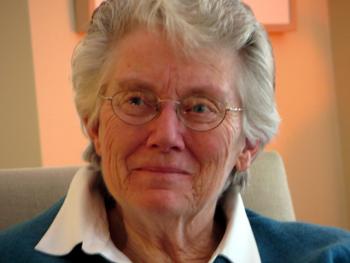 Mary Bok has always been interested in the magic of words as they relate and give voice to the thought that moves in each of us. As a child, she kept diaries and picture books that recorded something of her relationship to the world around her. Later, as a young adult, she wrote stories and poems which mirrored this same connectedness; and even later, in the early 1970's she began work with Ira Progoff, whose approach to journal keeping deepened her explorations.
Mary has led Proprioceptive Writing Workshops at elderhostels in Maine and New Hampshire, the International Women's Writing Guild conference in Canaan, N.Y., the Center for Health and Healing in Rockland and at her home in Camden.
Mary has been published in VillageSoup and has assembled a collection of her work entitled, "Unfolding Dreams."
---
Transformations
We tell stories.
We tell stories to make sense of our lives.
We tell stories to communicate our experience of being alive.
We tell stories in our own distinct voice. Our own unique rhythm and tonality.
Transformations is a weekly story-telling column. The stories are written by community members who are my students. Our stories are about family, love, loss and good times. We hope to make you laugh and cry. Maybe we will convince you to tell your stories.
— Kathrin Seitz, editor, and Cheryl Durbas, co-editor
"Everyone, when they get quiet, when they become desperately honest with themselves, is capable of uttering profound truths. We all derive from the same source. There is no mystery about the origin of things. We are all part of creation, all kings, all poets, all musicians; we have only to open up, only to discover what is already there." — Henry Miller
Kathrin Seitz teaches Method Writing in Rockport, New York City and Florida. She can be reached at kathrin@kathrinseitz.com. Cheryl Durbas is a freelance personal assistant in the Midcoast area. She can be reached at cheryldurbas@tidewater.net.