Don't call it a minivan and don't call it an SUV, although it resembles both. Kia says it's an MPV, for multi-purpose vehicle—"combining luxury, capability and flexibility into a whole new kind of vehicle." It's a replacement for Kia's Sedona minivan, but one that's so different, and so much larger and more high-tech, that it warrants a new name.
We might quibble with "Carnival," which suggests a load of adolescents having a piñata party in the back, but there's no arguing about the product—it's near-perfect, inside and out, and it drives as pretty as it looks. There's only one real shortfall, and we'll get to that.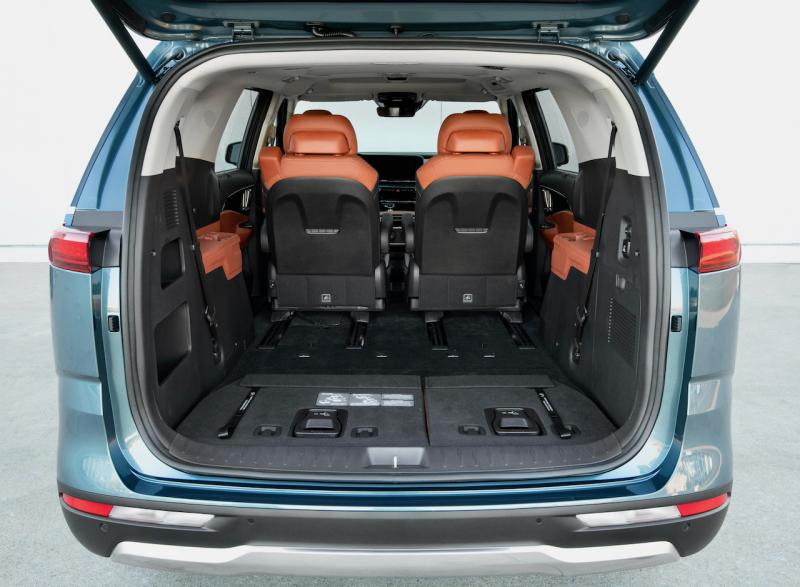 Carnival driving is satisfying. The controls are straightforward and where we expect them to be; knobs, switches and buttons work crisply; and everything is attractively designed and evidently well made. The SX Prestige cabin is downright swanky, as it should be for nearly $50,000. (Four other trim levels are available, for as little as $32,100.)
Lift-off—via an 8-speed manually shiftable automatic transmission—is smooth. The V-6's 295 horsepower and 262 pounds of torque provide plenty of performance, and the driver may choose Smart, Eco, Sport or Normal modes. A glance in the mirror shows that there's a lot of vehicle back there, but the Carnival corners capably and goes where it's pointed. It also rides decently and it's quiet. From the driver's seat, the hood drops away sharply so the feeling is more minivan than SUV.
Naturally, the cockpit is all digital, with dual computer screens and a wide menu of apps in the SX, including Passenger Talk and Passenger View, so the driver can communicate with and keep an eye on rows two and three, as well as Quiet Mode, Phone Projection and Rear Occupant Alert. Kia has added all of today's driver-assistance features too, including top-down and rear views in the backup camera and side views when the turn signals are activated.
The 7-passenger layout in our top-end Carnival includes power-reclining, heated and ventilated "lounge seats" with dedicated DVD screens and acres of legroom in row two. These are entirely removable and the third-row seats fold flat into the floor.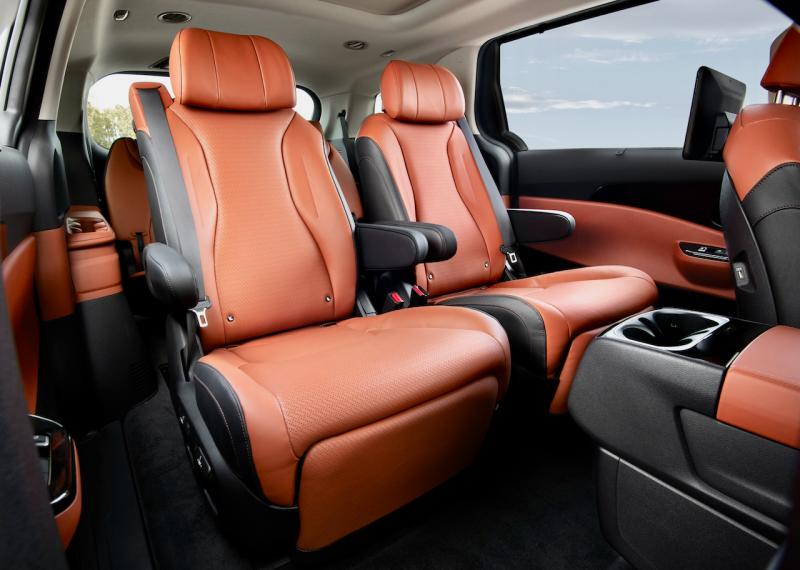 Befuddled with jet lag, in the airport parking lot I thought this was an SUV. The placement of the rear door handles confused me, too. Whoa—suicide doors? That is, doors that hinge at the rear? But no; the enormous rear doors slide open electrically, revealing a wide expanse of flat floor and these two rows of seats. Oh, I get it, a minivan that's trying to look like an SUV!
So, is the Carnival the best of both these worlds? Another take on the hot-selling Telluride? Almost. But somehow Kia overlooked all-wheel drive as an option (the shortfall I mentioned); only the front wheels get power. Maybe AWD is in the works—along with hybrid or battery-only drive.