Transformations - Poetry
John Maguire: Blindness
John Maguire wrote this poem in honor of his cousin, Cindy Gonnerman, who recently passed away due to complications associated with diabetes. An annual fundraiser for the blind has been established near the area where she lived in New Hampshire. John's family has created a "Friends of Cindy" website where you can learn more about her and their fundraising progress.
Blindness
What do we know
about blindness?
Nothing is all nothing
but blackness.
When we close our eyes
in daylight, we see
this dark world peopled
with tiny colored strobe lights, a place of mystery.
When diabetes took my cousin Cindy's eyes
nature filled in
with touch, with smell, with sounds
--she still had her vision.
It takes heart to see
pain.
Call it intuition
or even a second vision.
Cindy cared very early on,
knew from the start
how to help and to share her heart.
She and I, wedged together,
watched drama unfold
from Grandpa's easy chair in that old house so many years ago.
Was it really her favorite show? She said so.
We cousins, as children, plunged
like eager seals unthinking and ready to partake
into the cool moving channel
that connects two Squam lakes.
We cousins, four of us,
Tom and me, Cindy and Abby
paddled downtown over hot pavement
for penny candy and comics at the village market.
Cindy cared very early on,
before losing her eyesight
before her college degree in sociology
before her smile shined through dark clouds, in a Copenhagen living room just out of town.
Back then she drove a car,
and with a white-knuckled grip,
traveled to Whitefield
and spoke quietly for hours with my brother.
We didn't often get to visit,
but one day a walnut-sized knot twisted cold pain
between my shoulder blade and spine,
from stress of life, from a troubled spirit.
"Would you like to try Reiki?"
She had mastered a healing art
with touch, with herbs,
with a second sense, a way to help cure a battered heart.
My pain is too great, I thought,
unbelieving.
Her hands hovered slowly, reverberated heat waves
away and back until the knot fell apart.
I heard how Cindy lost her eyesight,
but didn't believe
she lost her vision.
Instead she used other senses to embrace life.
"I want to see the country."
She rode alone,
three-thousand miles
to meet her seeing-eye dog and bring him home.
How much did she see
without her eyesight?
She relied on the kindness of others,
she listened,
she smelled the air in different states,
she felt the road roll beneath her feet,
and she sensed the moods of the people all around her,
changing and swirling,
like clouds in a multi-colored sunset
we can't see with our eyes.
---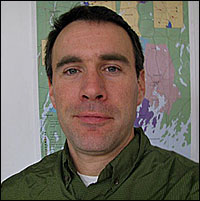 John Maguire has written and published articles on food and work here in the Midcoast for the past several years. He draws inspiration from his decades-long experiences as a line cook, pastry chef, confectioner, baker and server, as well as his time on the coast as a laborer in the seafood industry. More recently he published articles in local newspapers and dreams of becoming a better writer overall. He practices writing fiction and poetry from his new home in Rockland. Read recent blog posts at johnfmaguire.com.
---
Transformations
We tell stories.
We tell stories to make sense of our lives.
We tell stories to communicate our experience of being alive.
We tell stories in our own distinct voice. Our own unique rhythm and tonality.
Transformations is a weekly story-telling column. The stories are written by community members who are my students. Our stories are about family, love, loss and good times. We hope to make you laugh and cry. Maybe we will convince you to tell your stories.
— Kathrin Seitz, editor, and Cheryl Durbas, co-editor
"Everyone, when they get quiet, when they become desperately honest with themselves, is capable of uttering profound truths. We all derive from the same source. There is no mystery about the origin of things. We are all part of creation, all kings, all poets, all musicians; we have only to open up, only to discover what is already there." — Henry Miller
Kathrin Seitz teaches Method Writing in Rockport, New York City and Florida. She can be reached at kathrin@kathrinseitz.com. Cheryl Durbas is a freelance personal assistant in the Midcoast area. She can be reached at cheryldurbas@tidewater.net.