The "L" is for long, and this stretched version of the familiar Grand Cherokee is what Jeep is offering families while they await the arrival of the even larger (and more deluxe and pricier) 2022 Grand Wagoneer. Since boatloads of two-row, 5-passenger Grand Cherokees have been sold over the years, Jeep must have reasoned that offering a variation with a third row of seats and upgraded, updated amenities couldn't hurt. 
And it doesn't hurt, at all. Our mid-range, Trail-Rated Overland model L is a pleasant way to chauffeur five passengers around—or six, if we had a bench seat in row two.
The 296-horsepower V-6 gets noisy when pushed hard, and it's capable of only 18 to 25 miles per gallon, but a 360-horsepower V-8 (rated for towing up to 7,200 pounds) is an option and a plug-in hybrid model should arrive next year, for Jeepsters intent on reducing their carbon output. 
A choice of three all-wheel-drive systems is available in the Grand Cherokee L. Our sample vehicle's adjustable air suspension and Quadra-Trac II driveline has throttle, steering and suspension settings designated Rock, Sand/Mud, Snow, Sport and (my favorite) Automatic.
It's also equipped with an electronically controlled limited-slip rear differential, hill-descent control and a low range in the 8-speed automatic transmission.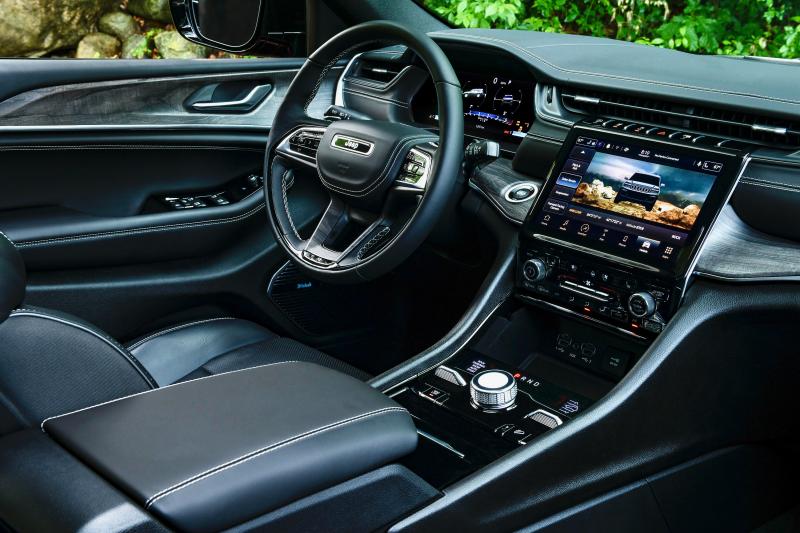 I cannot vouch for its off-road capability, but on a narrow, winding road the L-model makes it clear that there's a lot of vehicle following along behind the driver. Switching to Sport mode tightens up its reflexes, but also demands more attention be paid to the steering. The ride is smooth, comfortable and (under normal acceleration) quiet.
A new 360-degree surround-view camera, backed up ParkSense monitors fore and aft, makes low-speed maneuvering easy. Other extras on our Overland include a 950-watt McIntosh stereo with no fewer than 19 speakers, satellite radio, a wireless phone-charging pad, head-up driver's display, navigation, Android Auto and Apple CarPlay, automatic high beams, remote starting, a power tailgate, second and third row seats that fold down automatically, leather upholstery and wood trim.
All Grand Cherokee L models come with state-of-the-art driver-assistance technology, including adaptive cruise control, blind-spot monitors in the mirrors, lane-departure warning and lane-keeping assistance, and an emergency braking system that also recognizes pedestrians and cyclists, not just other vehicles. 
These updates and options will appear in the two-row Grand Cherokee in the 2022 model year also. This year, starting prices for the Grand Cherokee L range from just over $40,000 for the Laredo trim package to just over $62,000 for the Summit Reserve.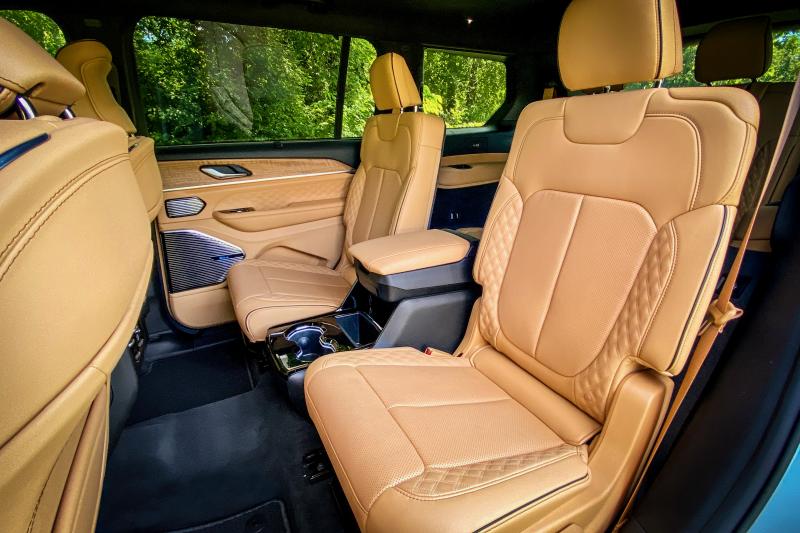 Silvio Calabi has been reviewing cars since Ronald Reagan removed the solar panels from the White House. He lives in Camden.