It's war in the Compact SUV jungle, where family-friendly crossovers with two rows of seats and all-wheel drive fight it out for billions in sales. Victory hangs on a value triangulation: Buyers want looks, ease of use and low monthly payments; sellers push pricing as far as they can without quashing sales.
The Tucson has always done well for buyers and for Hyundai alike, and now the all-new-for-2022 Tucson sets the C-SUV bar higher yet—it's that much snazzier-looking, sweeter-driving and all-around impressive. 
Our test Tucson, an AWD Limited, stickers for $37,580, very near the top of the ticket, but it outperforms that price in refinement. Even a basic $25,000 Tucson SE FWD comes well-equipped with features and safety systems; the Limited is packed, with some goodies found only on luxury cars not long ago. (I've grown to appreciate a driver's seat that retracts—a heated steering wheel, too. Yes, I'm spoiled.)
All gas-only Tucson variants get the same 2.5-liter 187-horsepower Four that powers the front wheels or all four wheels (a $1,500 upgrade) through an 8-speed automatic transmission with manual-shift paddles.
Upper-end trim levels also get four driving modes: Normal, Sport, Smart and Snow. (Who wouldn't want to drive "smart"?)
Even in Sport mode, the Tucson is not a sports sport-ute—it's no Porsche Macan—but the great majority of us are looking for dependable utility, not lap times. In any mode, the Tucson is pleasing, comfortable and notably quiet.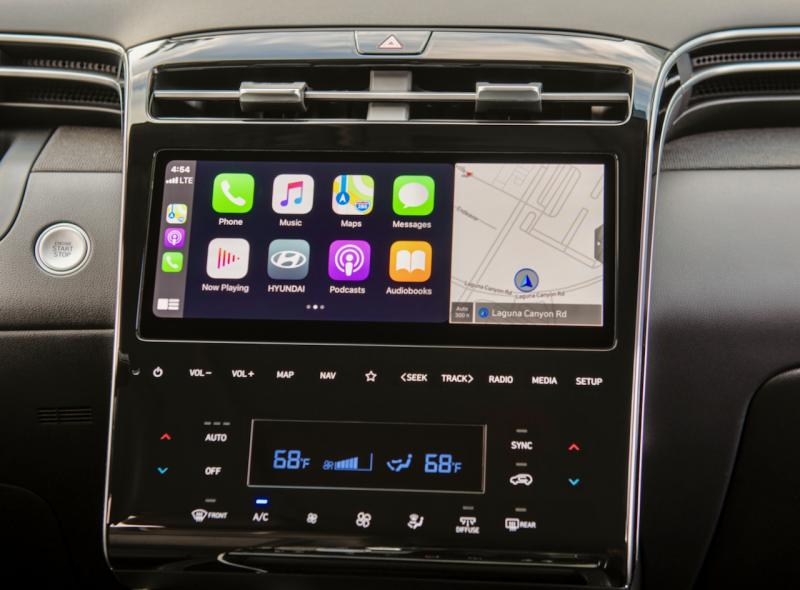 Naturally, it's a fully digital vehicle with fly-by-wire operations and a crisp, bright center touchscreen that can be variously configured and is loaded with apps. The driver gets a similarly high-quality instrument panel (below, in red to denote Sport mode), which is linked to the cruise-control, HVAC, driver-aid and entertainment switches built into the steering wheel. No head-up display, at least on our car.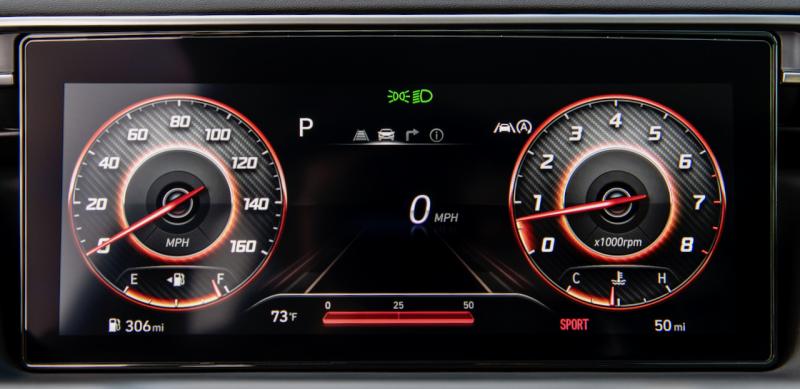 If the ICE (internal combustion engine) Tucson's fuel efficiency—25 to 30 MPG—isn't enough these days, Hyundai also offers two electrified Tucsons: a hybrid that starts at $29,200 and should deliver about 40 MPG; and a plug-in hybrid ($34,750) with enough battery power for up to 33 miles of electric-only driving, which should cover most runs to school and the supermarket.
The plug-in's battery can be fully recharged in about two hours on a Level 2 charging station. Both hybrid Tucsons come with AWD only, 6-speed automatic transmissions and more power than their ICE siblings.
In all, a dozen different Tucsons are available now—but if one of them doesn't do it for you, Hyundai offers seven more SUV lines as well, including a fully electric, battery-powered Kona and, in California, a hydrogen fuel-cell model called the Nexo. 
---
Silvio Calabi has been reviewing cars since Ronald Reagan removed the solar panels from the White House. He lives in Camden.