Transformations - Poetry
Harold Garde: 'My House'
When I was a child
I lived in a tree
and not just any tree
not an ordinary anyone can see tree
Mine was a tall tree
a very tall tree
and I lived so high near the top of the tree
that no one, nobody could see me
When I was a child
I lived in an igloo
Not just an ordinary everyday one, but an igloo
with a warm sun inside
It had a wide screen at the dome
and on that screen
I could see stars that spelled out my name
When I was a child
I lived in a house
a house made of candy
And every piece I ate
was replaced as soon as I ate it
with a new piece
and always as good
When I was a child
I lived in the future
I saw the boy who could beat the bullies,
I saw the boy who could fly
and oh how swiftly and surely
I could fly
Birds would join me
But no bird could fly faster
When I was a child
I lived in a house that had so many rooms
with so many doors
That I could run from room to room
no one could catch me
to make me eat what I didn't want to eat
or drink down to the bottom of the glass
I ran from room to room
and no one could catch me
to put me to bed
When I was a child did I see
him? That quiet old man
that man who is me
---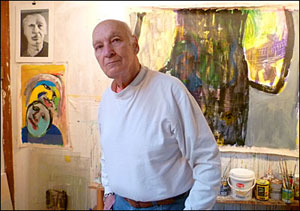 Harold Garde splits his time between Belfast, Maine, and New Smyrna Beach, Fla. He is a painter with work in permanent museum and significant private collections. He is the subject of several art films that have been broadcast on Public Television in Florida, Maine and Wyoming, including one in the ongoing Maine Masters series. His play, The Rec Room, was selected and performed in the Maine Fifteen Minute Play competition and later at the Atlantic Center for the Arts in Florida.
---
Transformations
We tell stories.
We tell stories to make sense of our lives.
We tell stories to communicate our experience of being alive.
We tell stories in our own distinct voice. Our own unique rhythm and tonality.
Transformations is a weekly story-telling column. The stories are written by community members who are my students. Our stories are about family, love, loss and good times. We hope to make you laugh and cry. Maybe we will convince you to tell your stories.
— Kathrin Seitz, editor, and Cheryl Durbas, co-editor
"Everyone, when they get quiet, when they become desperately honest with themselves, is capable of uttering profound truths. We all derive from the same source. There is no mystery about the origin of things. We are all part of creation, all kings, all poets, all musicians; we have only to open up, only to discover what is already there." — Henry Miller
Kathrin Seitz teaches Method Writing in Rockport, New York City and Florida. She can be reached at kathrin@kathrinseitz.com. Cheryl Durbas is a freelance personal assistant in the Midcoast area. She can be reached at cheryldurbas@tidewater.net.